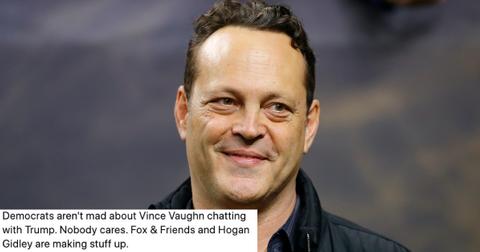 Video clip of Vince Vaughn shaking hands with Trump sparks outrage...mostly from the right
By Robin Zlotnick

Updated
A video clip of actor Vince Vaughn having a brief conversation with President Donald Trump at the NCAA College Football Championship has gone viral, as clips of actors being buddy-buddy with politicians are wont to do. Former Daily Beast reporter Timothy Burke shared the video to Twitter with the caption, "I'm very sorry to have to share this video with you. All of it, every part of it."
Article continues below advertisement
And yes, some people expressed their disappointment that the star of Wedding Crashers and Swingers seemed to be canoodling with Trump, but a great many of the tweets in response were actually from Republicans claiming liberals would be angry about this and supposing Vince Vaughn would now be "canceled." The liberal outrage in response to the video was extremely overblown by (drum roll please) Fox News in particular. Who could have thought?
Article continues below advertisement
Sure, Timothy's video was shared with an air of disappointment. But the immediate responses when you scroll down are from Republicans with snarky "hot takes." "Why exactly would you be sorry about an American actor getting to meet and shake hands with his President?" wrote a Twitter user whose name is listed as "RussiaGate Was 100 Percent Fake SpyGate Is 100 Percent Real."
Article continues below advertisement
Meanwhile, responses from actual liberals mostly came from a place of being "not surprised, just disappointed." Many pointed out that Vince Vaughn has been open about his political affiliations for years. He's a libertarian who voted for Rand Paul back in 2016, as pointed out by CNN reporter Kate Bennett.
Article continues below advertisement
Embedded within the numerous responses to Stephanie's tweet from taunting conservatives, I found one hidden liberal, a guy who goes by "RESIST!!! Tom," who wrote, "Not surprised — Vaughn was a teabagger and a Bush / Cheney sycophant before that. He's never met a tax cut for the wealthy (himself) he didn't like."
Other than that, the vast majority of responses mock her reaction, call liberals names, and gleefully bask in her disappointment. The outrage surrounding this short clip of Vince Vaughn shaking hands with Trump is there, it's just coming from snarky conservatives instead of liberals who are actually hurt. There don't seem to be many of those at all.
Article continues below advertisement
The conservative reaction to something that just wasn't there snowballed, of course, all the way up to Fox News. Vox reporter Aaron Rupar points out that Fox News' own article on the story cites a tweet from Washington Examiner staffer Siraj Hashmi claiming Vince Vaughn is "canceled" as if it is a sincere liberal sentiment and not a sarcastic tweet from an employee at a conservative publication.
Then, there was the segment on Fox and Friends.
Article continues below advertisement
The outrage here has been wildly overblown and in fact manufactured by conservatives on Twitter. Eventually, it made its way all the way to Fox News, where a White House official made the entirely baseless claim that Democrats are more upset about Vince Vaughn shaking hands with Donald Trump than they are about Qassem Soleimani.
Article continues below advertisement
White House aide Hogan Gidley says, "To see Democrats outraged because someone who loves football and the President of the United States, Vince Vaughn, sat down and shook hands and shared a few kind words. What is the big deal? Democrats seem to be more upset at this exchange than they do over Soleimani killing American citizens."
"Good point," host Ainsley Earhardt replies.
Conservative exaggeration of the Vince Vaughn outrage is not a new phenomenon. Fox News has been drumming up fake anger for years. These days, maybe it's just getting easier to spot and call out, or perhaps conservatives are having to reach more and more out of pocket to manufacture the response they're looking for. Either way, it's not a good look.