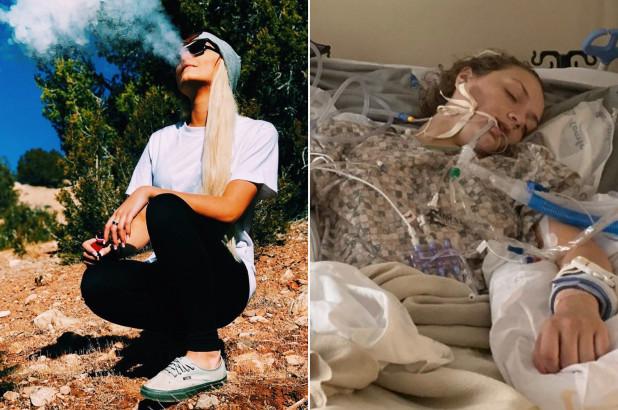 People urged to stop vaping after mysterious illness kills 5 and leaves 450 sick
By Mark Pygas

Sep. 10 2019, Updated 6:05 a.m. ET
A mysterious vaping-related lung illness has now killed at least five people and taken 450 people ill. Symptoms include chest pain, shortness of breath, and vomiting, with the ill now across 33 states according to health officials. So far, 215 of those cases have been confirmed, and the Center for Disease Control and Prevention (CDC) is expanding its investigation.
Article continues below advertisement
Scientists from Harvard University warned of a "worrisome cluster of pulmonary diseases related to vaping" in a New England Journal of Medicine report published Friday. The latest death from the illness was a 55-year-old man from California with underlying health problems. The first death happened in July in Oregon and people have also died Illinois, Indiana and Minnesota.
The deaths have prompted a the CDC to advise people not to vape until they can identify the cause.
Dr Dana Meaney-Delman said: "While the investigation is ongoing, CDC has advised that individuals consider not using e-cigarettes – because, as of now, this is the primary means of preventing this severe lung disease."
Article continues below advertisement
According to Dr Meaney-Delman, all of the 450 teenagers and adults who contracted respiratory illnesses said they had been vaping. Most had vaped with THC, while others had used a mixture of THC and nicotine and a smaller number had used just nicotine alone.
While experts have not yet identified the cause of the illness, efforts seem to be focusing on black market products containing vitamin E oil. There is a huge black market of THC vape cartridges online, many of which contain dangerous chemicals. The American Vaping Association has blamed the illnesses on illegal vape pens containing THC.
Article continues below advertisement
New York's health department claimed that lab results from the cartridges of 34 people taken ill in the state showed very high levels of vitamin E oil in cannabis cartridges. A spokesperson added:
"As a result, vitamin E acetate is now a key focus of the department's investigation of potential causes of vaping-associated pulmonary illnesses."
While vitamin E acetate is a commonly available nutritional supplement, it's not supposed to be heated or inhaled according to Dr Len Horovitz, a pulmonologist at New York's Lenox Hill Hospital.
"But you're not supposed to heat it and inhale it, because it's an oil. And the lung does not want hot oil, the lung reacts to hot oil."
Article continues below advertisement
Simah Herman, 18, is one of those to have fallen ill. She shared photos of herself in a hospital bed after suffering from lung failure.
"Whether it's nicotine or weed vaping can be fatal," she said. "I was lucky. The doctors didn't think I was going to make it but with prayers from family and friends I pulled through after almost a week on a ventilator."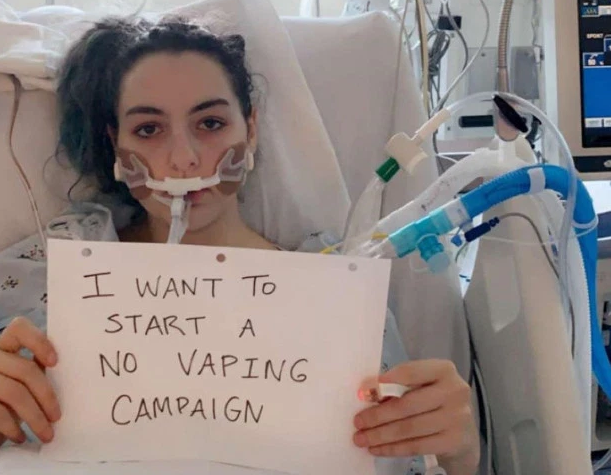 Article continues below advertisement
The parents of Kevin Boclair, a 19-year-old from Philadelphia, told CBS Philly that their son is in a medically induced coma and may require a lung transplant due to the illness.
"There are so many of his friends that I love, I've known them since they were kids and I want them to stop. I want everybody to stop, be cause even the doctors will say they don't know everything about it — it's newer," Deborah Boclair said.
Maddie Nelson, 18 from Utah, was also left in a comma after vaping. She released photos, adding: "I am sharing my story so you all are aware that there is something crazy in these pens that is not safe and almost cost me my life."
"I used to just tell myself it won't happen to me, but it can and will happen to you too…take my advice, don't smoke, don't vape. #vape #stopthevape."
Article continues below advertisement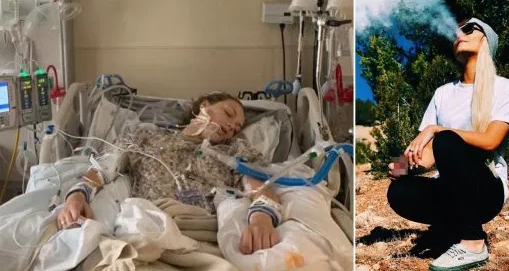 Last week,18-year-old Adam Hergenreder of Gurnee, Illinois, was also hospitalised with what he first thought was flu. At the hospital, scans showed just the very bottom of his lungs, with doctors telling Adam that his chest looked like that of a man in his 70s. Adam told the Chicago Tribune that he has vaped for two years and used THC "dab sticks" he bought off the street.
Article continues below advertisement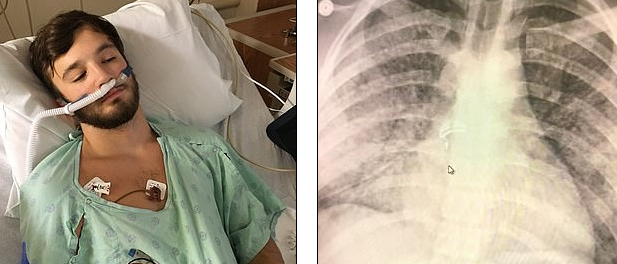 Adam's lung function was so poor he had to be placed on oxygen and a course of antibiotics and steroids. While Adam is improving, it may be weeks or months before he is well.
Health experts in the United Kingdom have said that vapers in the country are safe as long as they are not using illicit vaping fluid, bought on the streets or homemade. Martin Dockrell, head of Tobacco Control at Public Health England, blamed weak regulation in the United States as the cause of the illness.
"Unlike the US, all e-cigarette products in the UK are tightly regulated for quality and safety by the Medicines and Healthcare Products Regulatory Agency and they operate the yellow card scheme, encouraging vapers to report any bad experiences," he said according to The Guardian.