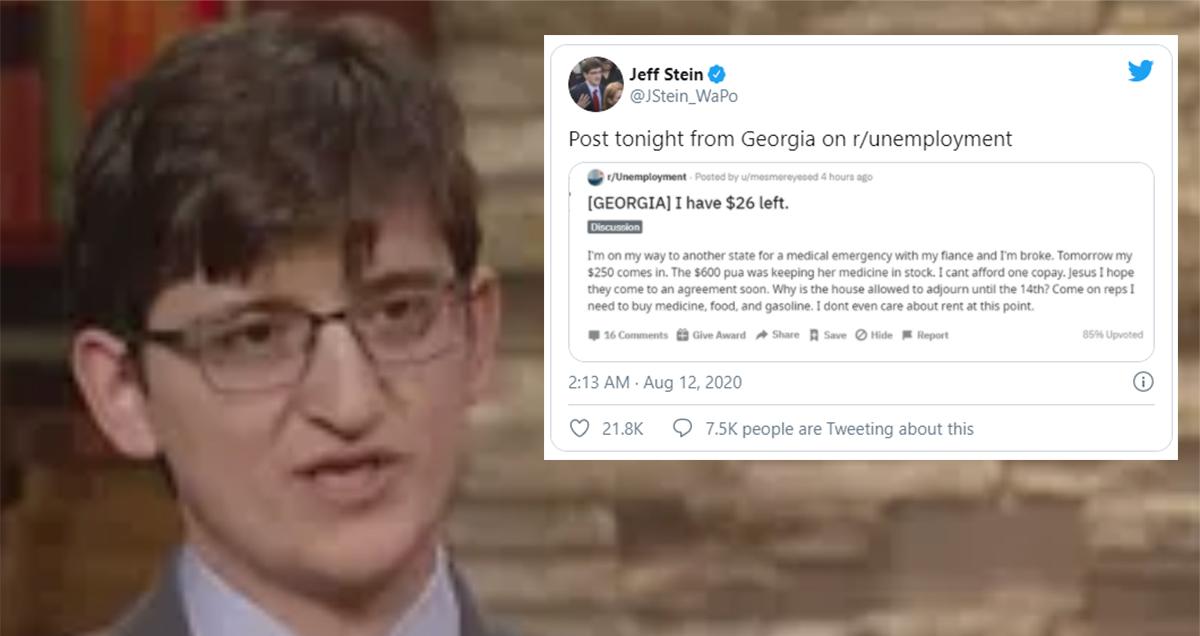 Reporter shares devastating stories of people struggling with unemployment due to the pandemic
By Robin Zlotnick

Aug. 14 2020, Updated 9:35 a.m. ET
Thirty million Americans have lost their jobs due to the coronavirus pandemic, and the weekly federal bonus of $600 for those who are unemployed ended in July. So many are struggling to keep roofs over their head, keep the lights on, and keep their families fed.
Article continues below advertisement
There is no federal eviction or rent freeze. There is no plan to help people further. There is no plan to address the pandemic. Millions are floundering. And some are taking to the "Unemployment" subreddit to share their stories and shed light on this disaster. Washington Post White House economics reporter Jeff Stein has been screenshotting and sharing these devastating stories in a Twitter thread in order to shed light on the horrendous state of the nation.
Article continues below advertisement
People are struggling. They're trying to juggle numerous expenses and having to prioritize which ones get ignored for now. But these aren't frivolous things. People are choosing between food and electricity, gas and diapers. It's heart-wrenching, and it's even worse when you realize that there is no end in sight and that our supposed leaders have been dragging their feet and refusing to step in to help people survive.
In one story reposted by Jeff Stein, OP applied for Unemployment Benefits in Michigan back in March and hadn't received any money as of early August. "The virus is still doing its thing, the politicians are still not doing anything useful, I'm still without a job, and now I'm so depressed from of this that I don't know anymore whether to call the UE hotline or a suicide hotline," they write.
Article continues below advertisement
"I paid into unemployment for 10+ years and never once took out. Not the time comes where I'm literally on the verge of losing my truck, my credit, and my sanity and the suits and ties just look on while I financially bleed out and lose everything that I've worked hard and improved myself for in my adult life."
It's unclear what legislators think is going to happen in the coming months. COVID-19 is the opposite of contained; it's spreading fast and with schools reopening, the crisis is only going to worsen. Very few people have gone back to work, but they're still expected to pay rent and mortgages and bills.
Article continues below advertisement
Several of the posts that Stein shares mention suicidal thoughts. People literally have nowhere to turn, and they are losing hope. A report called Forecasting Poverty Rates During the COVID-19 Crisis found that poverty rates in the U.S. could reach their highest levels in 50 years because of the pandemic.
Article continues below advertisement
More than 21 million Americans could be thrown into poverty due to the virus, and the groups hit worst by this will be Black people and other minorities. In 2018, 38 million people were already living in poverty, including 12 million children. The pandemic could raise those numbers drastically.
But poverty levels aren't just numbers. They are people who are struggling every day, and that's what these stories on Stein's thread prove. One woman DMed him and gave him permission to post her story.
She writes that she is in a similar circumstance to the other people in his thread. "I had to choose between my utility bill and diapers so I used my last to pay the utilities and then purposely over-drafted my account for the first time to get diapers for my baby," she writes. "IDK what's next but I'm praying for everyone struggling right now, especially us with babies."
Article continues below advertisement
Too many people are in desperate situations right now, and too many of our leaders and legislators are so far removed from this reality that they cannot see or understand what is going on. They're concentrated on getting the political upper hand, meanwhile people are dying due to their inaction.
One struggling person wrote, "People have no idea how bad it is. And getting worse by the day. I don't know where to turn. Local agencies are out of funds. All I (we) can do is keep faith. Please pray for us y'all. And know that I am praying for you. And please, fellow Kentuckians and Americans, VOTE! PLEASE!"