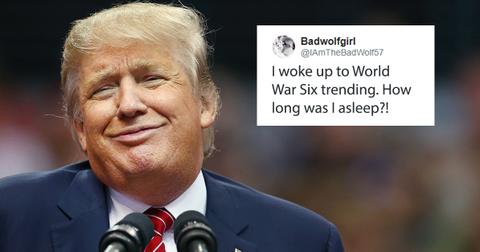 Trump says he prevented 'World War Six' and people are confused
By Mark Pygas
The Senate is debating whether to summon former national security advisor John Bolton to testify at President Donald Trump's impeachment trial after Bolton wrote in a forthcoming book that President Trump told him he wanted to withhold military aid from Ukraine until they investigated Joe Biden.
House Democrats impeached President Trump in December, accusing him of using his office to ask for a personal favor from Ukrainian President Zelensky. Democrats also allege that Trump postponed nearly $400 million in military aid to Ukraine to force Zelensky to launch the investigations.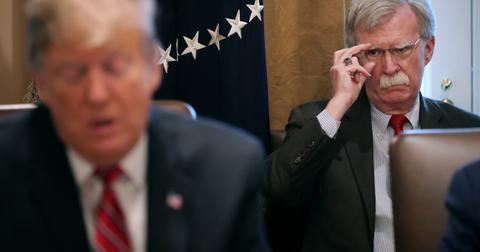 Republicans defended the decision by saying the money was being withed while they determined whether the newly-elected Zelensky could be trusted.
But in his upcoming book, Bolton alleges that President Trump asked him to delay the aid until Ukraine launched an investigation into Joe Biden. Bolton was fired by Trump in September, with the President saying he "disagreed strongly" with his top aide.
This morning, President Trump attacked Bolton on Twitter, saying that he helped to prevent "World War Six" by firing Bolton.
In a series of tweets, Trump wrote: "For a guy who couldn't get approved for the Ambassador to the U.N. years ago, couldn't get approved for anything since, 'begged' me for a non-Senate approved job, which I gave him despite many saying 'Don't do it, sir,' takes the job, mistakenly says 'Libyan Model' on T.V., and many more mistakes of judgement, gets fired because frankly, if I listened to him, we would be in World War Six by now, and goes out and IMMEDIATELY writes a nasty & untrue book. All Classified National Security. Who would do this?"
Considering that we're only up to two World Wars at the moment, despite coming close to a third, people were pretty surprised to learn that Trump prevented four World Wars.
One user joked: "World War Six caps off another disappointing trilogy that can't capture the magic of the original three."
While another added: "Good Morning. World War Six is trending. Since I wasn't awake for the 3rd, 4th and 5th - I volunteer to fight whoever it is we're fighting."
Shame we didn't get to practice in World War 3, 4, and 5, but we're up for 6.
Other people are just wondering how long they were asleep for.
It's time to admit that 2020 doesn't look like it's going to be the best year ever.
We're all just so confused.