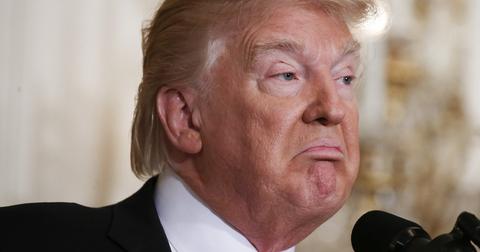 Trump says he'll seek 'third or fourth' term because 'they spied on my campaign'
By Mark Pygas

Updated
President Donald Trump has landed himself in hot water after claiming that he would seek a third term if he won reelection in November. The move would violate the 22nd Amendment of the Constitution, which states that "no person shall be elected to the office of the President more than twice."
Article continues below advertisement
"We are going to win four more years," Trump said at a campaign event in Wisconsin. "And then after that, we'll go for another four years because they spied on my campaign. We should get a redo of four years."
"If I don't win it this time, I'm not coming back. Never. Not for term three, four or five or six," Trump went on to add. "I almost won last time. One more speech. I almost won. I went to Michigan. I had a choice. I shouldn't tell you this, but we won Michigan. One more speech, I would have won. It was so close."
Article continues below advertisement
President Trump is referencing claims that the Obama administration illegally monitored the Trump campaign during the 2016 election, a claim that has been refuted by his own FBI director. Asked if there was evidence to back up these claims, FBI Director Chris Wray said, "I don't think I personally have any evidence of that sort."
Article continues below advertisement
During another rally in Minnesota, President Trump claimed that the economy is doing well after the coronavirus pandemic, adding that even students who attended "crummy colleges" and "dumb people" are seeing success.
Article continues below advertisement
"I was 'Man of the Year' eleven years ago in Michigan," President Trump went on to claim. "I don't know why but they picked me." According to The Detroit News, Trump was never awarded such an accolade but has repeated the claim at least six times since 2016.
It's unclear whether President Donald Trump is joking about seeking a third term, but such a move would require a Constitutional amendment.