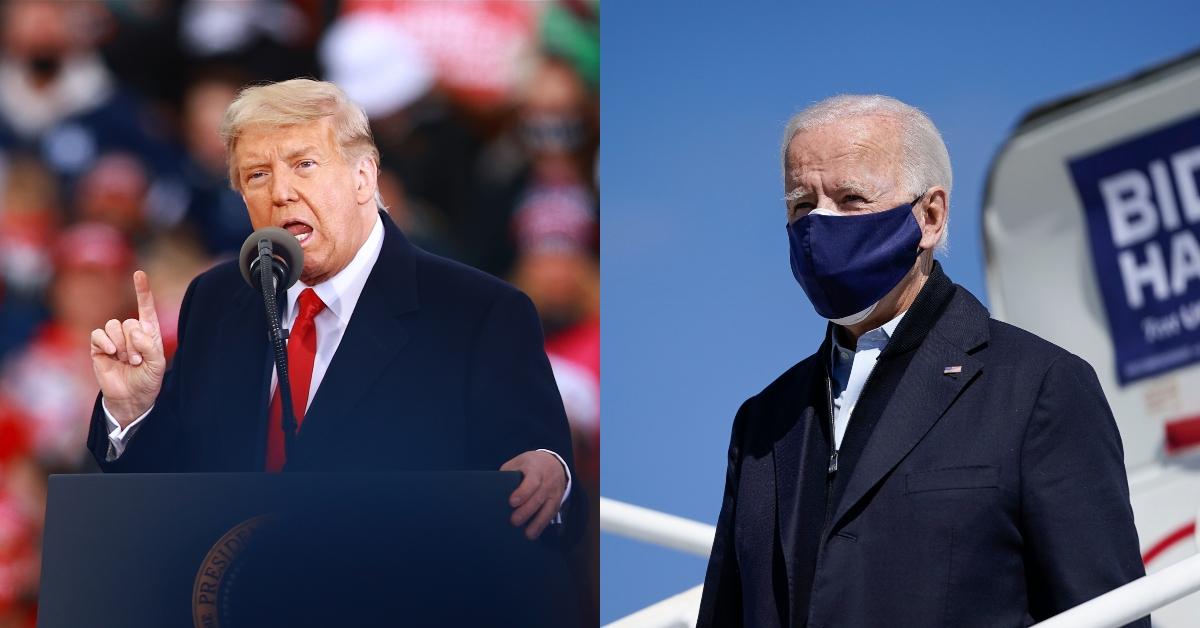 Trump tries to mock Biden by saying 'He'll listen to the scientists' if elected
By Robin Zlotnick

Oct. 20 2020, Updated 9:25 a.m. ET
During a campaign rally in Carson City, Nevada, President Donald Trump attempted to mock Joe Biden by saying that if the Democrat is elected to the presidency, "He'll listen to the scientists" regarding how to best deal with the COVID-19 pandemic.
Article continues below advertisement
It's important to note that the United States' response to the pandemic is widely considered one of, if not the worst in the world. More than 219,000 Americans are dead from the virus, and President Trump himself has benefitted from the knowledge of scientists and doctors while being treated for COVID-19.
Article continues below advertisement
"He's going to lock down," Trump said at the rally. "He's going to want us to lock down. He'll listen to the scientists. If I listened totally to the scientists, we would right now have a country that would be in a massive depression instead of — we're like a rocket ship."
219,000 people dead is hardly "rocket ship" status. But Trump continued, claiming that Democrat-led states are keeping their states closed "because they're trying to hurt us on November 3rd." It's almost like the president cannot fathom a leader taking measures for the purpose of protecting their residents and not for some sort of political revenge.
Article continues below advertisement
Trump claimed that Biden would "surrender your country to the radical socialist left." And he said nothing when "Lock him up!" chants directed at Biden started up in the crowd.
Article continues below advertisement
As Josephine Harvey, a reporter for the Huffington Post points out, "Throughout the COVID-19 pandemic, Trump has dismissed and disputed science, sent mixed messaging to the public, ignored his own government's guidance, feuded with public health experts, and mocked others for following the rules — even after he and dozens of people in his circle tested positive."
While Trump is bragging about not listening to scientists, the U.S. has the highest number of COVID-19 cases and death toll in the world, and it's only getting worse. Listening to scientists during a global pandemic is unequivocally the right thing to do.
Article continues below advertisement
Biden's team responded to Trump's mocking in a statement made to Axios. Biden campaign spokesperson Andrew Bates said, "Donald Trump tanked the strong economy he inherited from the Obama-Biden Administration by continually discounting and attacking warnings from the scientific and medical experts working around the clock to save lives. Now, new coronavirus cases are surging and layoffs are rising."
Millions of Americans are out of work due to the COVID-19 pandemic and have been out of work since the virus hit the United States hard in March, about eight months ago. Some people are being kicked out of their homes because they can't pay their bills without a paycheck and the government refuses to come to an agreement about a stimulus package.
Article continues below advertisement
Historic unemployment rates and an ever-rising death toll doesn't constitute an effective response to a devastating pandemic. It was at a campaign rally — one with large crowds who weren't socially distancing or wearing masks in some cases — where Donald Trump mocked the idea of listening to scientists.
Article continues below advertisement
If masks were mandated and social distancing was enforced and businesses and individuals were paid to stay home, we wouldn't have experienced hundreds of thousands of deaths, financial devastation, and uncontrolled spread of a deadly virus. Listening to the scientists on this one was the right move from the start.