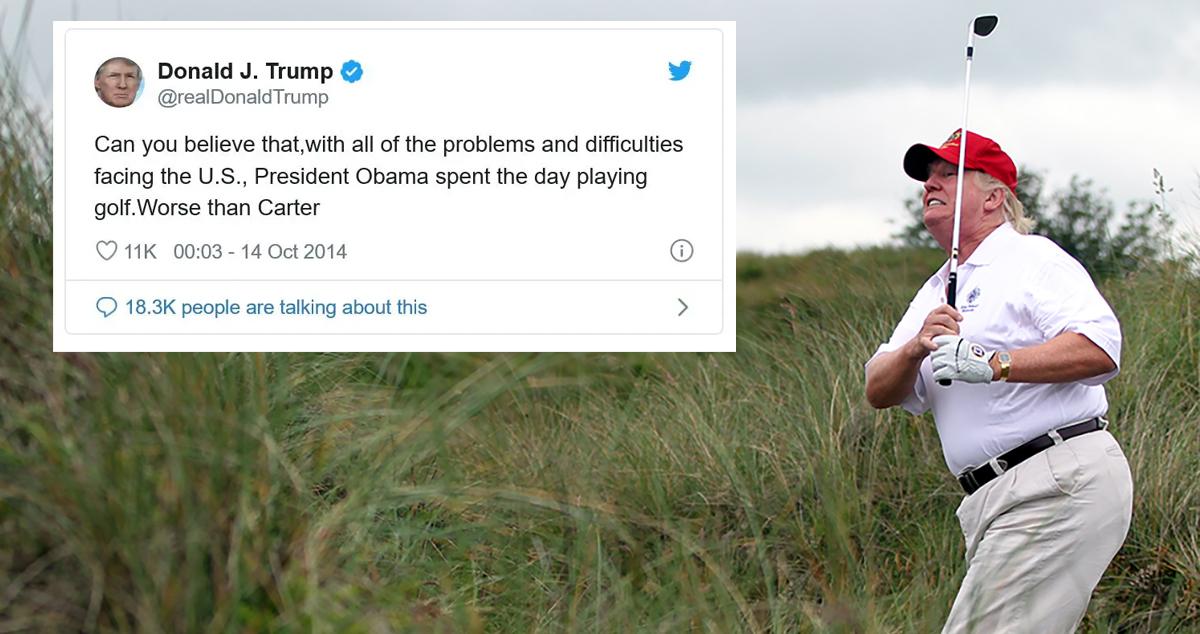 Trump wants to delay revealing how much golf trips cost taxpayers until after the election
By Mark Pygas

Jan. 9 2020, Updated 12:38 p.m. ET
The Trump administration is reportedly attempting to delay Democratic efforts to reveal how much the Secret Service spends on protecting President Donald Trump and his family when they travel according to a report by The Washington Post.
The issue emerged as Treasury Secretary Steven Mnuchin attempts to bring the Secret Service back under his department, where it had been housed from its foundation in 1865 until 2003 when it was moved to the Department of Homeland Security. 
Article continues below advertisement
Democrats have said they will support the bill, but only if it also requires the Secret Service to disclose how much it has spent protecting the president and his family as they travel within 120 days of the bill being passed. 
While Mnuchin has agreed to this requirement he wants these disclosures to begin 2021, after this year's election.
The Washington Post notes that the Secret Service has failed or been late to provide cost reports for President Trump's travel in recent years. No reports were filed in 2016 or 2017, and the Secret Service has been late submitting subsequent reports, with one report due in March not being submitted until November. Agency officials have blamed staff changes for these failures and delays.  
Article continues below advertisement
President Trump's frequent trips have earned him criticism from many, especially because he was so critical of President Obama's trips to golf clubs before and during his presidential campaign.  
In October 2014, Trump wrote:"Can you believe that,with all of the problems and difficulties facing the U.S., President Obama spent the day playing golf. Worse than Carter."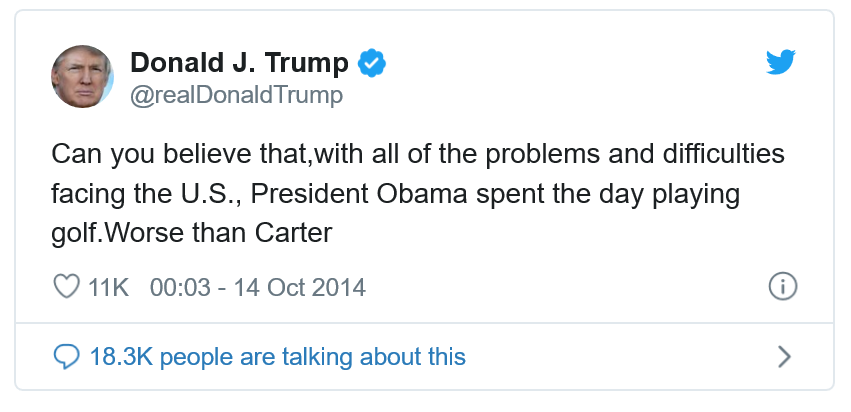 Article continues below advertisement
And during his campaign, Trump promised that he would "rarely leave the White House." Despite that promise, it's estimated that President Trump has spent 114 days at his home in Mar-a-Lago and 75 days at Trump National Golf Club Bedminster in New Jersey.  
The Huffington Post estimates the cost of President Donald Trump's visits to golf courses at $118.3 million. Of that figure, at least several million has gone to Trump's business as Secret Service agents and officials eat and stay at his hotels and golf courses.  
Article continues below advertisement
And it's not just Trump costing taxpayers some serious money. A 2017 trip by Eric Trump to a Trump construction project in Uruguay cost taxpayers $97,000. In that same year, the Secret Service asked Congress for an extra $60 million to helo handle Trump's travel.
The conservative group Judicial Watch estimated that President Obama spent $105.7 million on personal travel in his two terms. However, that figure may include official trips by the Obama's as well as campaign-related travel that was partially reimbursed by the Democratic party. 
The Huffington Post states that Obama's golf bill was somewhere closer to $30 million. 
Article continues below advertisement
Some of the costs of protecting Trump while he's golfing comes from the Secret Service's need for modified golf carts. The Secret Service needs to book golf carts in advance since they need to be modified to go at least 19 mph, around 5 mph faster than an unmodified cart.   
And to cover President Trump's planned visits to Florida between November 2019 and May 2020, the Secret Service has rented 84 golf carts at a cost of more than $50,000 according to Yahoo News.  
These golf carts for the winter season will be supplied by a company called Maddox Joines Inc, which does business as "Sunshine Golf Car." The company is based just a 24-mile drive away from Trump International Golf Club in West Palm Beach.  
Since 2017, golf cart rentals have cost the government $588,000.