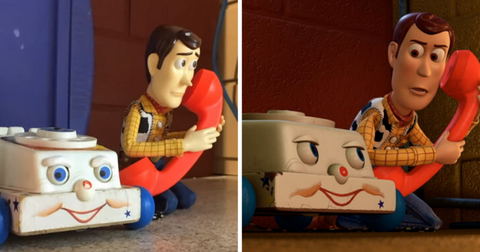 Teenage brothers spend 8 years recreating the entirety of 'Toy Story 3' in stop-motion with real toys
By Mark Pygas

Updated
Toy Story is probably one of the most beloved children's franchises in history. It spans multiple generations and has inspired thousands of children to pursue animation as a career. That's definitely the case for Morgan and Mason McGrew, two brothers from Des Moines, Iowa, who fell in love with the movie when it aired just under a decade ago.
Article continues below advertisement
It inspired them so much that when Morgan was just 15 years old, and Mason was 12, the pair set out on an eight-year journey to recreate Toy Story 3 in its entirety using real toys and stop-motion film techniques. The duo, now 23 and 21, released the final version of their creation just a few weeks ago, and it's taking the Internet by storm.
"As soon as we saw Toy Story 3, it became our favorite film, and will forever be," Mason McGrew told BuzzFeed. "We'd always been [such] huge fans of Pixar and the Toy Story franchise that we eventually decided we wanted to pay tribute to the studio and film that we love so much."
Article continues below advertisement
"Overall, the hardest thing about this film was staying disciplined," Mason added. "It was very important to us that we finish what we began as kids."
You can watch their creation, with a runtime of one hour and 39 minutes below.
Article continues below advertisement
Unsurprisingly, a lot has changed since the brothers undertook their massive project. Morgan, now 23, just graduated from Buena Vista University with a degree in digital media/business. Mason, 21, is just about to finish the same degree at the same school as his brother. They both hope to pursue careers in stop-motion animation.
As you can imagine, people are impressed with the project.
One user wrote: "I can't imagine spending eight years on anything. Every year I've done something different. You two spent eight years on this, and I enjoyed watching it. Sorry that your dog Buster died. I am happy you could use him in your movie. His memory will live as long as this version of your movie is in circulation."
While another added: "Now this has ruined Disney and Pixar's Toy Story 3 for me. The brothers did an even better job. Fantastic 10/10. I'm sure it was made with a lot of blood, sweat, and tears and certainly paid off."