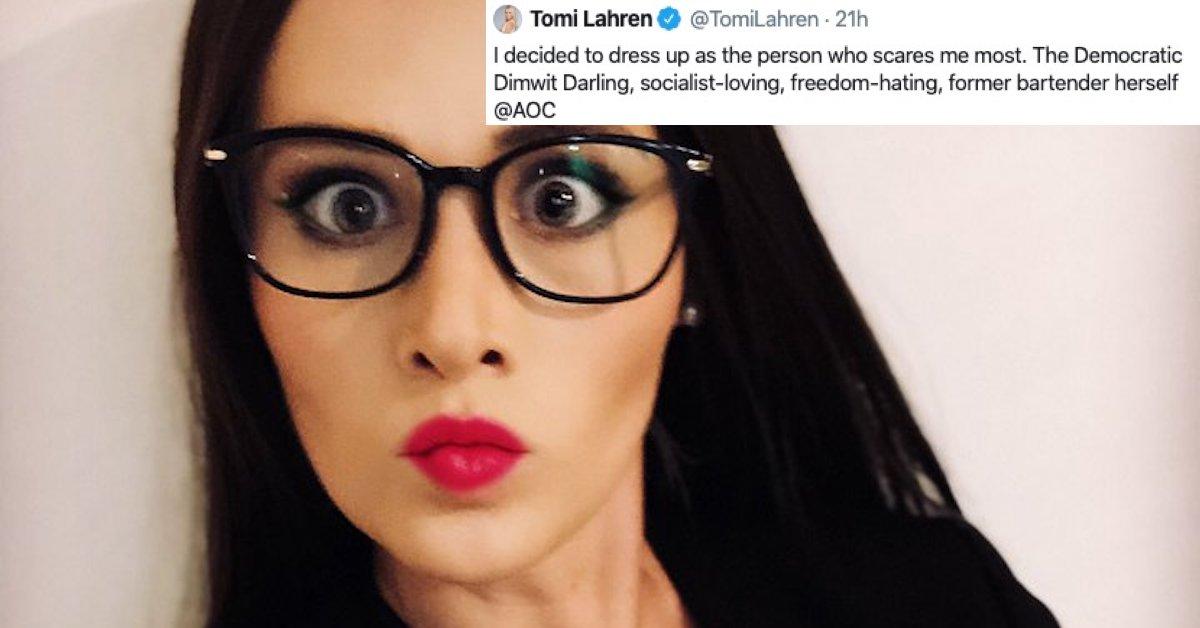 Tomi Lahren draws ridicule with her Alexandria Ocasio-Cortez Halloween costume
By Amber Garrett

Nov. 1 2019, Updated 11:15 a.m. ET
Conservative commentator Tomi Lahren is a contributor at Fox News Channel's subscription streaming service, Fox Nation. She is also a vocal critic of freshman congresswoman Alexandria Ocasio-Cortez (D-NY). Like, she really really doesn't like her. If Tomi charged rent for how much space AOC takes up in her mind, the 27-year-old could easily retire by 30.
Article continues below advertisement
Further proving her preoccupation with the representative from New York's 14th congressional district, Tomi revealed on Halloween that she "decided to dress up as the person who scares [her] the most." She also called Ocasio-Cortez "The Democratic Dimwit Darling, socialist-loving, freedom-hating, former bartender herself."
Article continues below advertisement
Not sure why Tomi thinks being a bartender is worth of ridicule, but I digress. Predictably, progressives and comedians latched onto the post with some retorts. "I want to make fun of you, but this is actually a pretty good costume idea," writes Full Frontal With Samantha Bee correspondent Mike Drucker. "I'm also going to dress as someone who became more successful than me in far less time because they haven't sold their soul.'
Actress Alyssa Milano also noticed the weird mention of AOC's former occupation like it was a bad thing, asking, "aren't you the party who claims to be for working Americans? Why say, 'bartender,' like it's a bad thing?"
Article continues below advertisement
Donning glasses similar to AOC's and holding a copy of The Communist Manifesto and a folder containing the Green New Deal, Tomi also sported the Bronx politician's signature red lip. But she also kind of resembled fellow conservative talking head Dana Loesch, as others on Twitter noted.
Article continues below advertisement
Article continues below advertisement
Others suggested Tomi's costume choice was borne out of jealousy. "This is the closest you'll ever come to Congress, you insipid strip mall Barbie, tweeted @HoarseWhisperer.
Article continues below advertisement
As this user points out, Tomi may want to mix her own drinks unless she wants a floater, because the is definitely not ingratiating herself with the service industry.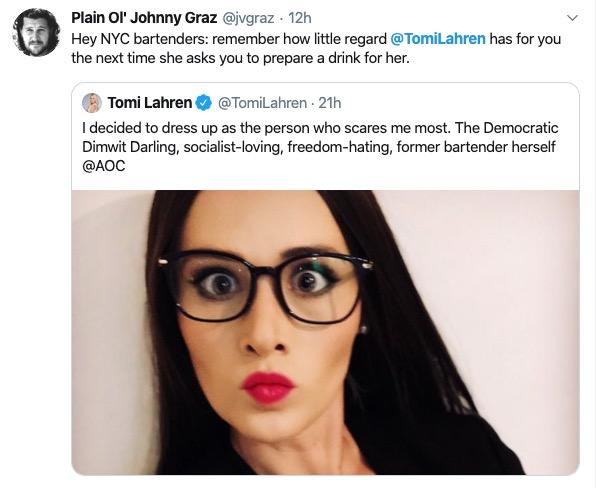 Article continues below advertisement
Some conservative supporters of Lahren's said the reason she continues to harp on AOC's former profession is to emphasize how "unqualified" she is to be a House Representative. However, as several AOC supporters noted, Ocasio-Cortez graduated with honors from Boston University with a double major in international relations and economics. This certainly makes her more educated on policy matters than a lot of people currently serving in Congress.
Tomi's taking the criticism in stride, though. "For all those crybabies out there triggered by my Halloween costume and others: it's Halloween, calm down," she said in a follow-up tweet. Thought you Lefties would love a day that legitimizes going door-to-door asking for free things, anyway #staytriggered."
And you stay true to your brand, Tammy.