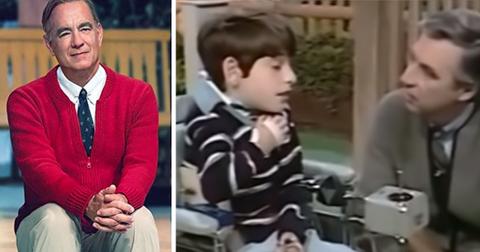 Tom Hanks shares the 'Mister Rogers' moment that made him 'bawl' and inspired him to play the character
By Mark Pygas

Updated
This November 22, Tom Hanks is set to play everyone's favorite childhood hero, Mister Fred Rogers in A Beautiful Day in the Neighborhood. The film stars Matthew Rhys as a character based on Esquire journalist Tom Junod, who is assigned to profile beloved television icon, Fred Rogers. While Rhys' character is initially hesitant, his life is changed by the encounter. 
And surprisingly, the film's character isn't the only person who was initially hesitant when it came to Mr. Rogers. Tom Hanks recently spoke to the press at the Toronto International Film Festival about his new role and revealed that he wasn't much of a Mister Rogers fan growing up. 
"I was too busy watching Rocky and Bullwinkle, and stuff like that," Hanks said according to Vanity Fair. 
But that changed a few years back when he received an email from a friend with a link to a YouTube clip from Mister Rogers' Neighborhood. The clip shows Mister Rogers greeting a young boy in a wheelchair, Jeffrey Erlanger.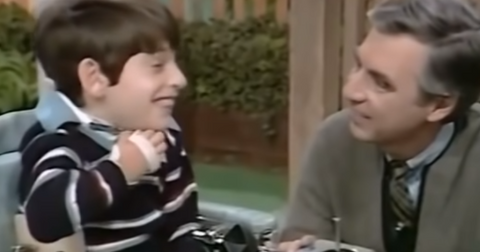 Erlanger details how at 7-months-old he had undergone surgery to remove a tumor that was affecting his nerves. Sadly, doctors couldn't remove the tumor fully and Erlanger became permanently handicapped. Erlanger appeared on the show after going through further surgery to correct the restricted bladder function that was causing extreme pain. 
"Fred is just so wonderfully gentle and present [with] someone who normally would make [most people] feel uncomfortable," Hanks told the press. "What do you say to somebody who will spend their life in a wheelchair? He said, 'Jeff, do you ever have days when you're feeling sad?' He says, 'Well, yeah, sure Mister Rogers. Some days…but not today.'" 
After a few minutes of conversation with Erlanger, during which Mister Rogers congratulates the boy on his willingness to talk about his condition and help others do the same, the pair sing "It's You I Like." 
If you feel like crying today, here's the clip on YouTube. 
Hanks went on to explain to journalists how the clip impacted him: "It made me bawl my eyes out," Hanks said. "It was just so [amazing]. It's one of the reasons why I'm in the movie." 
If you want to cry some more, Erlanger and Rogers reunited about 17 years after Erlanger's Mister Rogers appearance. The reunion happened at the Academy of Television Arts & Sciences Awards, where Erlanger surprised Rogers, who had received a Lifetime Achievement Award 
And yes, that's available to watch on YouTube as well. 
A Beautiful Day in the Neighborhood is scheduled to be theatrically released in the United States on November 22, 2019.