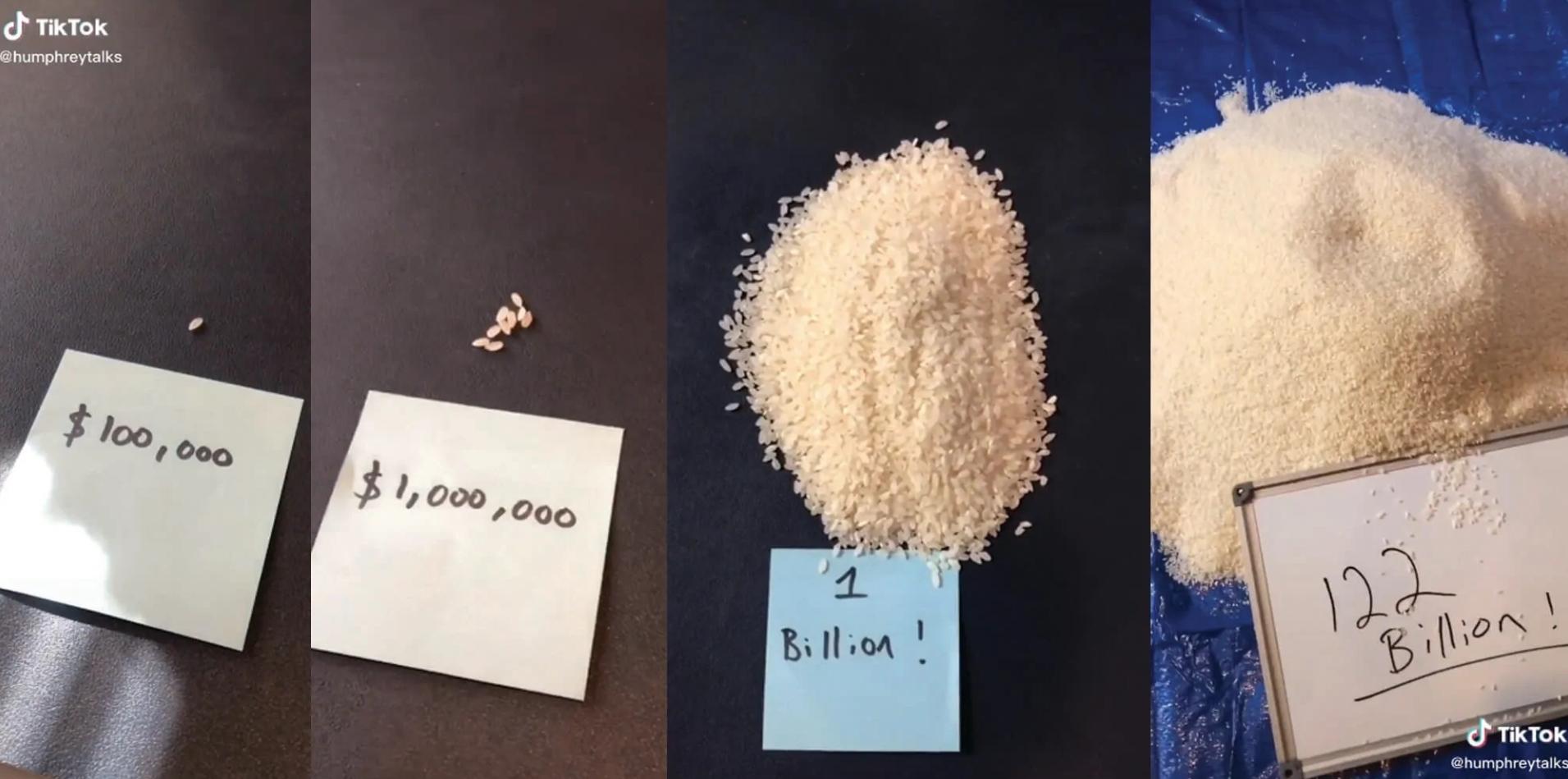 TikTok showing Jeff Bezos' obscene wealth using grains of rice goes viral
By Mustafa Gatollari

Mar. 2 2020, Updated 6:35 a.m. ET
The late and great Mitch Hedberg once said, "Rice is great if you're really hungry and want to eat two thousand of something." It turns out it could also be a pretty good tool for visually showcasing just how much money Amazon's founder and owner, Jeff Bezos, possesses.
Which is something TikTok user @humphreytalks learned after going viral for posting a carefully crafted video about one of the richest men in the world's wealth.
Article continues below advertisement
The owner of the TikTok account, Humphrey Yang, is a 32-year old e-commerce consultant based out of San Francisco. He doesn't use the platform to engage in peculiar internet challenges or show off how well he can emulate popular dance moves in Fortnite. Instead, he's decided to dedicate his TikTok to publishing a series of financial literacy vignettes to help people understand a variety of economic topics.
After his specific Bezos-related post started gathering tons of shares, replays, and likes, people began reposting his video to start political conversations on "the top 1 percent," billionaires — which wasn't Humphrey's intention at all.
BuzzFeed reported Humphrey as saying: "I wanted to present the information the best I could without putting a spin on it; other people can put their spin on it."
Article continues below advertisement
He continued, "But I realize now after I posted the video that a ton of the comments — I'd say 80 percent of the comments — are saying that wealth is such an inequality, no one should have that much money, and "we're out here struggling for half a grain of rice, which is 50K. That's what's sparking it."
Article continues below advertisement
His first video, which didn't mention Bezos at all, just piles of rice comparing $1 million to $1 billion, was causing a stir online regarding income inequality. Then his follow-up post didn't really do much to quell it, which showed a pile of rice that represented $1 billion and beside it, another mound indicating what $122 billion would look like, which is roughly what Bezos' net worth stands at right now.
Yikes, that's a lot of moolah.
Article continues below advertisement
Even if you don't give a hoot about finance — or a greater discussion as to whether or not any single person should be in possession of that much money — you have to give props to Humphrey for the dedication it took to get him to count out those rice grains. Each grain represents $100,000. So to get to a billion, he need to count out 10,000 grains of rice.
Which he did, individually. (I know, I know, the dedication is mind-blowing.)
So he weighed those 10,000 grains of rice, and then, using simple multiplication and a scale, was able to extrapolate what $122 billion would look like. Which resulted in a whopping 58 pounds of rice. Good lord.
People were stunned after seeing such an in-your-face visualization of what that amount of money looks like in actuality.
Article continues below advertisement
Article continues below advertisement
For many, it was a painful reminder that, like Humphrey said, many of us are struggling for even $50k, or half a grain of rice.
Some used it as a great visual representation of comparing Bernie Sanders' $2.5 million to Bloomberg's $64 Billion.
Article continues below advertisement
Humphrey was noncommittal when it came to making any sort of political statement, but ultimately said that he doesn't believe individuals should be held accountable, the systems in place should: "In terms of wealth some people have on others, I don't know if I'd blame the person. If you create Amazon, you're going to have a ton of wealth. I'd direct the reason toward the system itself — capitalism itself."