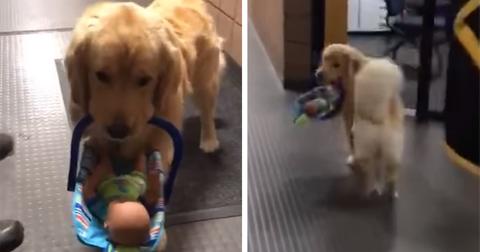 A police department's therapy dog kept stealing toys from their holiday drive
By Mark Pygas

Updated
When officers from the Franklin Police Department noticed that toys donated to their holiday drive benefiting the Santa Foundation were going missing, they probably never imagined that it was an inside job. So they were rightly surprised when they found the missing toys stashed under an officer's desk.
But it wasn't the officer stealing the toys, it was their therapy dog, a golden retriever named Ben. 
"When Ben saw the toys, he thought they all belonged to him," Deputy Chief James Mill told WFXT. Officers eventually caught Ben in the act attempting to steal a baby doll. They were able to follow him back to his stash, located right next to his bed under a desk.
"You're priceless," an officer said in the video. "He's going to stockpile them toys over there. He keeps bringing them in here." 
Franklin Police Department posted the video to Facebook, along with the caption:
"We learned an extremely valuable lesson today. When you have a classroom full of toys ready to be shipped off to the Santa Foundation, you should...
1. Close the door to the classroom
2. Keep the toys elevated
If not, a golden retriever will slowly hoard them throughout the day and bring them back to his lair. Thanks to Officer Cusson for capturing this larceny on camera."
Mill told WFXT that Ben has since been banned from the toy room to prevent further thefts.
"I mean, he's gotten his slobber all over them at this point, so the police department has replaced them," he said. 
Mill went on to add that Ben otherwise has "the run of the station."
"It's amazing. He's like one of those friends that always shows up at a party that everybody loves. So even if you're having a terrible day, if Ben walks in, seriously, it's just like a ray of sunshine."
Unsurprisingly, opinions were mixed about whether Ben is a good boy or a bad boy. 
One commenter defended the dog, writing: "That is absolutely adorable!!! My daughter loves seeing Ben when he visits Jefferson elementary school. Thank you Franklin PD for brightening her day each time she sees him!"
While another added: "Kidnapping caught on camera!! And the perp looks so innocent!!"