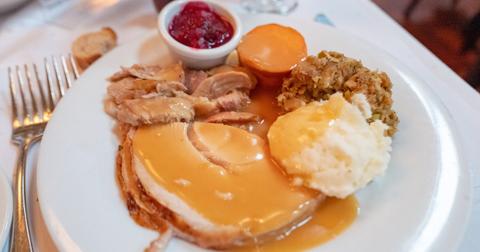 Couple uses canceled wedding's food budget to feed 200 people on Thanksgiving
By Mustafa Gatollari

Updated
Thousands of wedding celebrations all across American were either canceled or postponed due to the COVID-19 pandemic. And while it was a huge blow to couples who were hoping to share such a momentous occasion with their close friends and family members, there were tons of venues and businesses hit exceptionally hard by the cancellation of large group gatherings.
Article continues below advertisement
So much so that they were reluctant to refund any portion of the deposits they've received as down payments for the celebrations, especially as there seems to be no end in sight to the social distancing and COVID-19 restrictions that are in place throughout most of the country.
Illinois residents Emily Bugg and Billy Lewis are one such couple who had to alter their wedding reception plans in the wake of the coronavirus pandemic.
And while they are one of many pairs who've canceled their matrimonial celebration, it's their particular reaction to the news that has so many folks singing their praises. When they learned they'd be losing out on their $5,000 catering deposit, they decided to do something special for Thanksgiving.
Article continues below advertisement
"In the grand scheme of things, canceling a big wedding isn't the worst thing that could happen," Emily told Good Morning America. The 33-year-old is an outreach worker at Thresholds, which is a nonprofit group dedicated to assisting individuals with mental illnesses and substance use problems.
She continued, "We're happy to be married, and we're so happy that we could help Thresholds' clients feel the connection of a Thanksgiving meal as a result of the wedding cancellation."
Article continues below advertisement
The couple decided to instead use their big wedding dinner from Big Delicious Planet to provide 200 meals for Thresholds clients on Thanksgiving, which packed traditional holiday fare: turkey, mashed potatoes, vegetables, and more.
What's more is that the venue that the couple booked, Salvage One, said that they would use the couple's deposit towards another charitable cause: a future event for the Epilepsy Foundation.
Article continues below advertisement
Emily and Billy elected to instead hold a small ceremony at City Hall instead of saving the deposits for a future party date. Mark Ishaug, CEO of Thresholds, was touched by the couple's gesture, "Emily's donation is an incredible example of the generosity and creativity that the pandemic has inspired in so many. I know that Emily's act of kindness will inspire others to do the same and build love and connection in a difficult time, in any way we can."
He continued, "Thresholds is so grateful for our staff, like Emily, who are so dedicated to their work serving those with mental illnesses."
Non-profit staffers worked with the caterers to box the meals, and then Thresholds workers individually delivered the meals to their clients' houses right before the Thanksgiving holiday.
Article continues below advertisement
The Chicago branch of Thresholds posted a tribute to both Emily and Billy for their generosity and throngs of people expressed how inspired they were by the fact that they embraced the Thanksgiving holiday as a time to truly give back to those who are in a difficult situation.
Article continues below advertisement