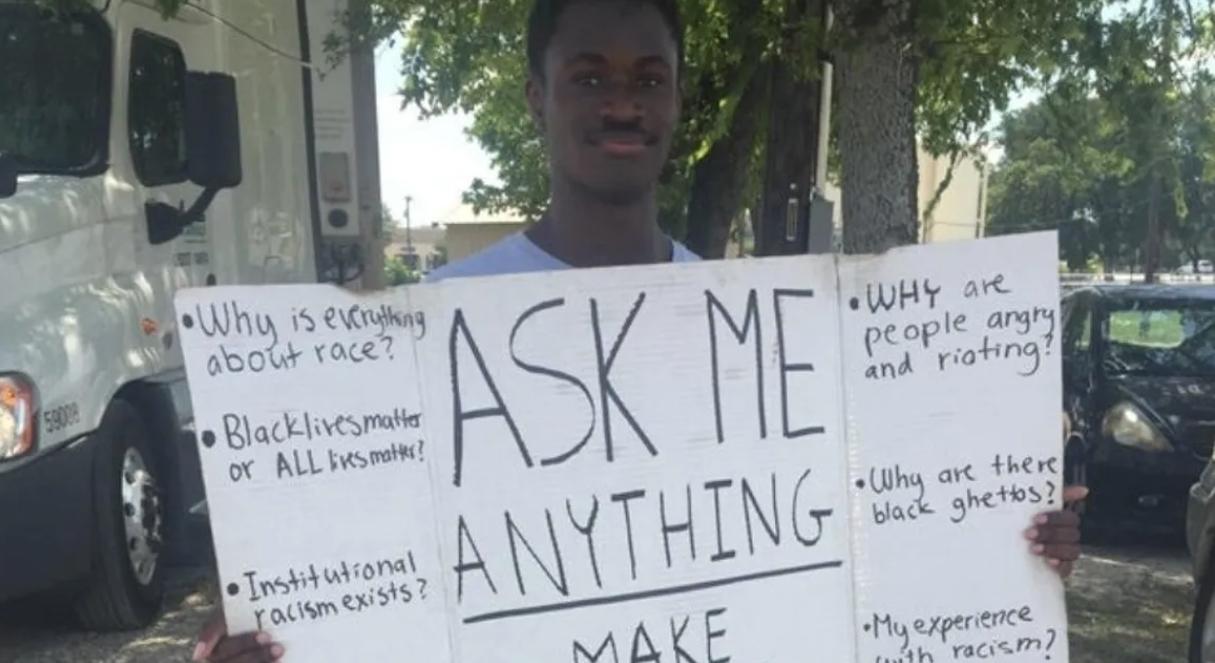 College student spends 7 hours a day answering questions from fellow townsfolk about racism
By Annie Reneau

Jun. 24 2020, Updated 11:38 a.m. ET
Nifa Kaniga stands alone on a street corner in 100-degree heat in his town of Dripping Springs, Texas, waiting for fellow townsfolk to stop by. From noon to sunset, around 7:00pm, according to CBS Austin, Kaniga answers questions about race and racism from his perspective as a Black man living in a mostly white and Hispanic community. (Dripping Springs has a population of less than 5,000 people, less than 1% of whom are Black).
Article continues below advertisement
The 20-year-old holds a sign that says, "ASK ME ANYTHING. MAKE YOURSELF UNCOMFORTABLE." He even offers sample questions, such as "Why is everything about race?" "Black lives matter or ALL lives matter?" and "Institutional racism exists?"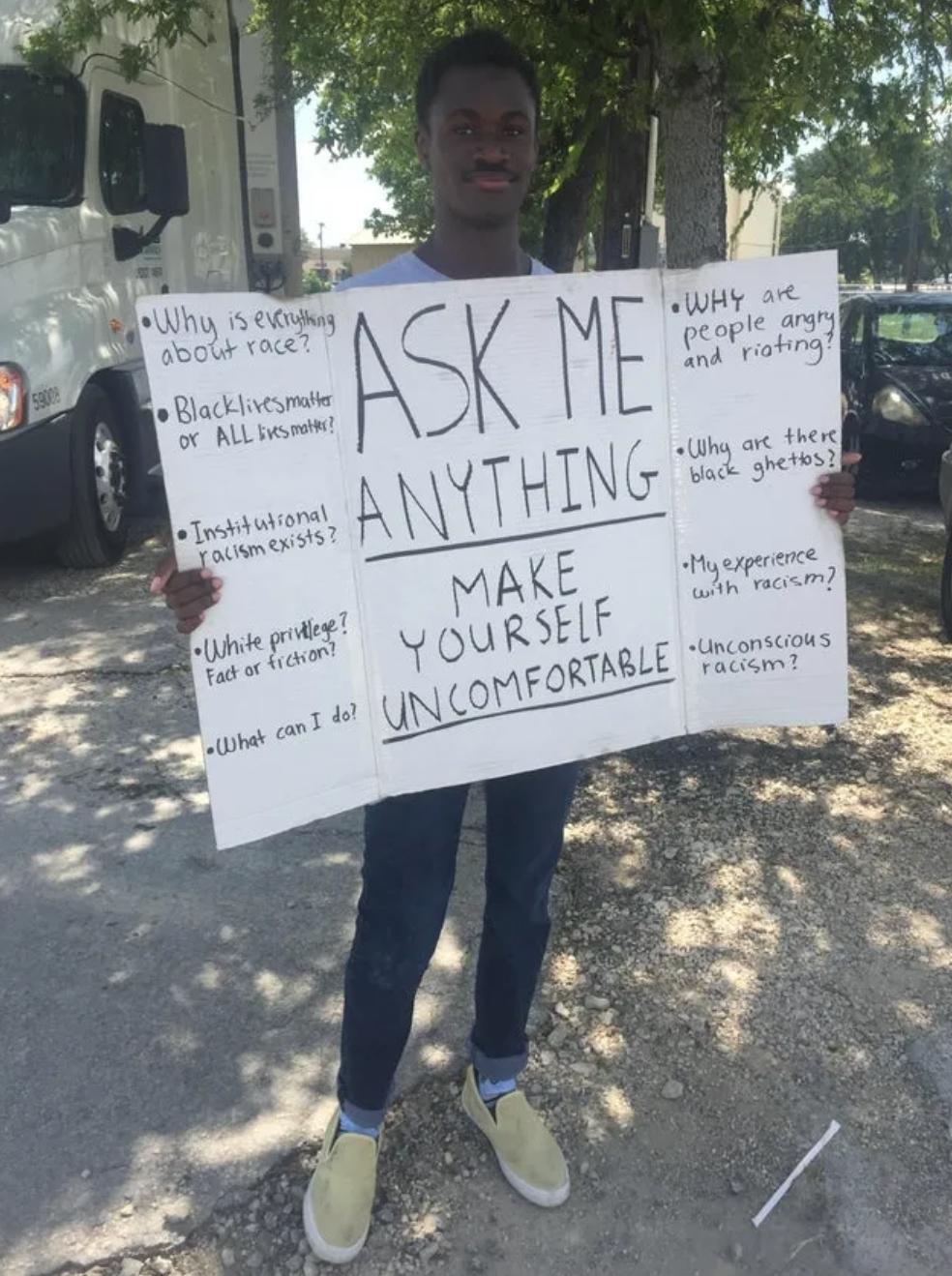 Article continues below advertisement
"Many people have asked me, 'What's up with all lives matter versus black lives matter?'," he told CBS Austin. "Nobody said only black lives matter or black lives matter more than white lives. We're saying when black lives are taken unjustly and nothing is being done about it, it sends the sentiment that black lives don't matter."
Kaniga, who attends UT Dallas, said that he has experienced racism in the community and has concerns about the police. But he also feels that change will come if people are willing to listen to different perspectives and discuss the tough questions.
Article continues below advertisement
"It's uncomfortable talking about race. It's uncomfortable having to put yourself out here, but I mean that's why I put on this sign, 'make yourself uncomfortable,'" he said. "Because it is uncomfortable to talk about racial issues and political issues."
He doesn't expect everyone to talk to him, or for everyone who talks to him to agree with him. But the conversation is important.
"It's easy to get mad, and it's to be like, 'Wow, you're so wrong, you have no idea what you're talking about', but everybody has their opinion for a reason, and I think [it's important] having empathy and just hearing their point of view," he said.
Article continues below advertisement
Kaniga has begun using his Instagram account, which he'd previously used mainly for skateboarding pictures and videos, as a place to discuss these issues further. He has also put together a Google doc in which he shares some of the racial bias experiences he's has living in New Jersey and Texas, and some notes about institutional racism, U.S. history, and white privilege.
While it's a gift that Kaniga is inviting direct questions about his personal experiences with racism, not all Black Americans should be expected to do the same thing. Racism is painful, and for some, asking to share personal racism experiences is like asking to open a wound. Answering such questions isn't just an intellectual exercise; it's difficult emotional labor. And while white folks might find it helpful, it shouldn't be expected (especially for free).
Article continues below advertisement
Thankfully, there are many Black authors, speakers, activists, and social media educators who have put loads of information out for non-Black folks to learn from. Some, such as Doyin Richards, offer occasional "Ask Me Anything" sessions. Others, such as Ally Henny, share daily free education on their social media pages with the opportunity to pay for more. Currently, the NYT non-fiction best seller list is filled with books on racism by Black authors, so people can learn while also compensating people for their work.
Hopefully, the people of Dripping Springs appreciate what Mr. Kaniga is offering and take him up on the offer to have these uncomfortable conversations. "We have to be uncomfortable if we want change," he says. Indeed, when has change ever been comfortable?