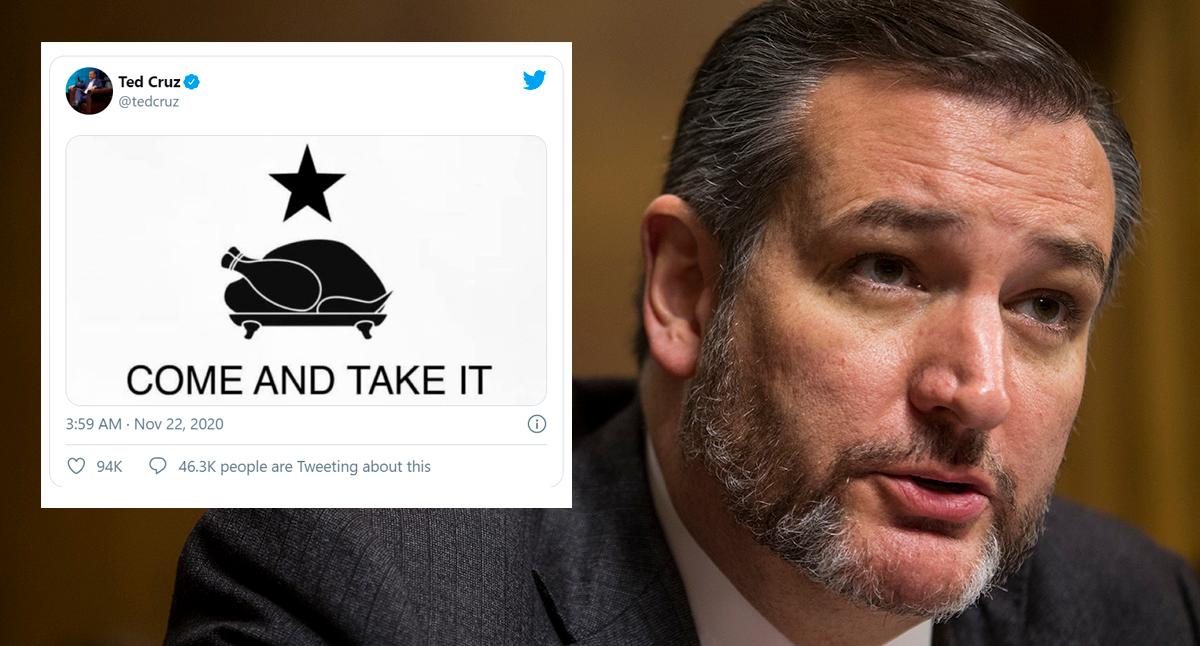 Ted Cruz criticized for sharing 'come and take' Thanksgiving meme as Texas morgues overflow with coronavirus victims
By Mark Pygas

Nov. 24 2020, Updated 9:16 a.m. ET
With coronavirus cases rising across the nation, the Centers for Disease Control and Prevention have advised Americans to keep their Thanksgiving celebrations small this holiday weekend. The agency suggests "celebrating virtually or with members of your own household" to minimize the spread of the coronavirus.
Article continues below advertisement
Dr. Anthony Fauci urged Americans to weigh the risks and "make their own decision" when it comes to Thanksgiving. "I think the people in this country need to realistically do a risk-benefit assessment," Fauci told NBC. "Every family is different. Everyone has a different level of risk that they want to tolerate."
"But when you think of the holiday season and the congregating indoors at what are innocent, lovely functions, like meals with family and friends, you have got to at least think in terms of evaluating, do you have people in your family that are elderly, that might have underlying conditions, like someone on chemotherapy, or other things that weaken their immune system?"
Article continues below advertisement
"Do you really want to get a crowd of 10, 15, 20 people, many of whom are coming in from places where they have gone from crowded airports, to planes, getting into the house?" Fauci asked. "At least give you and your family the benefit of having considered what is the risk-benefit of doing that."
Despite this advice, Senator Ted Cruz of Texas recently took to social media to share a meme telling people to "come and take" Thanksgiving.
Article continues below advertisement
The tweet, which Cruz shared on Saturday, came on the same day that a team of 36 National Guard troops was deployed to El Paso, Texas, to "provide mortuary affairs support." Prison inmates have also helped move bodies as the city struggles to deal with surging coronavirus cases.
Article continues below advertisement
"Yesterday, the Texas Division of Emergency Management announced that a team from the National Guard had been mobilized to 'provide mortuary affairs support' because there are more dead bodies than the state government can handle," one user pointed out. "And you play tough guy about a turkey."
Article continues below advertisement
While another added: "In Texas: 1.16 million cases of COVID. 21,000 deaths. Yesterday alone: 11,000 new cases. 132 deaths. They just called in the national guard to El Paso to move bodies. Hard to imagine greater callousness & disregard for human life."