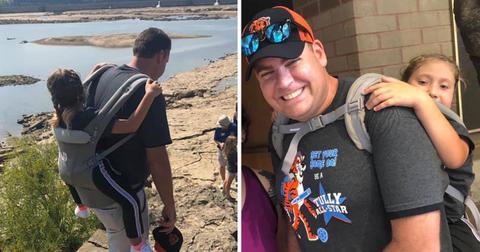 Teacher carries 10-year-old with Spina Bifida on back so she wouldn't miss a field trip
By Mark Pygas

Updated
Spina Bifida occurs when a baby's spine and spinal cord don't develop properly in the womb, causing a gap in the spine. While surgery can be used to close the opening of the spine, many babies will go on to suffer from weakness or total paralysis of the legs as a result of damage to the nervous system. 
Shelly King's 10-year-old daughter, Ryan, has Spina Bifida. And unfortunately, the Louisville, Kentucky, girl misses out on a lot in life because she is confined to a wheelchair. King told News Center Maine that her daughter is often unable to accompany her classmates on field trips because the locations aren't always accessible. 
When they learned that Ryan's class was heading to see the fossil beds at the Falls of the Ohio State Park, King imagined that her daughter would once again miss out. But a teacher at Ryan's school, Jim Freeman, was so committed to getting Ryan involved, that he offered to carry the girl. 
King took to Facebook to share photos of the field trip and praise Freeman for his kind gesture. 
King wrote in a caption alongside the photos:
"If I haven't bragged on my kids school enough - well, listen to this. They are going on a field trip to Falls Of The Ohio today. Obviously, NOT accessible. I was preparing for an 'alternate field trip day' when a male teacher reached out and said 'I'm happy to tote her around on the falls all day!'" 
"She is sooooo excited to do this independent from me," the mother continued. "We are sooooo blessed to have an ENTIRE school that is so compassionate and empathetic and NEVER make her feel left out." 
Unsurprisingly, Freeman has earned plenty of praise on social media.
"Lots of respect for this such a humble teacher," one user wrote. "We seriously needs this kinds of teachers all around of us."

Another commenter added: "Love it! Gives me hope for when my little one grows and goes to school."

While one Facebook user concluded: "That is the kind of person whose life purpose is to be a teacher!! That is just simply amazing!!! I'm so happy your beauty got to experience this!"

Another added: "Teacher of the Year Award goes to that teacher!!!!"