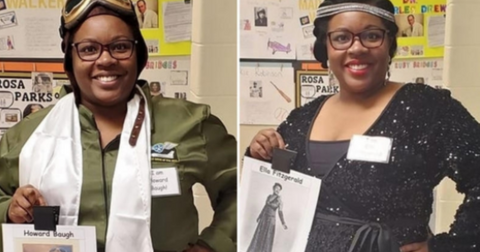 Teacher dresses up as a different black trailblazer every day of Black History Month
By Mark Pygas

Updated
February is Black History Month, a chance to learn and celebrate extraordinary people, events, and achievements of African heritage. This is especially important when most of the history we learn in schools tends to be centered around Europe and the United States.
A first-grade teacher from Suffolk, Virginia, found an incredibly creative way to teach her kids about some black trailblazers this month. Each day of Black History Month, she has been dressing up as an important person in African American history to bring the past to life for her students.
Mary Jackson
McGriff explains: "She was born in Hampton, VA. She was a mathematician who worked as an aeronautical engineer whom people referred to as a human computer. She was the first African American Women Engineer that played a vital role in the development of the NASA Space Program!"
Arthur Ashe
"He is from Richmond, VA. He was the first African American tennis player selected to the United States Davis Cup team and the only African American man to ever win the singles title at Wimbledon, the US Open, and the Australian Open!"
Mack Benn
"He was a Suffolk born native and the first African American Superintendent for Suffolk Public Schools. He provided Suffolk Public Schools with 35 years of service! There is a school in his honor in Suffolk, VA!"
Colonel Fred Cherry
"So today I was Colonel Fred Cherry! He was the first and highest ranking African American Officer among U.S. Prisoners of War during the Vietnam War. He was born in Suffolk, VA and there is a school here in his honor!"
Ella Fitzgerald
"She was born in Newport News, VA. She was a jazz singer. She was sometimes referred to as the First Lady of Song, Queen of Jazz, and Lady Ella!"
Booker T. Washington
"He was an African American educator, author, orator, and adviser to multiple presidents of the United States between 1890 and 1915. He was also the founder of Tuskegee Institute. There is an elementary school in Suffolk, VA in his honor!"
Misty Copeland
"The first African American female principal dancer with the prestigious American Ballet Theatre. It was also the 100th day of school, so I combined the two."
Florence Bowser
"She was a dedicated educator in Suffolk, VA who taught in a one room schoolhouse for African American children. She was instrumental in the construction of the Florence Graded School and later Florence Bowser Elementary School which is located in Suffolk, VA!"
Dr. L.D. Britt
"He is the first African American doctor in America to have an endowed chair in surgery at a Medical School. He received a presidential award of honor from former president George Bush. He also received numerous other awards and recognitions. He's a Suffolk native a respected surgeon at Sentara Norfolk General and a professor at EVMS!"
James Lafayette
"He was born into slavery in New Kent County, Virginia. He won his freedom by spying for American colonists as a double agent during the Revolutionary War."
Henrietta Lacks
"She's from Roanoke, Virginia. Her cells are known as the HeLa cell and her cells lead to many important breakthroughs in biomedical research including the polio vaccine. Today, the HeLa Cell line has been recognized as a globally significant contribution to medicine and research."
Lt. Col. Howard Baugh
"He was a decorated veteran of World War II and a member of the Tuskegee Airmen. He's from Petersburg, VA. The Tuskegee Airmen were African American pilots who led bomber escort missions during World War II."
Laila Ali
"She is an American television personality and former professional boxer who competed from 1999 to 2007. She is the daughter of the late legendary heavyweight champion Muhammad Ali. Her career, from which she retired undefeated, she held the WBC (World Boxing Council), WIBA (Women's International Boxing Association), IWBF and IBA (International Boxing Association) female super middleweight titles, and the IWBF light heavyweight title."
Maggie L. Walker
"She's an African American woman and from Richmond, VA. She was the first woman bank president in America. She advocated for women's rights."
Thurgood Marshall
"He was a lawyer who served as an Associate Justice of the Supreme Court of the United States. He was the Court's first African American Justice."
McGriff told WAVY that the idea has gone down incredibly well with her students. She got the idea from a teacher who did something similar several years ago.
"That's what I remember, having a teacher come dressed as a storybook character. Well, I could dress up as a different figure, an African American figure past or present so they can see themselves represented," McGriff said.
The project has got her kids so excited that they're always trying to guess who McGriff will be dressed as the next day.
"My students will want to know who I will be tomorrow. Today, they just said 'Are you going to be Barack Obama? Are you going to be so-and-so?' Because they want to know and kind of prepare themselves for it so they can tell me something they know about that person."