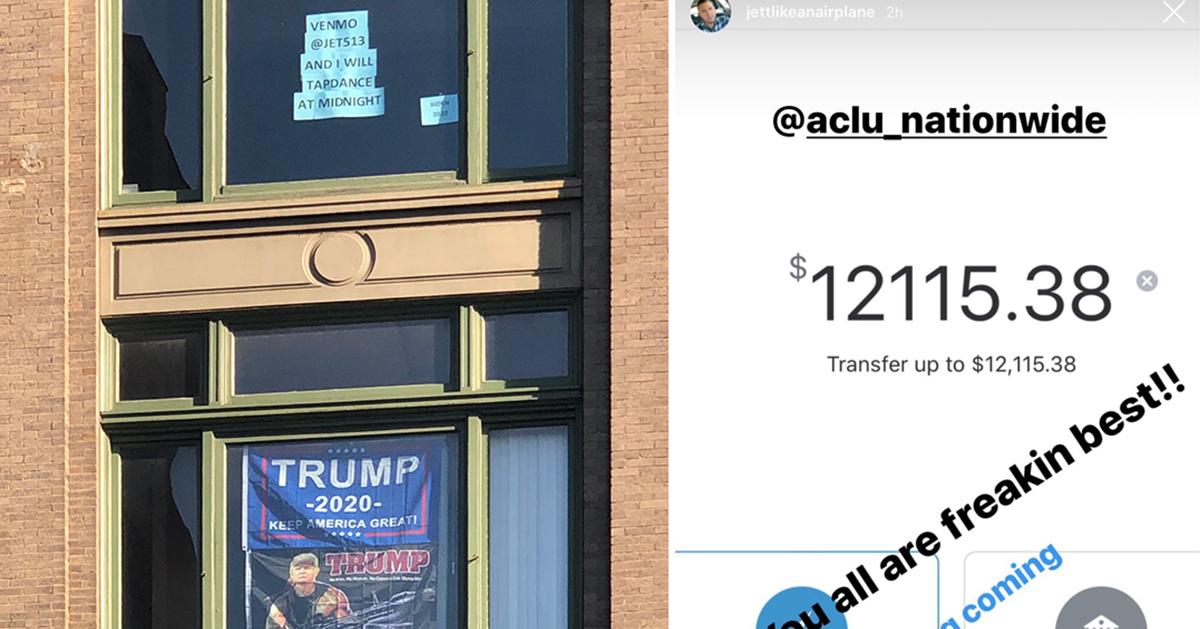 A man offered to tap dance above his Trump-supporting neighbor and raised $12,000 for charity
By Mark Pygas

Jun. 17 2020, Updated 8:19 a.m. ET
A 45-year-old man from Cleveland has raised over $10,000 for charity after offering to tap dance above his Trump-supporting neighbor at midnight. Jett Croisant recently noticed that his downstairs neighbor had put a MAGA banner in their window amid protests over the death of George Floyd at the hands of police.
Article continues below advertisement
Croisant quickly decided to post his own sign, which read: "Venmo @Jet513 and I will tapdance at midnight."
He told Buzzfeed that he put the sign up as a joke, and expected to receive a few dollars at most. But Croisant started to receive a lot more money after Amy Ziemak, who lives across the street, posted the sign on Twitter.
Article continues below advertisement
The tweet received a fair amount of traction, but went viral when a Twitter user called Mike reposted the image after a friend shared it with him.
As of the time of writing, Mike's post has over 85,000 retweets and nearly 500,000 likes.
Article continues below advertisement
After the tweet went viral, Mike and Jeff Croisant became friends on Facebook, and the former explained that all money received would be donated to the American Civil Liberties Union.
Article continues below advertisement
As of the latest update, people has sent Jeff over $12,000 to tap dance above his neighbor.
"Every two to three seconds, I was getting Venmo'd money. It didn't slow down until Friday," said Croisant. "Today it's picked up again, and donations are starting to get bigger. The biggest donation I've gotten is $50 a couple of times."
"At that point, I thought I should probably do something good with the money. I'm going to donate it all to ACLU."
Someone has even sent Croisant a pair of tap shoes so that he can live up to his end of the deal.
Article continues below advertisement
Croisant explained that when he received the shoes, he'll record his antics and then close the Venmo account so that no more money can come in.
"A couple months ago they put up the banners in the window, and it was the dumbest banners ever. It frustrated me a lot," he said. "When we had the protest in Cleveland, that night they took it down. A couple nights later, they put it back up. It didn't make me too happy...so I thought it would be a kind of funny to do to annoy them."
"We're not necessarily being mean. We're teasing," Croisant added. "I'm a little taken aback by the whole thing." He added that he "love[s] that people are having fun with it."
"I just want to annoy them a little bit 'cause they've been annoying me with their sign in their window," he concluded.