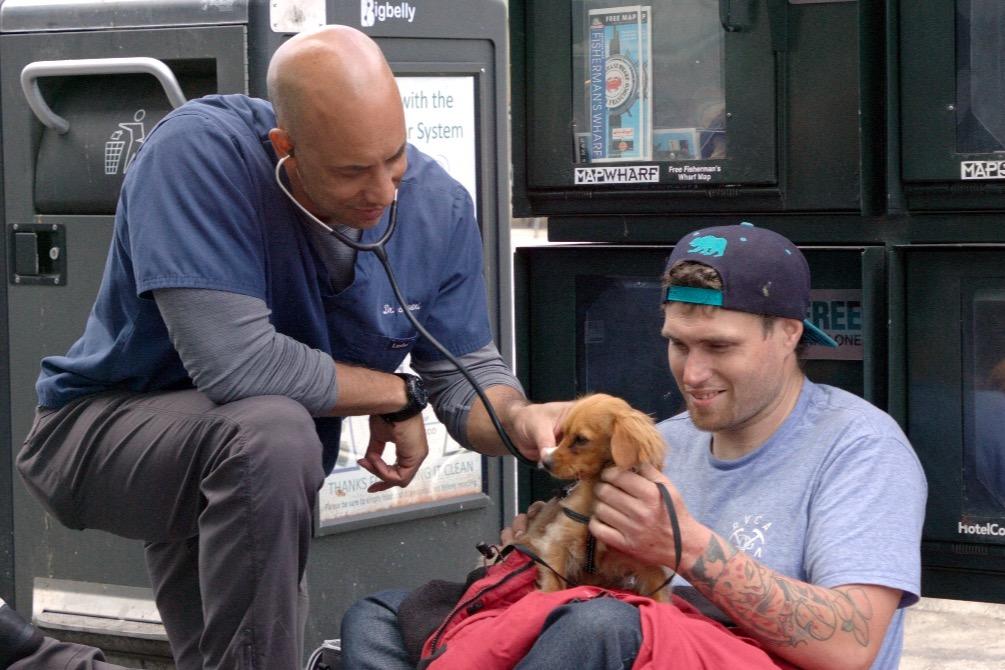 This vet walks around California and treats homeless people's animals for free
By Mark Pygas

Feb. 27 2020, Updated 7:57 a.m. ET
Homelessness is a massive problem in the United States, with more than 553,700 people sleeping rough on a single night in 2017. It's especially a problem in California, where more than 150,000 people sleep in shelters, cars, or on the street.
Article continues below advertisement
This is something that veterinarian Dr. Stewart Kwane knows all too well. After seeing how many people and their pets ended up on the street after the Great Recession, Dr. Kwane decided to help in the best way he could. Since 2011, Dr. Kwane has been offering free care to the homeless.
Article continues below advertisement
In a GoFundMe campaign, Dr. Kwane explains:
"I've been a veterinarian for over 20+ years, and over the past few years, I've been passionately motivated to impact the lives of our homeless pets and people."
"When I had spare time or if I happened to be driving home and saw a pet and owner in need, I would offer some assistance. A quick check-up, maybe some medication or food... it wasn't a lot but sometimes giving a little can make all the difference."
Article continues below advertisement
Dr. Kwane explained that the GoFundMe, which has so far raised over $72,000, helps to pay for more expensive treatment like dental extractions.
"The cost of minor treatments like ear infections, flea treatment, or vaccines can be around $100, whereas more serious cases like a tumor removal or dental with extractions can be $1,500."
Article continues below advertisement
He's even helping one homeless man, Walter, pay for an extremely expensive surgery for his dog Dinker.
"Dinker and his owner Walter have a connection like no other," Dr. Kwane wrote. "Unfortunately, Dinker has a very rare condition that requires surgery from a specialist. We are currently working on trying to make that happen but it is an extremely expensive procedure."
Article continues below advertisement
In a recent update, Dr. Kwane thanked people for the donations and explained what it means for homeless people and their animals.
"Thank you all so much," he wrote. "Originally I set a modest goal of 10k (and didn't think I would reach that) but the outpouring has been amazing. I'm setting a slightly higher goal (thanks to all of you)."
"The more I bring in the more I can help. It might even be possible now for me to bring on more vets in different cities to spread the goodwill to more pets. Sincerely, thank you all!"