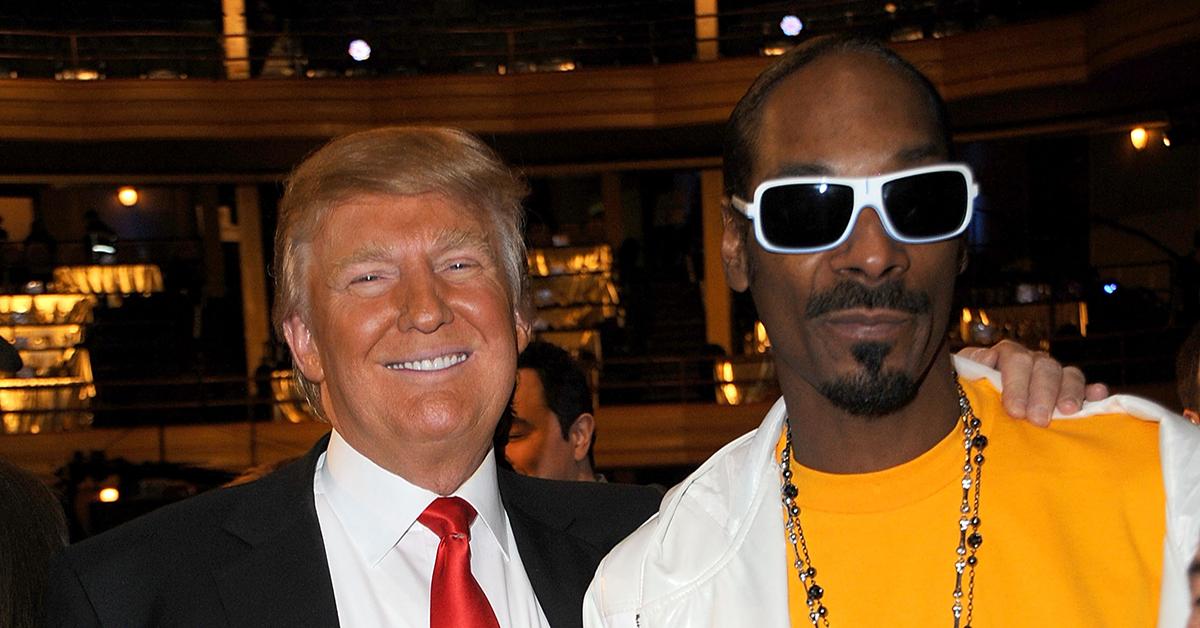 Snoop Dogg says he will vote for first time in 2020: 'I can't stand to see this punk in office'
By Mark Pygas

Jun. 10 2020, Updated 9:47 a.m. ET
During an appearance on Real 93.3's Big Boy's Neighbourhood, Snoop Dogg admitted that he has not voted in an election before because he thought his criminal record prevented him from doing so.
Article continues below advertisement
The rapper, who has been convicted on drug and gun charges, said that he had been "brainwashed" into thinking that "you couldn't vote because you had a criminal record."
"I didn't know that. My record's been expunged so now I can vote," he said according to the Independent.
Snoop Dogg is set to vote for the first time in November, in an attempt to vote out President Donald Trump.
"I ain't never voted a day in my life, but this year I think I'm going to get out and vote because I can't stand to see this punk in office one more year," he said of Donald Trump.
Article continues below advertisement
He also said that he would be encouraging his fans to vote in November by setting an example.
"We got to make a difference, I can't talk about it and not be about it," he said. "I can't tell you to do it and then not go do it. If I tell you to do something, I done it already."
Snoop Dogg also spoke of Black Lives Matter protests that have spread all over the world since the death of George Floyd at the hands of police. The rapper pledged his support, but also encouraged people to stay safe during the coronavirus pandemic.
Article continues below advertisement
"We're dealing with the pandemic too, and I don't think that is fully going away," he said.
"People are quick to jump into the streets and not knowing what the full, you know, thing is with that right now. So I just want to let everybody know to be careful and be safe and keep your mask on. Stay hydrated, stay [hygenic]."
Unsurprisingly, Snoop Dogg's statement led to some mixed opinions on social media.
One user wrote: "Yeeessss! Speak it!!! Snoop Dogg says Trump is a punk!!"
Article continues below advertisement
While another added: "Ok, I hereby declare my vote for Trump specifically to negate that of Snoop Dogg."
Article continues below advertisement
Snoop Dogg has previously been critical of President Donald Trump. When the government was forced to shutdown in 2018 and 2019 after Trump refused to sign a budget unless it contained funding for a southern border wall, the rapper took to Instagram to slam the president.
Article continues below advertisement
"Ain't no f**king way in the world y'all can vote for Donald Trump when he come back up again. If y'all do vote for him, y'all some stupid motherf**kers," he said.
"All you federal government people that's not being paid, that's being treated f**king unfairly right now. That's so terrible, and this punk motherf**ker don't care. So I'm saying that to say this: when the shit get back on and y'all get y'all jobs back and it's time to vote, don't vote for that n***a. Please don't. Look what he do. He just don't give a f**k."
Article continues below advertisement
"Y'all honest, blue-collar, hard-working people and suffering. So if he don't care about y'all, he really don't give a f**k about us. So f**k him too, and f**k everybody down with Donald Trump. I said it. Yeah, Snoop Dogg. N***a f**k him. Shut down the government, n***a? You's a piece of s**t. F**k you."
And there are plenty more videos of Snoop Dogg criticizing Donald Trump.