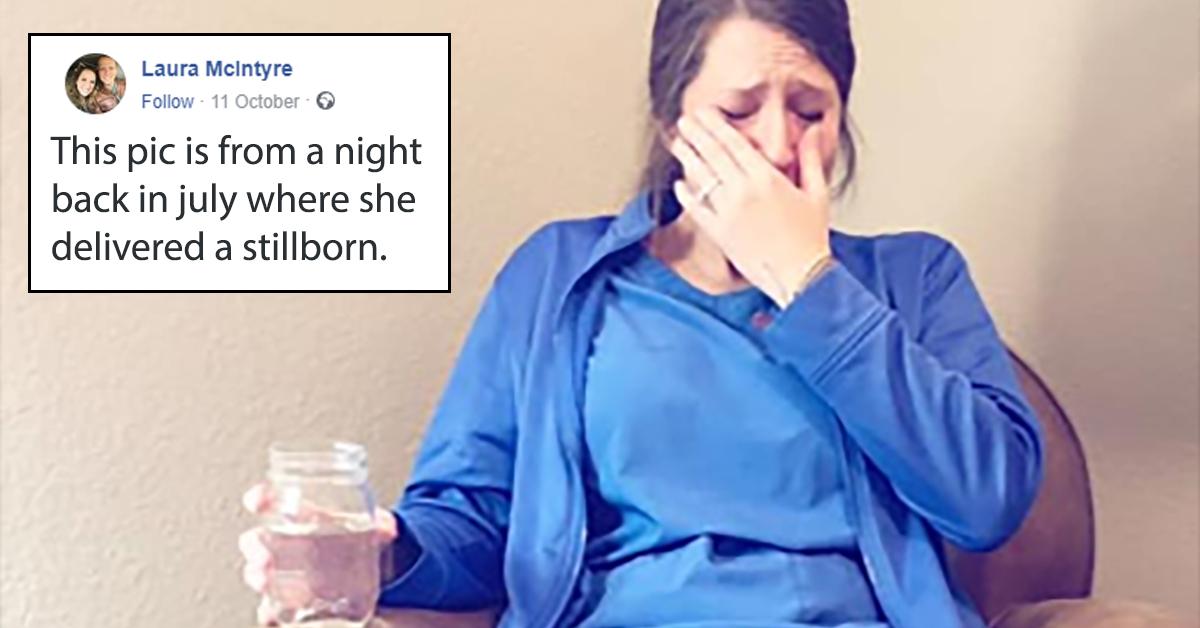 Sister shares harsh reality of being a maternity nurse with long shifts
By Mark Pygas

Oct. 15 2019, Updated 10:26 a.m. ET
Nurses work hard, often for relatively low pay. While a nurse technically only works 40 hours a week, usually in three or four longer shifts, it's hard to just get up and go home in the middle of a medical emergency. "Twelve-hour shifts generally turn into 13- or 14-hour shifts," nurse Kathleen Gaines writes.
Article continues below advertisement
Laura McIntyre of Forney, Texas, recently took to Facebook to share a photo of her twin sister after her fourth shift in a row. According to Laura, Caty had worked around 53 hours that week, not including commuting.
She took to social media to praise her sister, and share a photo of Caty crying.
Laura starts: "She's gonna kill me for this pic, but can we just give it up for nurses for a minute?"
Article continues below advertisement
She goes on to explain the week her sister had:
"Caty just wrapped up her fourth shift in a row. that's around 53+ hours in four days. that's not including the 1.5 hours she's in the car each day. She usually doesn't get a chance to eat lunch or even drink much water. (& she has to dress like a blueberry.. I mean, come on)."
Article continues below advertisement
"She is so good at what she does that she often forgets how to take care of herself while she's taking care of her patients."
"This pic is from a night back in July where she came to my house after a particularly hard day. She delivered a stillborn. Have you guys ever really thought about what a labor & delivery nurse sees?"
"They see great joy in smooth deliveries & healthy moms & babies. They see panic & anxiety when a new mom is scared. They see fear when a stat c-section is called. They see peace when the mom has support from her family - because not all new moms do."
Article continues below advertisement
"They see teenagers giving birth. They see an addicted mom give birth to a baby who is withdrawing. They see [Child Protective Services] come. They see funeral homes come. Did you know that they have to make arrangements for the funeral home to come pick up the baby? I didn't either."
Laura went on to praise nurses for their hard work: "Caty (& all other nurses) - you are SPECIAL. You bless your patients & their families more than you will ever know. thank you for all that you do."
Article continues below advertisement
It was a sentiment that people seemed to agree with. Laura's post quickly acquired more than 14,000 comments and 85,000 shares.
"Our daughter is a midwife and we can relate to this picture as we've seen it first hand. Our nurses give their all and always put the patients first before themselves going hours with out a comfort break or a cup of tea. That's if they're lucky enough to have somewhere to make one let alone sit down for a few minutes."
Article continues below advertisement
"With very little thanks most of the time they get abuse from idiots they trying to treat and if it's not them it's the partners that think they have a god given right to be treated before everyone else. We thank each and everyone of you for all your hard work and dedication,you are the cream of the crop."
While another commenter added: "What a blessing for nurses like this and all medical personnel who work through heart-wrenching situations."
One user concluded: "This is powerful! Thank you to all nurses. God bless you all. I could never do what you do."
Another added: "Yes, thank you. Thank you all. Nurses, midwives, all birth birth workers can can suffer compassion fatigue/ secondary PTSD."