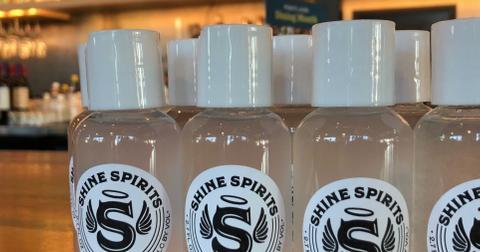 Distillery turns alcohol waste into free hand sanitizer for customers
By Mark Pygas

Updated
Over the weekend, the Centers for Disease Control and Prevention (CDC) recommended that at-risk people stay at home as much as possible amid a worsening coronavirus outbreak. They also suggested a ban on groups of 50 or more people as global deaths passed 6,500.
The move is bad news for businesses that rely on foot traffic, but one distillery in Portland has found a creative way to encourage customers to pay them a visit and stock up on some quarantine brews.
Shine Distillery & Grill are using the waste alcohol they produce from brewing spirits to make their own brand of hand sanitizer. Until recently, they'd been using the alcohol to clean their bar.
Jon Poteet, the owner, told KPTV that he was talking to a customer when she asked if she could have some of the cleaning alcohol to make her own hand sanitizer.
Shine Distillery in N. Portland is now bottling hand sanitizer to give to customers. The owner said they already used the concoction to clean around the place anyway! It's made from a byproduct of the alcohol they bottle. 80% alcohol, xanthan gum, and a little water. pic.twitter.com/OnGuBIs0WM

— Audrey Weil (@audreytweil) March 10, 2020
That gave Poteet the idea to reach out to local authorities to work out the legalities of making hand sanitizer to give out to other people. He learned that as long as he didn't make any medical claims or sell the product, it was perfectly fine.
"I had a lady sitting at the bar the other night and she asked if she could have some and I wasn't sure, so over the weekend, we did our research and checked with the controlling authorities and come to find, as long as we're not making a medical claim or selling it, we're allowed to give it away," he explained to KPTV.
To make the sanitizer, Poteet took the 80% alcohol solution, which is well above the CDC's recommended 60% minimum, and added Xanthan gum to thicken it. After adding a little water and throwing on a label, it was ready to give away.
And considering that hand sanitizer is in short supply, customers seem to be loving the creative ideas. "It's pretty cool, I think it's great," customer Ann O'Connor told KPTV.
"Ultimately, I'm part of the community, I want my friends and neighbors to be happy and healthy," Poteet said. "All my neighbors getting sick and going down doesn't do me any good. I want to be in a healthy community, and it feels good to be able to give back."
The best way to prevent contracting or spreading coronavirus is with thorough hand washing and social distancing. If you feel you may be experiencing symptoms of coronavirus, which include persistent cough (usually dry), fever, shortness of breath, and fatigue, please call your doctor before going to get tested. For comprehensive resources and updates, visit the CDC website. If you are experiencing anxiety about the virus, seek out mental health support from your provider or visit NAMI.org.