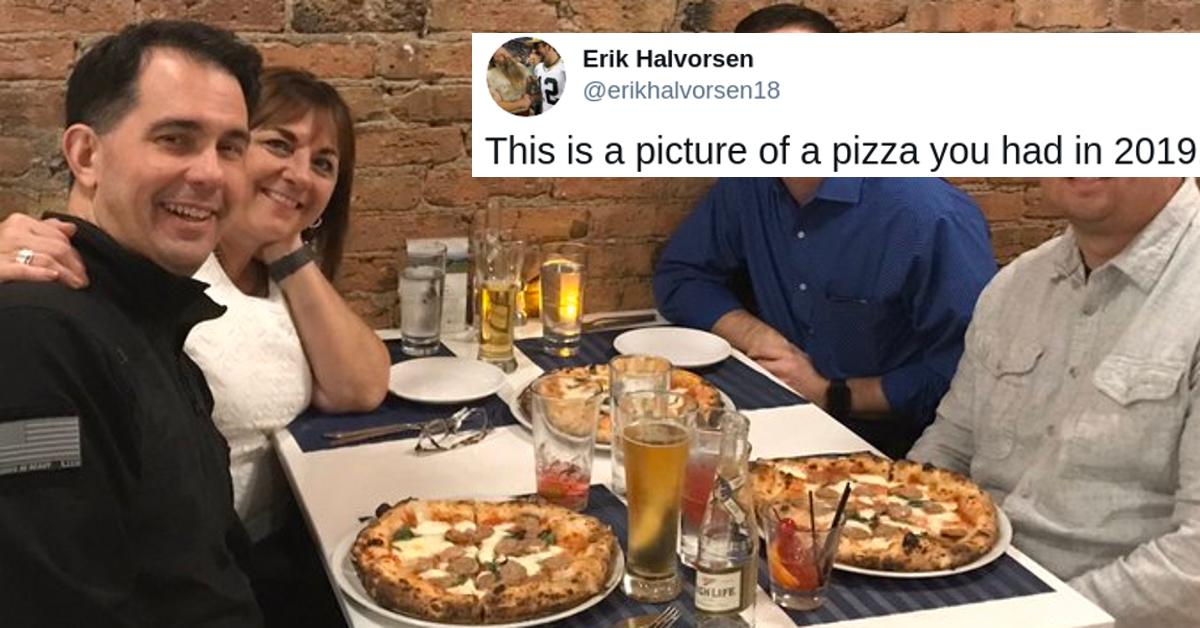 Scott Walker gets roasted for lying about eating out while asking people to 'support local restaurants'
By Mustafa Gatollari

Dec. 28 2020, Updated 9:51 a.m. ET
While it may be difficult to imagine there could be anything political about a photograph of a pizza, former Governor of Wisconsin, Scott Walker's picture of a restaurant's cheesy wares had folks up in arms on Twitter. No, it has nothing to do with the "Pizza Gate" conspiracy either.
It all started with the Republican politician's recent tweet he made about a local Italian restaurant.
Article continues below advertisement
He wrote, "Great pizza tonight at San Giorgio Pizzeria Napoletana. We have to support our local restaurants and small businesses!" and attached a photo of said pizza in his tweet. One would assume with that message and picture combination the pizza in question is the one he had that night. But his followers noticed that there were a few things off about the photo.
Namely that it was grainy and appeared to have been taken in ultra-digital-zoom mode. Others also commented as to the quality of the pizza, as being a native of New York affords them the culinary superiority to call out bad pizzas on the internet from photographs alone. Perhaps the washed-out aesthetic of the photo made the pizza seem less appetizing than it really was.
Article continues below advertisement
Article continues below advertisement
But folks had noticed something else about the pizza photo: it wasn't a zoomed-in picture, it was actually a cropped pic of a pie from there he had taken a year ago while at dinner. Folks found the original picture that was taken in 2019 and had circulated the internet before. Several folks reminded the former Governor of this fact, and attached the original photo to their tweets highlighting the "pizza lie" he had made.
Article continues below advertisement
It didn't take long for many people to conflate Scott Walker's "pizza lying" with the rest of his political career along with the policies of the GOP. Some couldn't believe he would stoop so low as to "lie" about a pizza, while others said that the pie fib was a very "Republican" thing to do, as "lying comes so easy to" them.
Article continues below advertisement
Article continues below advertisement
Scott Walker's first political loss came in 1990 at the age of 22 but has been a steady political fixture for many years. In 2003, he won his first State Assembly Race where he worked his way up to becoming the Governor of Wisconsin in 2011. He officially ended his tenure in 2019, when a shocking 2018 defeat spurred on by what AP calls "Democratic anger" ousted him from the position.
Article continues below advertisement
It seems like the ire for Walker, who was once penned as a potential GOP presidential candidate, has carried over from the 2018 elections until today, as several people continued to pour on the pizza hate with memes and jabs at his competency as Governor.
Article continues below advertisement
Article continues below advertisement
Walker ultimately took to social media in order to clarify that yes, the photo was from 2019 and that he used the old photo because he didn't take one when he went out to eat there that night. He added that he was happy his picture was getting so much traction online because it was important for small businesses to get the support that they needed.