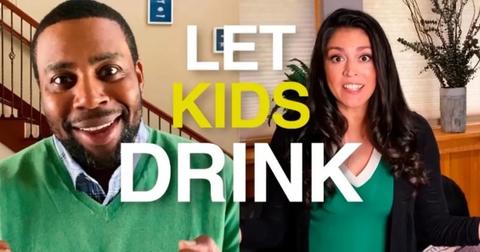 'Let Kids Drink.' SNL's parenting solution for COVID-19 is a hilarious new anthem for families
By Tod Perry

Updated
Anyone whose been parenting throughout the COVID-19 epidemic has probably come close to losing their sanity over the last few weeks. No school. No daycare. No extra-curricular activities. So the cast of "Saturday Night" has a novel approach to the situation, let kids have a drink (or two "if they've been good.")
The images of toddlers taking down martinis was a bit much for some people.
Imagine SNL doing a skit on...

Let kids smoke

Let kids shoot guns

Let kids watch rated R movies

Let kids curse

The outrage would be there.

Let kids drink is not comedy. It is not humor. #SaturdayNightLive @nbcsnl #LetKidsDrink

— Malachi (@malachiobrien) May 10, 2020
Rude SNL opens with a self produced "Let Kids Drink" music video, glamorizing young children drinking with their 'parents', getting dunk and passing out. Not funny on any level.

— IBMrJeff (@IBMrJeff) May 10, 2020
Seriously?? Let Kids Drink 👎🏻. Wrong Message for Kids

— Kenny (@Kwg23Goff) May 10, 2020
I'm all for pushing the comedic envelope but I think tonight's skit on SNL "Let Kids Drink" is a little uncalled for and inappropriate even for SNL

— Bethanne Brown (@bethanne_brown) May 10, 2020
But for 99% of everyone else who understands there's a difference between a joke about the stresses of parenting during a pandemic and advocating for juvenile alcoholism, it was funny.
SNL has been offending people for 45 years. It's literally their job. If you're offended by the Let Kids Drink skit you're officially old.

— Doug Arrowsmith (@ArrowsmithDoug) May 10, 2020