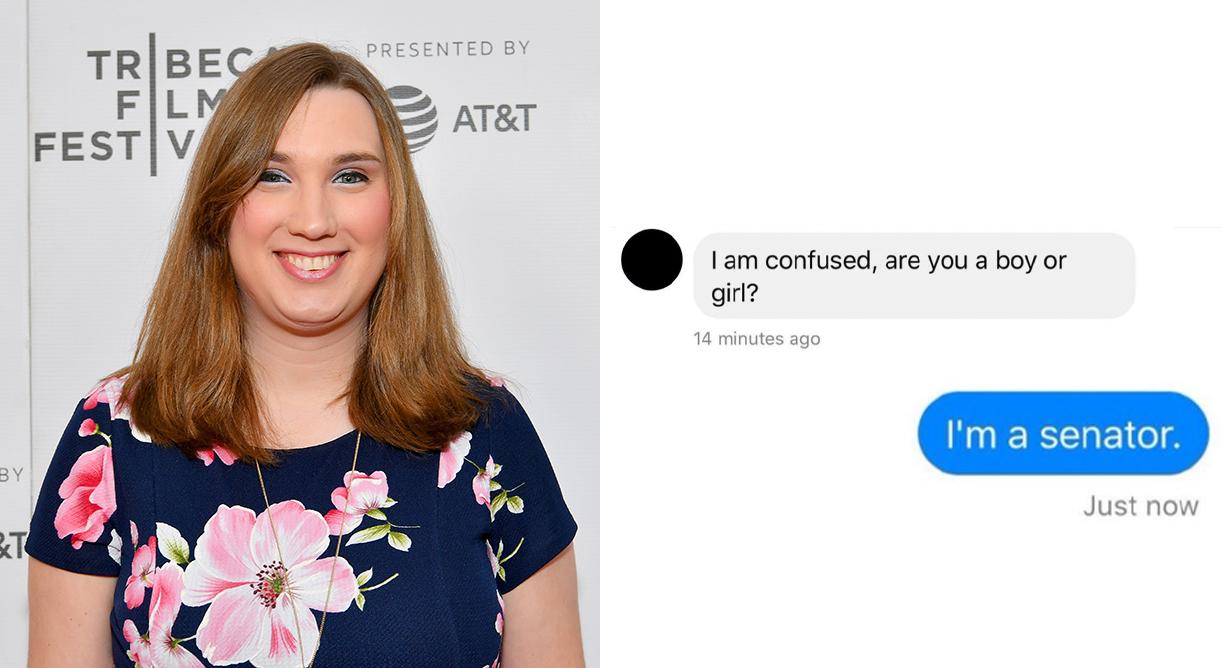 Sarah McBride, first trans state senator, perfectly responds to anti-trans Twitter troll
By Mark Pygas

Nov. 25 2020, Updated 8:02 a.m. ET
Delaware elected the United State's first openly transgender state senator during the presidential election. Sarah McBride beat out Republican Steve Washington to take over the seat of fellow Democrat Harris McDowell, who stood down. McBride's win will see her become the highest-ranking trans official in the country.
Article continues below advertisement
As you can imagine, McBride has been the target of social media trolls throughout her campaign. That hasn't stopped since her victory, as evidenced by a tweet of McBride's that has recently gone viral. On Monday, McBride took to Twitter to share an exchange she had with an anti-trans troll.
The troll asked McBride: "I am confused, are you a boy or girl?"
To which McBride perfectly responds: "I'm a senator."
Article continues below advertisement
As you can imagine, McBride's response prompted an influx of supportive comments.
One user wrote: "Senator, you might need a new shirt, because I think your sleeves just ripped from the power of that flex."
Article continues below advertisement
While another joked: "Sarah goes by sen/ator pronouns."
Article continues below advertisement
Following her victory, McBride recognized how momentous her victory is.
"We did it," McBride wrote in a tweet. "We won the general election. Thank you, thank you, thank you. I hope tonight shows an LGBTQ kid that our democracy is big enough for them, too. As Delaware continues to face the Covid crisis, it's time to get to work to invest in the policies that will make a difference for working families."
Article continues below advertisement
Article continues below advertisement
"I am hopeful that tonight's result can send a potentially lifesaving message to a young trans kid," McBride told Buzzfeed News after her win. "They can go to sleep knowing that their dreams and their truths are not mutually exclusive."
"I spent my entire life feeling like tonight was so incomprehensible that it was seemingly impossible," she said. "To have those results come in and see in black and white online the AP call it ... helped to reinforce that nothing is truly impossible."
"I know how much of a difference it would have made for me as a young person struggling for my place in the world. Growing up, there was no example of something like this."