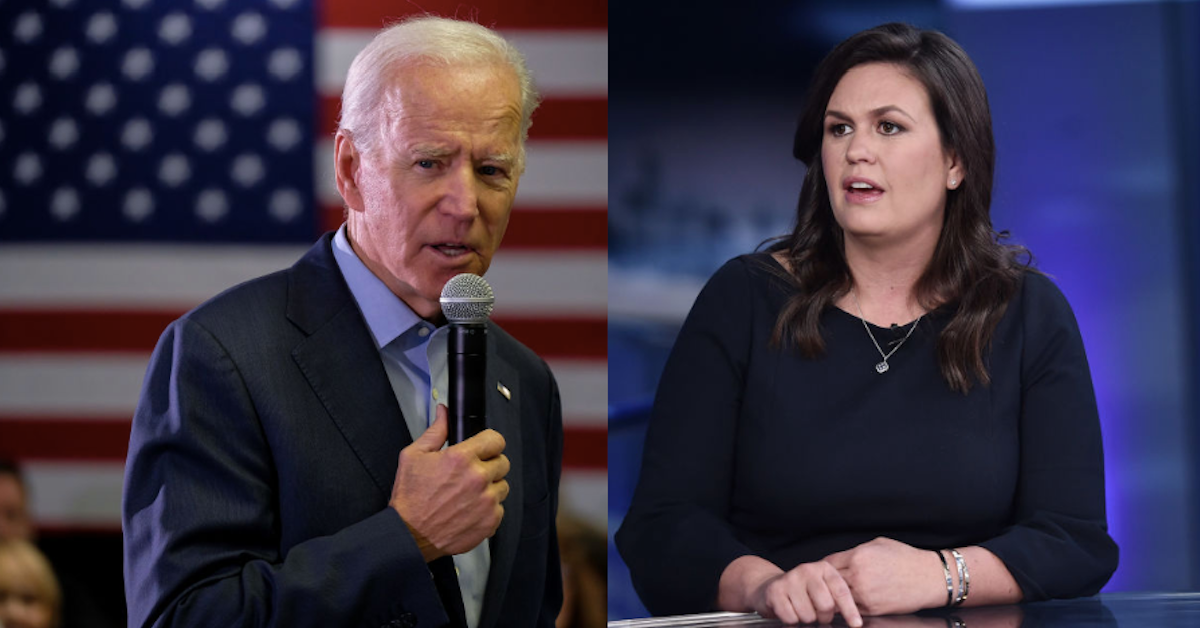 Sarah Huckabee Sanders apologizes to Joe Biden for tweet mocking his stutter
By Robin Zlotnick

Dec. 20 2019, Updated 3:25 p.m. ET
In the Democratic debate on the evening of December 19 in Los Angeles, former Vice President and current presidential candidate Joe Biden imitated a stuttering child on stage. He was explaining that he and his wife Jill "have a call list of somewhere between 20 and 100 people that we call at least every week or every month to tell them, 'I'm here.' I give them my private phone number. They keep in touch with me."
Article continues below advertisement
He then went on to explain that he receives calls from children with stutters who explain that they can't talk and ask him what they should do about it. He neglected to mention that he struggled with a stutter during his childhood, which led some to believe that his comments, and his impression of a stuttering child, were insensitive.
Article continues below advertisement
Sarah Huckabee Sanders, former Press Secretary to President Donald Trump and current Fox News contributor, wasted no time posting a tweet that seemed to make fun of Joe Biden's stutter. The tweet was quickly deleted, but of course, whatever you post on the internet can be instantly preserved forever in a screenshot.
Article continues below advertisement
Even if you believed Joe Biden was being insensitive by imitating a child's stutter, even if you didn't know that he suffered from a stutter himself, this would not be an appropriate thing to tweet. It's unclear just what Sarah Huckabee Sanders' goal was with this tweet, other than to mock Joe Biden.
Before she had a chance to delete the tweet, Biden himself quoted it and responded on Twitter. "I've worked my whole life to overcome a stutter. And it's my great honor to mentor kids who have experienced the same," he wrote. "It's called empathy. Look it up."
Article continues below advertisement
Now, to be fair, Biden didn't mention his own stutter in the debate, so it's somewhat understandable that people's knee-jerk reactions were to be taken aback. Then again, there have been several articles published in places like the LA Times, The Atlantic, and The Hill over the past few months that have addressed Biden's struggle with a stutter. One cursory Google search could have informed Sanders of the background behind Biden's words.
Once Sarah Huckabee Sanders was made aware that Biden himself stuttered, she issued a fairly solid apology tweet. She didn't make excuses or apologize "if anyone was offended." She offered a sincere apology, which might be the very least she could do, but she did it.
Article continues below advertisement
Although her apology was solid, it still needs to be reiterated that it was by no means an appropriate thing to tweet even if Biden hadn't personally struggled with a stutter. Twitter user @goldengateblond responded to Sanders' tweet, "I'll give you points for a graceful apology (so rare in GOP circles these days) but it doesn't negate all the disgraceful lies you told in service to a man who mocked a disabled reporter, so."
Article continues below advertisement
Some pointed out that she only deleted the tweet and apologized after trying to downplay and deny that she was making fun of people who stutter. In another deleted tweet, Sanders first tried to explain that she wasn't making fun of people with stutters but that she couldn't follow what Biden was talking about.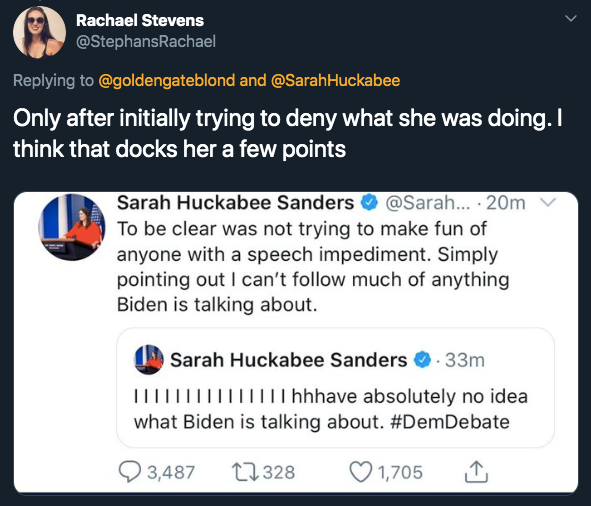 Article continues below advertisement
This is not a great look. But then again, neither was being Donald Trump's press secretary and continually defending his harmful lies. So while Sarah Huckabee Sanders might get a few brownie points for what seems like a genuine apology that she issued only after finding out that Joe Biden stuttered himself, the fact that this is even a story still points to the fact that she, yet again, displayed a serious lack of judgment.
It's probably a good rule of thumb to not mock any disability whatsoever for any reason at any time. Sarah Huckabee Sanders might have taken back her hurtful words, but this is a disturbing trend in the Republican party that only points to their unwarranted discomfort and fear of anyone who is the least bit different from them.