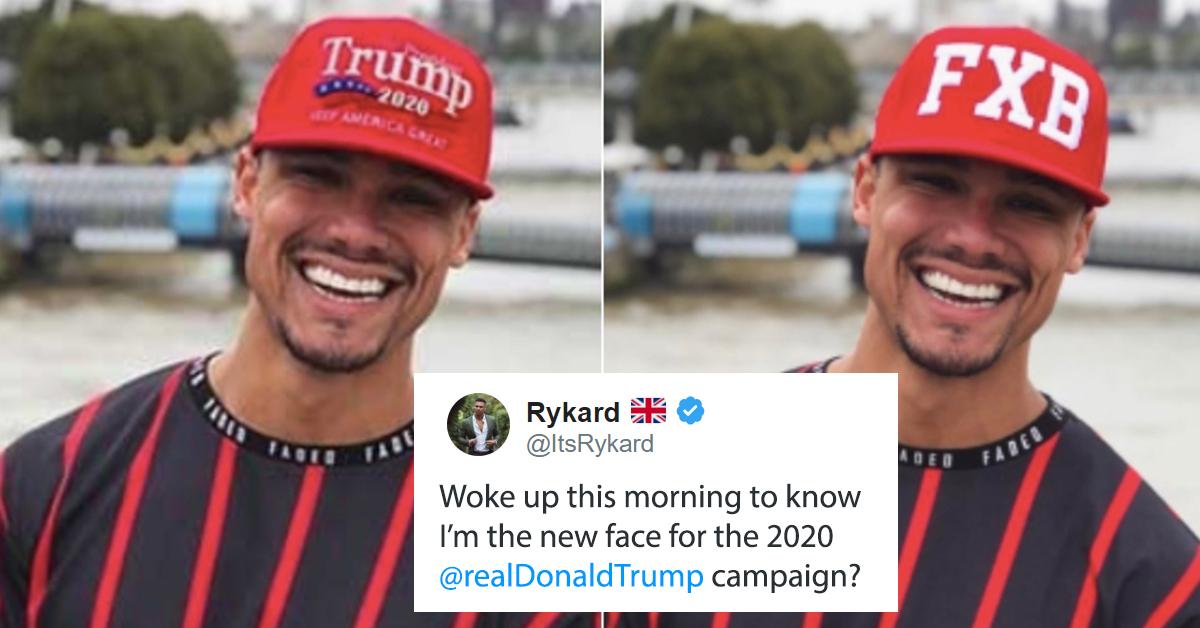 Trump campaign accused of photoshopping 'MAGA' hat on British reality star
By Mark Pygas

Sep. 16 2019, Updated 8:34 a.m. ET
Former Love Island contestant Rykard Jenkins is accustomed to some attention from the British press. But the reality star recently became the center of international attention when he appeared to imply that the campaign for Donald Trump's re-election stole one of his Instagram photos and photoshopped a campaign slogan onto the red cap he was wearing. 
Article continues below advertisement
"Woke up this morning to know I'm the new face for the 2020 @realDonaldTrump campaign?" he wrote on Twitter on Friday, sharing the original image from his Instagram account along with the photoshopped image. 
Article continues below advertisement
Jenkins went on to explain to Insider that a fan in California had sent him the image, which at the time, he believed was official campaign merchandise. 
"I was just really surprised, like oh my gosh," Jenkins told Insider. "By the time I put it on Twitter, because I was quite taken aback, people were like 'where's it from?' and [the fan] managed to send me the link from the campaign for Trump." 
Article continues below advertisement
But the doctored image appears to have originated on Conservative News, a website selling unofficial Trump campaign merchandise. The website includes dozens of photos of people appearing to wear the same cap, though many of them seem to have been photoshopped. 
Despite the Trump campaign not actually being behind the image theft, Rykard's original Twitter post has still attracted over 20,000 comments, many from people who seem to believe that the reality star should sue President Donald Trump. 
Article continues below advertisement
Article continues below advertisement
Article continues below advertisement
Clearly, the tweet is on the cusp of causing an international incident. Rykard told Insider that the attention from the other side of the pond has been pretty overwhelming:
"Then it caused that massive controversy for someone like me who's not at all involved in politics let alone American politics." 
"I made a joke and I got a good 5,000 Americans saying 'how can you say that?' and I was like, oh my god, I didn't think it would go anywhere and now it's this massive political conspiracy." 
While Rykard doesn't like the image being used without his consent, he's more concerned about the political implication. 
Article continues below advertisement
"The only thing I could complain about, it's about altering the pictures and making them look like they have a political agenda," Jenkins said. "For example, if that picture had been edited to have Gucci on it, it wouldn't matter would it?" 
Jenkins did use the viral tweet to raise awareness about ending the slaughter of dolphins and whales off the coast of Denmark, linking an article from PETA in the replies. 
He hopes the tweet will help to further the cause: "I'm just someone from 'Love Island' being told to sue the president of the US. It's a bit of a long shot." 
"It's quite funny because I had an audition for a TV show in America and they said 'why do you want to do it?' and I said I would be so good on the show [that] Trump would tweet about me," he added. "And now the Trump campaign has used my face to try and sell hats so it's kind of gone full circle."