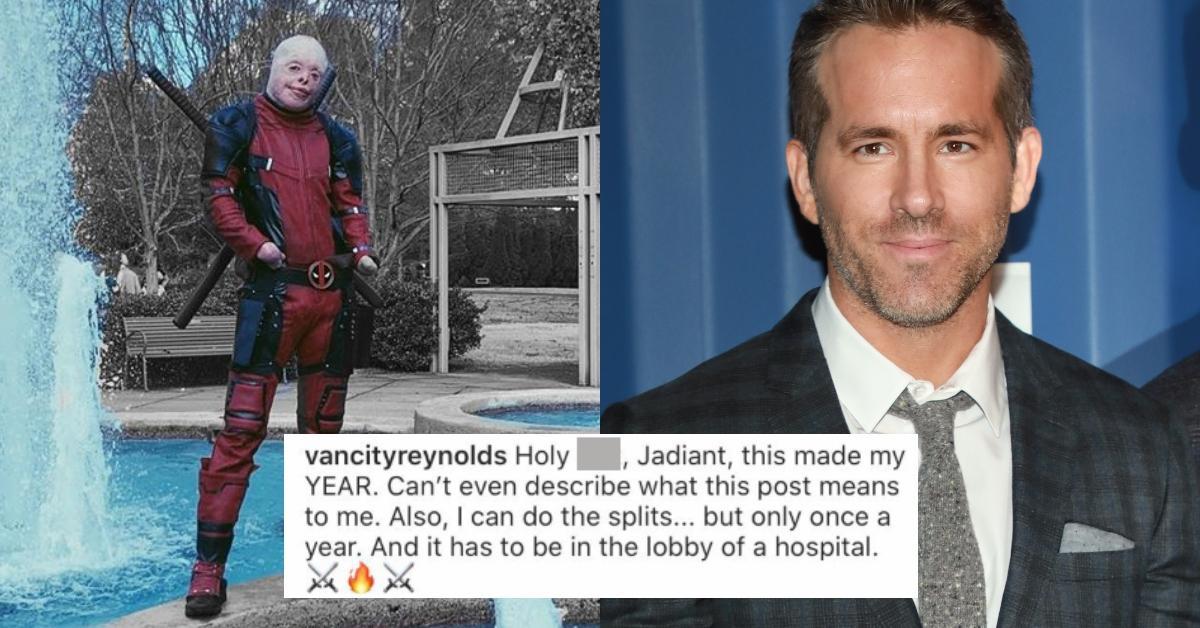 Ryan Reynolds leaves supportive comment on burn victim's Deadpool cosplay
By Robin Zlotnick

Sep. 9 2020, Updated 7:51 a.m. ET
Jadiant Quinn is a med student and master cosplayer from Millington, Tennessee. Back in January, he posted pictures of himself as Deadpool, a character who's given him so much confidence as a burn victim.
He thought it was a one in a million shot to actually get the attention of actor Ryan Reynolds, who played Deadpool in the movies. But if you know anything about Ryan Reynolds, you know he tends to be clued into happenings around the internet, especially when they are about him.
Article continues below advertisement
In his caption on Instagram, Jadiant wrote, "It would make my dream come true if @vancityreynolds got to see this post! I learned to do the splits just for this photo.
"Deadpool has honestly made me way more confident. Anyone who has read or watched anything about Deadpool knows his face and body are pretty messed up. So it's only natural that I cosplay thin. I wanted to be authentic as possible, and that was to not wear a mask.
Article continues below advertisement
"It's so easy to cover up who I am and to give in to despair. Deadpool just makes me not care about that stuff and show my true self. This is me, and I'm not ashamed about it. Deadpool is icy clean, and he's helped my self esteem so much. I'm owning who I am, and cosplaying Deadpool makes it that much easier."
At first, Jadiant's heartwarming and inspiring post got a lot of feedback, but not from Ryan Reynolds himself. Eventually, so many people tagged the post with the actor's username, and finally, a few months later, it seems it finally popped up on his radar. The Deadpool star immediately commented on Jadiant's post and made his world.
Article continues below advertisement
"Holy s--t, Jadiant," he wrote, "this made my YEAR. Can't even describe what this post means to me. Also, I can do the splits... but only once a year. And it has to be in the lobby of a hospital." It wouldn't be a Ryan Reynolds comment without his signature sense of humor.
Jadiant was beyond thrilled to realize that Reynolds responded to the post. "BROOO I CAN'T BELIEVE YOU SEEN IT!" he wrote in response. "You made this so worth it. I HOPE YOU CONTINUE TO INSPIRE SO MANY OTHERS. IT'D MEAN THE WORLD TO ME IF YOU KEPT UP WITH MY JOURNEY. I'm such a big fan!"
Article continues below advertisement
Jadiant, whose real name is John Quinn, is 21 years old. He's a bodybuilder model, motivational speaker, "burn thriver," and most recently, he became a med student. Bored Panda writes that he's also an ambassador at the Courageous Faces Foundation, an organization whose mission it is to "dramatically improve the quality of life for those living with rare and severe medical conditions through direct, personalized, and ongoing support so they can live their best life possible."
Article continues below advertisement
When he was just 4 years old, John was involved in a terrible accident and almost lost his life due to his injuries. He has made it a point to live life to its fullest ever since his recovery.
"I've been burned longer than I have been alive not burned. This part of who I am that I've learned to love and embrace," he writes. "I don't need to escape my reality because I absolutely love it.
"It's taken years to get this way, and pity I know is inevitable to receive at times, but just know I am not a victim. I love what I look like. It's opened so many doors for me in my life and career. I'm sure I would have not helped as many people as I have now if I were not burned. Being burned was not the end for me, it was just a new beginning."