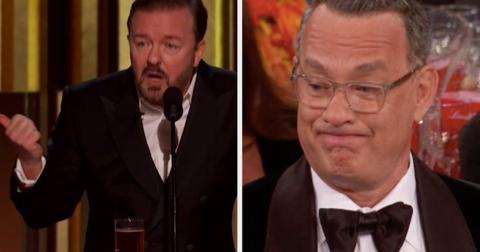 Ricky Gervais blasts celebs 'wokeness' at the Golden Globes and the reactions were priceless
By Mustafa Gatollari

Updated
To call Rickey Gervais a controversial comedian would probably be the understatement of the year. So when the British entertainer was asked to host the 2020 Golden Globes again, those who watching the event braced themselves for a no-holds barred series of vicious punchlines, self-deprecating humor, and a ton of roasts at the attendees' expense.
But few could have expected just how much he would lay into everyone.
When I say everyone, I literally mean everyone. First, Ricky queued up his devastating bit by talking about Apple's decision to launch a streaming service. CEO Tim Cook, who was in attendance, immediately began to look uncomfortable once the camera panned to him at the mention of the Cupertino-based tech giant.
"Apple roared into the TV game with The Morning Show, a superb drama about the importance of dignity and doing the right thing, made by a company that runs sweatshops in China."
His savage criticism didn't stop at a corporation, but also targeted the actors, performers, filmmakers, and pretty much everyone involved in the industry. "Well, you say you're woke, but the companies you work for... unbelievable. Apple, Amazon, Disney. If ISIS started a streaming service, you would call your agent, wouldn't you?"
His commentary was met with groan-tempered laughter from the audience, but he went even further.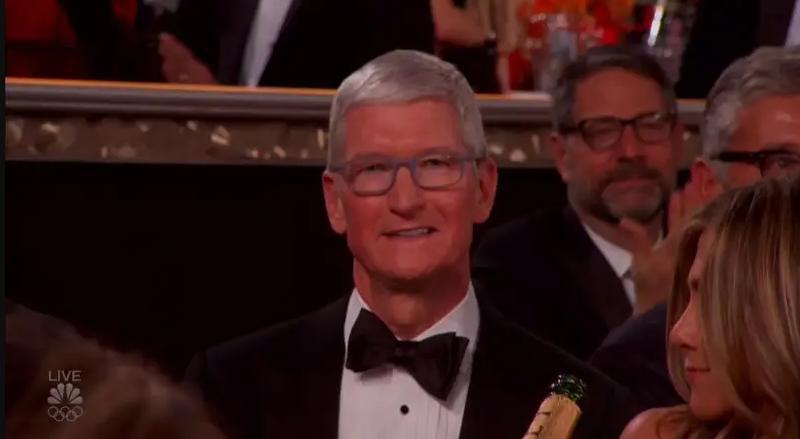 Ricky implored those who were winning awards to keep their political opinions to themselves during their speeches: "So if you do win an award tonight, don't use it as a platform to make a political speech, right? You're in no position to lecture the public about anything. You know nothing about the real world.
Most of you spent less time in school than Greta Thunberg. So, if you win, come up, accept your little award, thank your agent and your god, and—" he didn't get to finish, his mic was cut.
Ricky Gervais:

"...You say you're woke but the companies you work for...Apple, Amazon, Disney...if ISIS started a streaming service you'd call your agent, wouldn't you. If you do win an award tonight, don't use it as a platform to make a political speech..." pic.twitter.com/rVRIng2JAH

— Yashar Ali 🐘 (@yashar) January 6, 2020
The celebrity reactions were delicious, if you're the kind of person who laps up awkwardness, anyway. The one that rose above the rest, however, was the face Tom Hanks made right after Gervais had his microphone turned off and then proceeded to take a sip of beer. People immediately hailed it as a new meme.
Several people on Twitter applauded Gervais' monologue and enjoyed him pointing out the hypocrisy of stars who claim to care so much about social, environmental, and political issues while doing little of anything themselves to rectify said issues.
The fact that they are employed by companies that exacerbate these problems is what Gervais blasted, and many gave him props for doing so.
On the flip side, many thought it was strange Ricky was giving what they contested is a political statement while "lecturing" celebrities to not make political statements at the awards show. Some called the invective hypocritical, and felt Ricky should follow his own advice.
Shoutout to Joaquin Phoenix for actually holding Hollywood accountable in his acceptance speech for their collective role in climate change #GoldenGIobes

— winnie the poot lovato (@alexadickensuck) January 6, 2020
And while there was plenty political and social commentary from the evening's host and attendees, Ricky still told a bunch of great jokes at the expense of notable actors. Here are some of the best ones from the night, in addition to his takedown of streaming giant conglomerates and the talent they employ.
He even took on Marvel, saying the actors in the films aren't really performers so much as steroid junkies. "Hollywood movies now do fantasy-adventure nonsense. Their job isn't acting anymore. It's going to the gym twice a day and taking steroids! Have we got an award for most-ripped junkie?"
How do you think Ricky did at the Golden Globes? Were his jokes "too much"? Or are you of the mind that they're brilliant and fearless? On an unrelated note, where can I get those roids the "Marvel Junkies" are using? Asking for a friend.