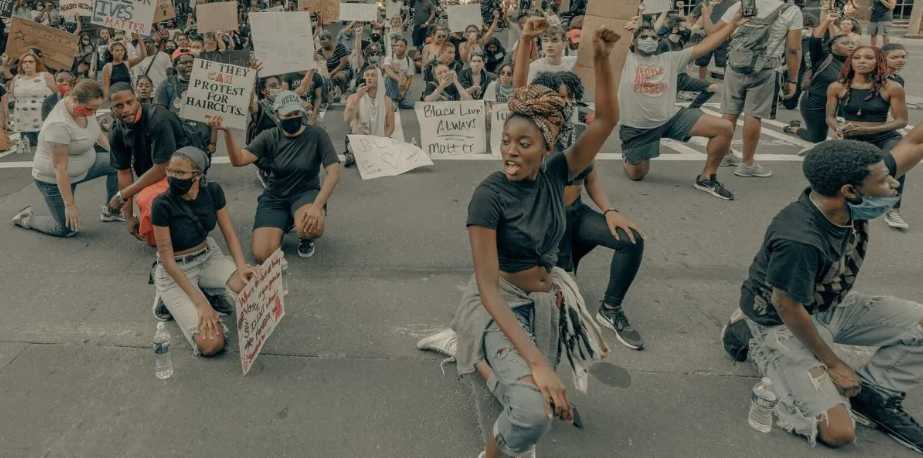 Public health experts share open letter defending anti-racism protests during the pandemic
By Annie Reneau

Jul. 1 2020, Updated 10:53 a.m. ET
More than 1200 public health experts, infectious disease professionals, and community stakeholders have signed onto an open letter explaining why they support anti-racism protests happening across the country despite the potential risk of coronavirus spread.
Article continues below advertisement
According to Slate, the letter, written by infectious disease experts at University of Washington with input from other colleagues, comes after an avalanche of media requests asking them to comment on the COVID-19 risks associated with public gatherings.
The letter opens with describing the differences between the largely white anti-stay-at-home-order protests we saw last month and the protests against racial injustice and police brutality we are seeing now, stating that the response "must be wholly different" and that "infectious disease experts must be clear and consistent in prioritizing an anti-racist message."
Article continues below advertisement
The letter is clear on why these protests must be supported. "White supremacy is a lethal public health issue that predates and contributes to COVID-19," it states. "In addressing demonstrations against white supremacy, our first statement must be one of unwavering support for those who would dismantle, uproot, or reform racist institutions."
But what about social distancing? The letter addresses that question too:
"Staying at home, social distancing, and public masking are effective at minimizing the spread of COVID-19. To the extent possible, we support the application of these public health best practices during demonstrations that call attention to the pervasive lethal force of white supremacy. However, as public health advocates, we do not condemn these gatherings as risky for COVID-19 transmission."
Article continues below advertisement
"We support them as vital to the national public health and to the threatened health specifically of Black people in the United States. We can show that support by facilitating safest protesting practices without detracting from demonstrators' ability to gather and demand change. This should not be confused with a permissive stance on all gatherings, particularly protests against stay-home orders. Those actions not only oppose public health interventions, but are also rooted in white nationalism and run contrary to respect for Black lives. Protests against systemic racism, which fosters the disproportionate burden of COVID-19 on Black communities and also perpetuates police violence, must be supported."
After listing public health recommendations for police handling of protesters—which includes opposing the arrest of peaceful protester, the use of "tear gas, smoke, or other respiratory irritants" and disbanding protests under the guise of protecting people from COVID-19—the letter offers "harm reduction strategies" for keeping protests as safe as possible. These suggestions include using face coverings, keeping six feet between protesters where possible, moving in groups you are already in close contact with, and staying home if sick.
Article continues below advertisement
Further, guidelines were given for allies to help facilitate safe protests, including providing masks and hand-washing stations, providing eye protection or face shields, offering single-serving food or beverages, offering ways to mark 6-foot distancing, and donating bail money for protesters.
And then the final suggestion: "Listen, and prioritize the needs of Black people as expressed by Black voices."
The letter acknowledges that ideal social distancing measure may not be possible in all circumstances, but that these public health professionals would advocate for the protesters anyway. "We express solidarity and gratitude toward demonstrators who have already taken on enormous personal risk to advocate for their own health, the health of their communities, and the public health of the United States. We pledge our services as allies who share this goal."
Racism is a public health issue, period. And considering that the current prevailing public health issue—the coronavirus pandemic—is disproportionately impacting Black Americans, the two cannot be treated and addressed separately. How heartening to see public health officials speaking directly to the connection between them and advocating for a remedy for the root cause of racial health disparities.