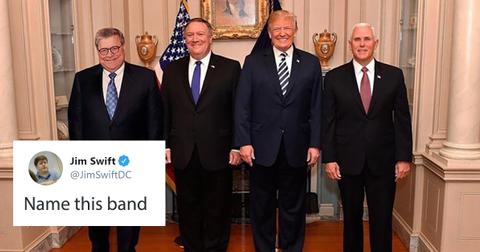 Twitter is giving this photo of President Trump hilarious boy band names
By Mark Pygas

Updated
It's been a crazy few weeks as far as politics is concerned. If you've missed some of the details, a whistleblower, now identified as a CIA officer, filed a complaint against President Donald Trump after a phone call during which President Trump pushed Ukranian President Volodymyr Zelensky to investigate his leading Democratic political rival, Joe Biden.
The complaint alleges that the transcript of the call was stored in a secure system for classified information, rather than the regular computer system which is open to scrutiny. Democrats allege that President Trump intended to withhold nearly $400m in military aid to Ukraine to force Zelensky to investigate the allegations.
And it doesn't end there. Over the weekend, a second whistleblower with first-hand knowledge of the accusations about President Donald Trump's communications with Ukraine. This person is being represented by the same lawyer as the first whistleblower.
According to a USA Today/Ipsos poll, a majority of Americans (52%) agree that President Trump asking Ukraine to investigate Biden is an abuse of power, including 79% of Democrats, 46% of Independents, and 30% of Republicans. Almost half (45%) believe that Trump should be impeached, including 17% of Republicans.
One of those Republicans who doesn't seem to be much of a fan of President Trump is Jim Swift, senior editor with The Bulwark, which describes itself as a "forum for rational, principled, fact-based conservative commentary."
Swift, who has been increasingly critical of President Trump, took to Twitter to share a photo of President Donald Trump, Vice President Mike Pence, Attorney General William Barr, and Secretary of State Mike Pompeo. Alongside the image, he wrote: "Name this band."
And yes, people came up with some pretty hilarious answers. "The Four Treasons," one user suggested.

While another added: "Dunning-Kruger Overdrive."

Another user suggested: "The Impeachables."

"Almost in Chains" was another popular choice.

"The Unraveling Wilburys" also proved popular.

The suggestions kept rolling in.



Some users were inspired by actually bands.



We'll let you know when they release their first album.