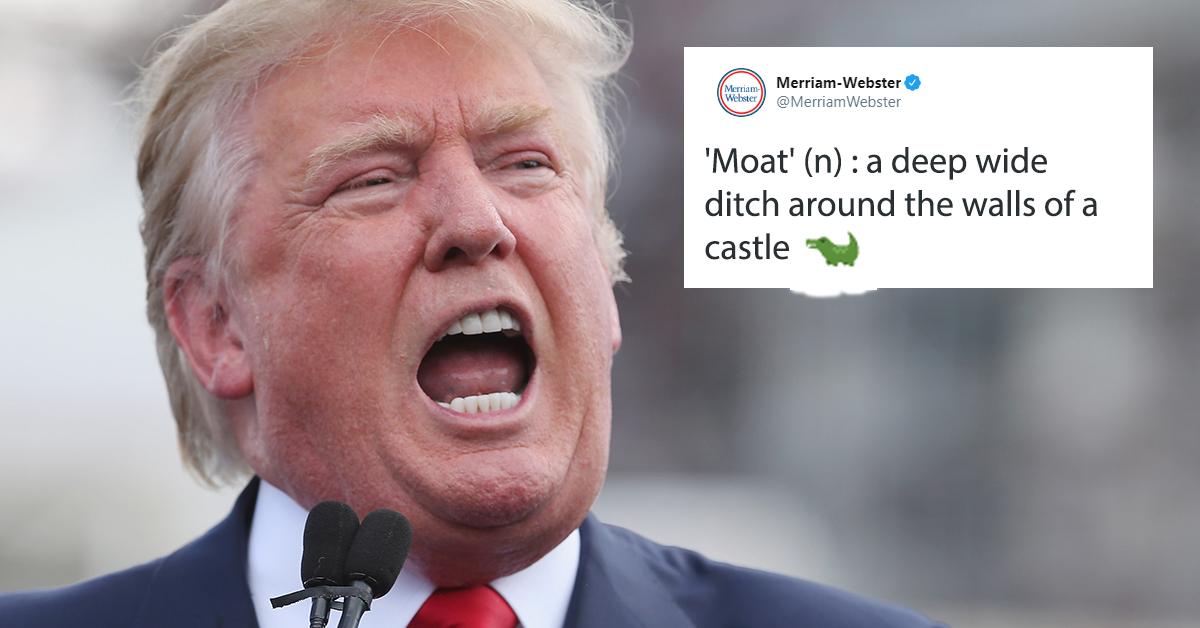 President Trump misspelled 'moat' and even the dictionary is trolling him
By Mark Pygas

Oct. 2 2019, Updated 12:59 p.m. ET
It's been an exciting few weeks in politics. There's the whole mess with Ukraine that prompted an impeachment inquiry, and then it emerged that President Donald Trump has also asked Australian Prime Minister Scott Morrison for his help with an investigation into the origins of the Mueller inquiry.
Article continues below advertisement
To top it off, New York Times reporters Michael D. Shear and Julie Hirschfeld Davis claimed that President Trump proposed lining the Mexican border with a moat filled with snakes and alligators in a new book published on Tuesday. The book also claims that Trump backed off a public proposal to allow border guards to shoot rock-throwing migrants because staff members told him that would be illegal. 
"But later in a meeting, aides recalled, he suggested that they shoot migrants in the legs to slow them down," the book said. "That's not allowed either, they told him." 
"Privately, the president had often talked about fortifying a border wall with a water-filled trench, stocked with snakes or alligators, prompting aides to seek a cost estimate," according to the new book Border Wars: Inside Trump's Assault on Immigration.
Article continues below advertisement
On Wednesday morning, President Trump took to Twitter to deny claims that he wanted a moat. However, there was one problem with his original tweet, he misspelled moat as moot. 
The since-deleted tweet read: "Now the press is trying to sell the fact that I wanted a Moot stuffed with alligators and snakes, with an electrified fence and sharp spikes on top, at our Southern Border. " 
"I may be tough on Border Security, but not that tough," President Trump added. "The press has gone Crazy. Fake News!" 
Article continues below advertisement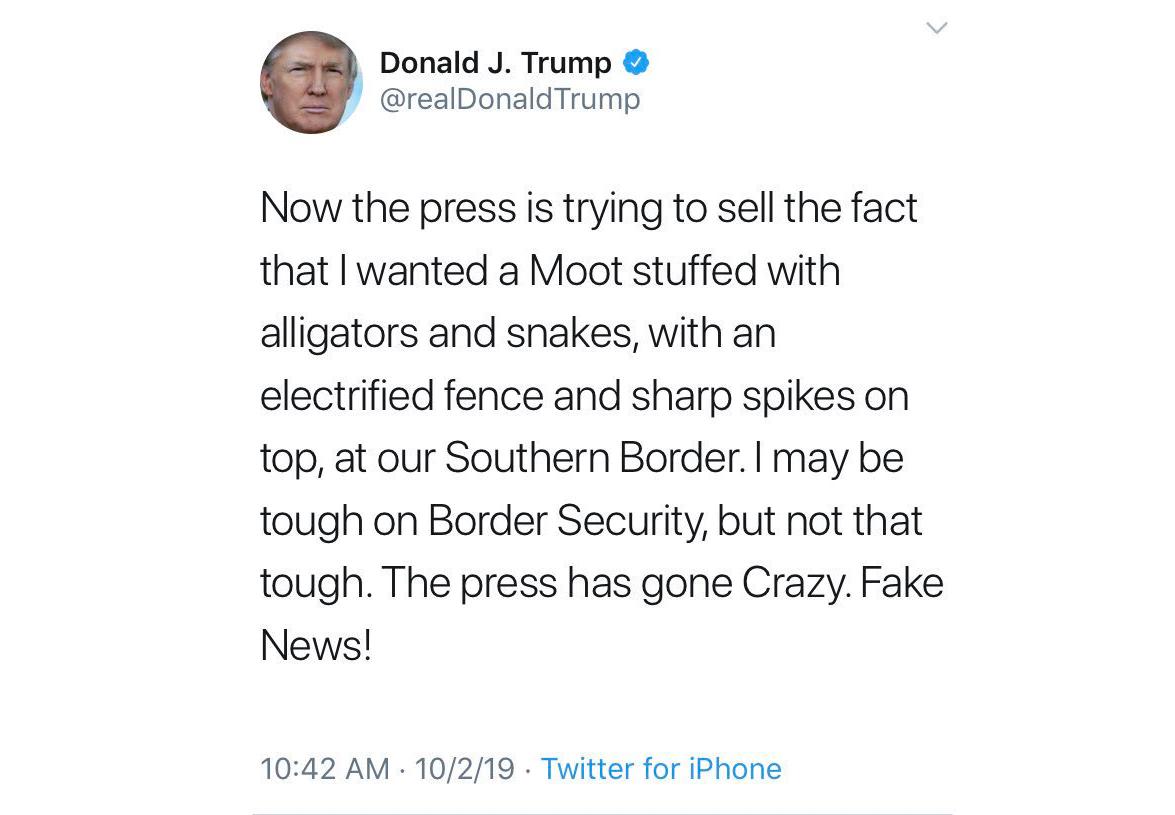 That tweet was quickly deleted, with a new tweet correcting the spelling of "moat." But many people were able to capture a screenshot of the original tweet before it was deleted, and "Moot" was soon trending on Twitter. 
Dictionary.com was one of those to get involved, stating that searches for "moot" had increased since the tweet, and giving a definition. 
Article continues below advertisement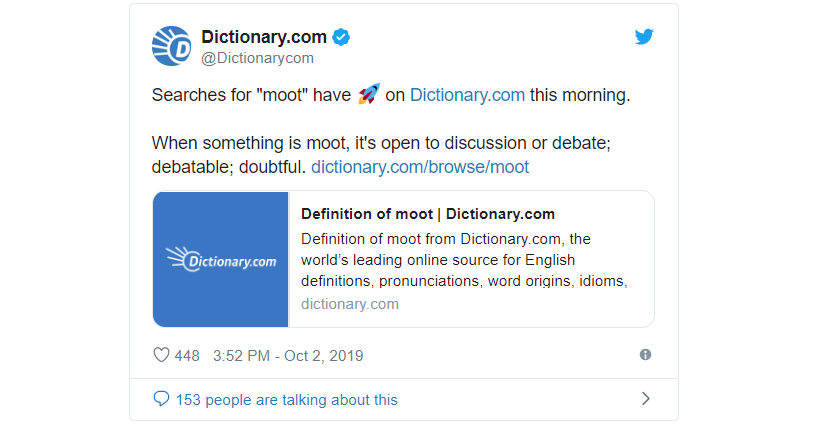 Article continues below advertisement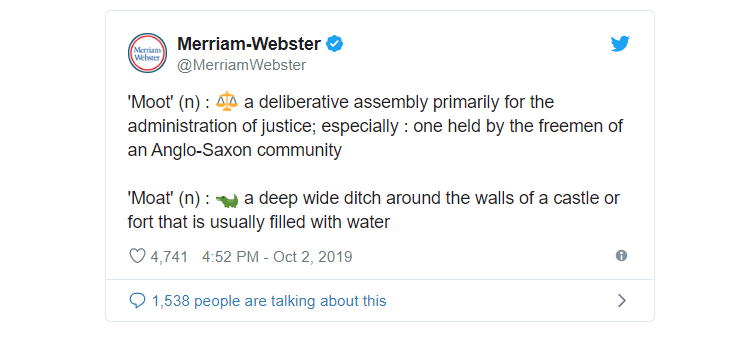 People really aren't going to let him live this down, with one user writing: "Oh, @realDonaldTrump, soon, your whole presidency will be moot."
Article continues below advertisement

Another user jokingly tweeted: "'CALL MY JAWYER I WANT A MOOT STUFFED WITH ALLIGATORS AND SNAKES.'" 
Article continues below advertisement

Others likened the moment to something out of Monty Python and the Holy Grail.
Article continues below advertisement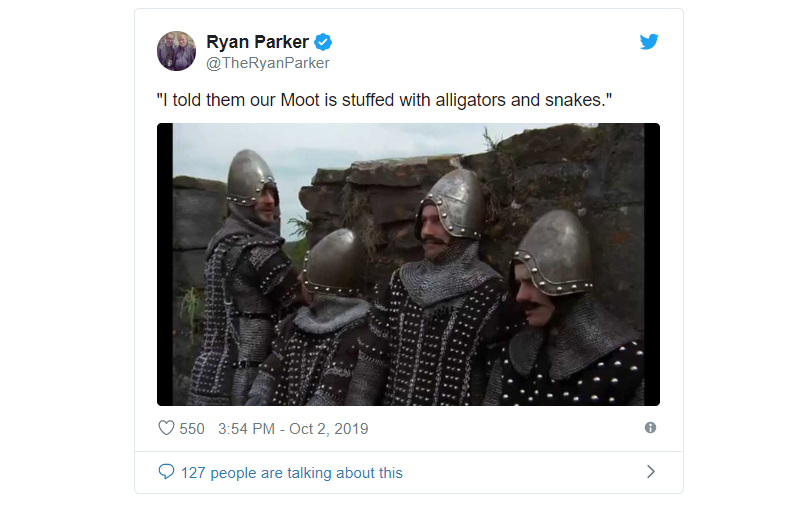 "He was going to stuff the water with cows," another added. "That's why he called it a MOOt. Thanks guys that's my time."