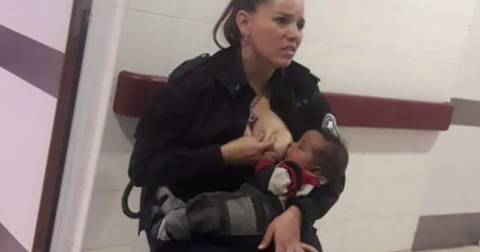 Photo of police officer breastfeeding a stranger's hungry infant is warming hearts around the world
By Eric Pfeiffer
Officer Celeste Jaqueline Ayala was walking the halls of a children's hospital when she heard a familiar sound.
Ayala said she heard a baby crying while making the rounds of a local children's hospital in Argentina.
The decision caught her colleagues by surprise and fellow officer Marcos Heredia snapped a photo to capture the moment.
Her colleague posted the photo to Facebook where it instantly went viral.
"I want to make public this great gesture of love that you displayed today with this baby," Heredia wrote in his post on Facebook.
And to say it was public is an understatement. The photo was shared more than 100,000 times, becoming a viral sensation.
At a time when public breastfeeding remains surprisingly controversial in some corners, Ayala showed that our most powerful public servants can also be our most nurturing when given the opportunity.
Her act was so powerful she got a promotion.
Authorities say they asked hospital officials why the baby was left hungry but haven't received an answer yet, other than noting the baby was recently taken from its mother.
What they do know, is that Ayala's act is resonating with massive amounts of people. And they've rewarded her act with a promotion from officer to sergeant.
"We wanted to thank you in person for that gesture of spontaneous love that managed to calm the baby's cry," Buenos Aires security minister Cristian Ritondo wrote on Twitter, calling Ayala, "The police we're proud of, the police we want."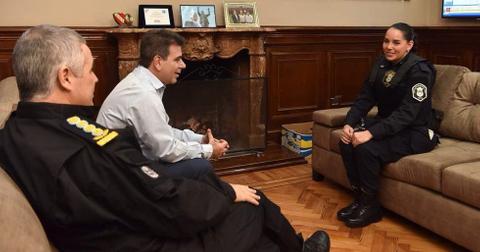 Too often, we're presented with stories of police officers doing things the wrong way and dishonoring their role of public servants. But this is a reminder that oftentimes they go the extra mile, just like mothers everywhere. And that's something worth celebrating.