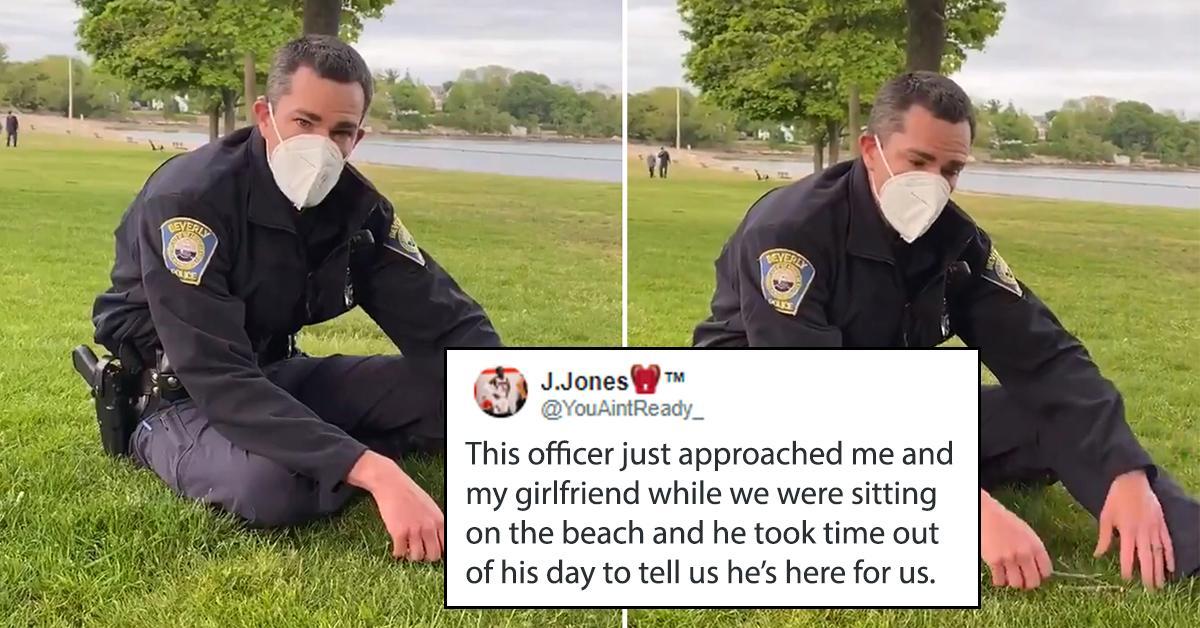 Police officer approaches black couple at beach and tells them: 'I won't let you down'
By Mark Pygas

Jun. 5 2020, Updated 8:42 a.m. ET
There have unfortunately been far too many stories highlighting violent exchanges between police officers and those protesting the death of George Floyd. While the vast majority of protests have been peaceful, it can often be hard for positive stories to make it to the surface.
Article continues below advertisement
But one officer in Beverly, Massachusetts, is earning praise after approaching a black couple sitting in a park to talk to them.
"This officer just approached me and my girlfriend while we were sitting on the beach and he took time out of his day to tell us he's here for us," Jason Jones wrote on Twitter as he shared a video of the moment.
"I just want to say hi," the officer said in the video. "Obviously it sucks out there but, you know, I won't let you down, and there's a lot of us out there that are here for you."
"I appreciate that officer," Jones responded. "For real, thank you so much."
The woman that Jones is with interjects: "Because we do believe there's good cops out there."
Article continues below advertisement
The officer adds: "I know most people do, but you need to hear it, we need to speak up, we need to let people know."
The moment has since been viewed more than 100,000 times on Twitter.
Article continues below advertisement
"I feel like we need more officers like that, who serve and protect our communities. The world would be a so much better place," Jones told CBS Boston about the exchange. "It actually made my day. It meant a lot."
"As a person of color and a minority in society, to have reassurance that there are officers who care about us and have our wellbeing and best interest is very important for me to know."
"This is the time we need to come together as a world, regardless of race or ethnicity," Jason added. "We need to come together as people and support the movement."
Beverly Police Chief John LeLacheur responded to the video on Twitter, writing: "This is how we ask our officers to act every day with every citizen. Thank you for posting this. Racism most stop and bonds must be built."
Article continues below advertisement
Unsurprisingly, the video attracted plenty of praise online, with one user writing: "I knew officer Bill prior to his police work in a previous company. A real stand up guy and always about compassion and connecting with all. Someone we all admired and missed when he left. Not surprising to see him continue this here. Nice Job, need more of him out there!"
Article continues below advertisement
While another added: "I love this and thank you for sharing. I too live in Beverly and my heart is warmer knowing there is support for you."
Article continues below advertisement
And one user concluded: "Thanks so much for posting this. This gives me hope."