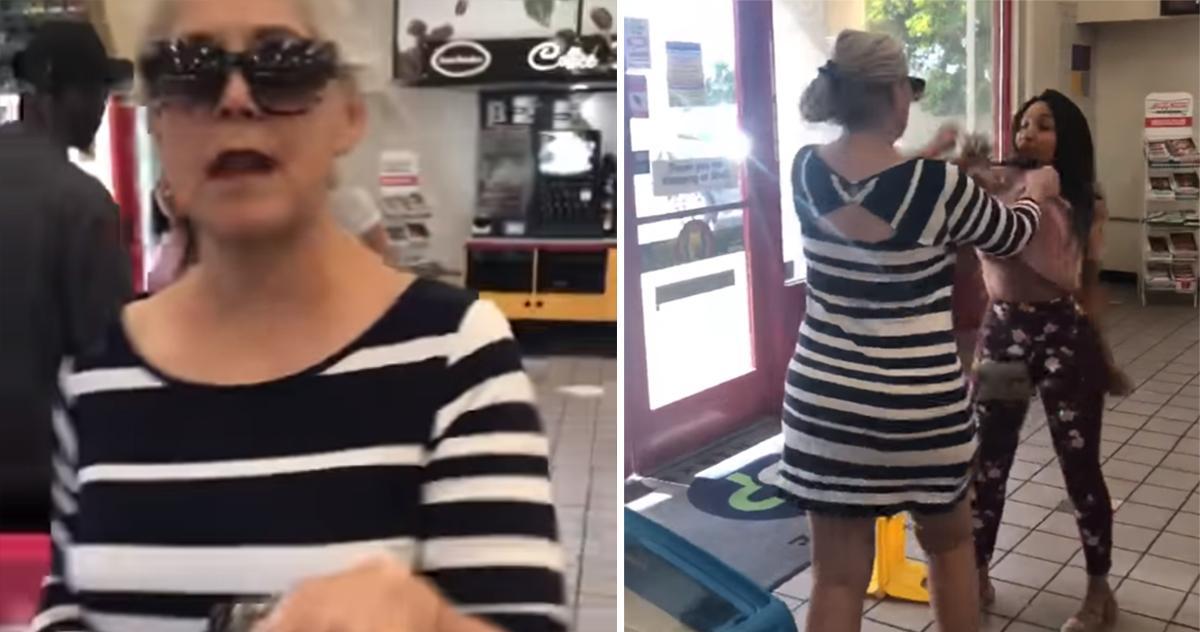 'Phoenix Karen' slapped in the face after telling Native American woman to 'go back to Mexico'
By Mark Pygas

Jun. 9 2020, Updated 9:17 a.m. ET
Article continues below advertisement
We've seen a fair few "Karens" in recent weeks. And in the latest incident, a woman in Phoenix, Arizona, was slapped across the face after telling a Native American woman to "go back to Mexico."
According to TMZ, the incident was filmed by Greg Conn. He told the publication that a middle-aged white woman stormed inside, demanding to be helped immediately because her pump was not working.
The "Karen" was later identified as Tamara Harrian by the media, while the Native American woman was identified as Karina Rodriquez.
An argument quickly broke out between the two and the video begins with Greg Conn stating that Harrian had just told the other woman that she needs to go back to her country.
Harrian tries to tell the cashier behind the counter not to serve Rodriquez, identifying herself as a manager. According to TMZ, she isn't.
Article continues below advertisement
Rodriquez responds by saying that she's Native American: "Don't serve her racist ass ... Black Lives Matter, b**tch."
Harrian then approaches Conn, telling him, "you need to leave, you're not a part of this." The woman then accuses Conn of calling her a "b**tch," which he denies.
"I never said that word; you're making stuff up now," Conn states. "You will leave, too," the woman insists.
"B**tch, you don't work here, get out of here," Rodriquez retorts.
"Where are you from? Where were you born?" Harrian asks the younger woman.
"I was born in American, b**tch, where are your ancestors from?" Rodriquez replies. "You're not from this country."
Article continues below advertisement
Harrian then replies: "You're going back to Mexico."
"You better go back to where you come from," Rodriquez responds.
Harrian then accuses Rodriquez of grabbing her hand, so Harrian grabs her by the shoulder. Rodriquez responds by slapping Harrian across the face.
"You deserved it, in my opinion," Conn says. "You pushed her, and she smacked you, that's self-defense on her part."
"She grabbed me," Harrian responds.
Article continues below advertisement
The gas station where the whole thing went down told TMZ that Harrian was not a manager as she had claimed to be, and has since been barred from all of their locations nationwide.
Article continues below advertisement
"The woman shown in the video is NOT and never has been a manager, employee, or owner at Superpumper," the gas station said in a statement to 12News. "She has been banned from all our locations. Superpumper does not condone any type of racist or hate speech in any of our stores or offices. We strive to provide a peaceful, safe, and enjoyable atmosphere for all customers and employees."
"She was saying that she owned the place, that she was a manager there, but I have spoken with the CEO of Super Pumper -- he's saying that is not the case. She is not affiliated with any of the stores nationwide," Conn told FOX 10.
Karina told Telemundo in a Spanish interview:
Article continues below advertisement
"My heart hurts. When I left, I cried a lot; it makes me very sad that this is happening. She came very authoritatively as if she were status in which we will have to serve her, a level that we did not have."
Bob Harrian, Tamara's husband, claimed that his wife has an undiagnosed mental illness that she refused treatment for.
"Horrible things were said, and a lot of those horrible things came from my wife. It came from a spot of an illness," he said. Harrian also apologized on his wife's behalf.
When pressed on why his wife had not been diagnosed, Harrian said that he could not commit her because she was not a danger to herself, and she does not believe anything is wrong with her.
Article continues below advertisement
Unsurprisingly, the showdown quickly went viral on social media.
One user wrote: "I'm not a violent person by any means, nor do I advocate for it...but...seeing this racist Karen in Phoenix get SLAPPED after telling a Native American woman to 'go back' to her country was refreshing."
Article continues below advertisement
"Do not leave home without your smart phones," another added. "And when you see racism in action, call it out and make it go viral. We may not be able to change racists' hearts, but we can reveal them for what they are."
Article continues below advertisement
Another user concluded: "This is apparently in Phoenix AZ. Arizona is a hugeeee melting pot. Especially Phoenix. We have everything around here. GTFO of here with your racist ass s**t Karen. I hold my head high in the fact that AZ at least the part I grew up in. Tempe/chandler. We back everyone."