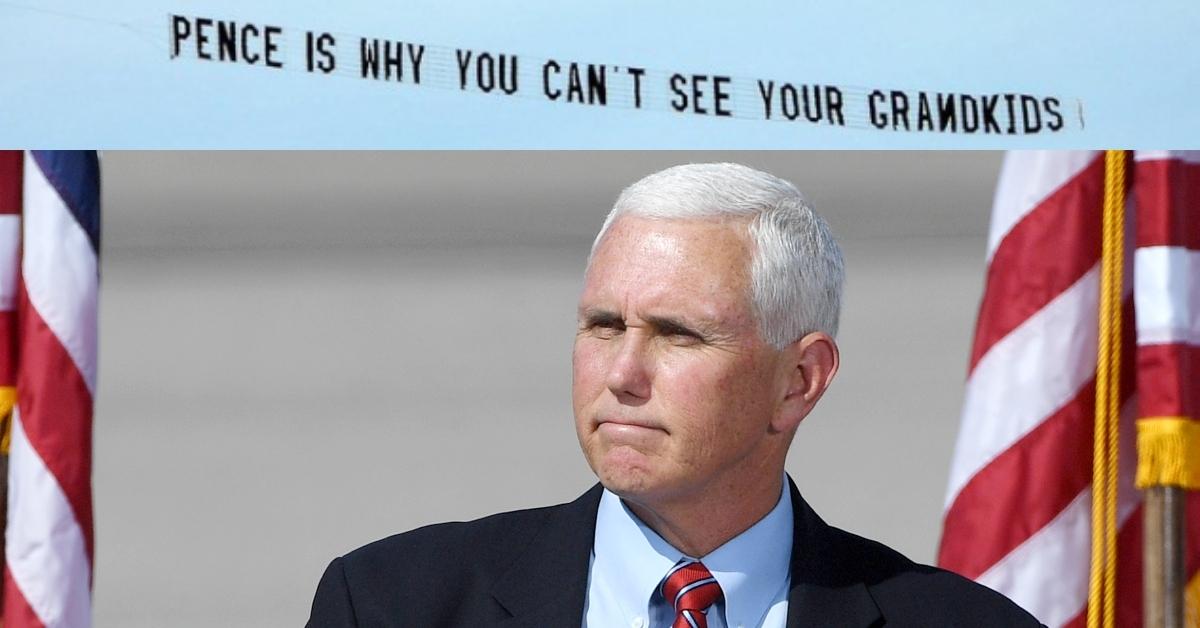 Banner reading 'Pence is why you can't see your grandkids' flies over retirement community as VP holds rally
By Robin Zlotnick

Oct. 12 2020, Updated 11:57 a.m. ET
Vice President Mike Pence recently gave a speech at a retirement community in Florida for seniors who were not socially distanced or wearing masks. According to The Daily Beast, The Villages is the country's largest retirement community, and it's usually reliably conservative.
Article continues below advertisement
But the virus has shaken the conservative foundation of the community, and Joe Biden's campaign was seen carrying senior citizens to the polls in golf carts to drop off their ballots. So Pence showed up to deliver an address to seniors in an effort to solidify their votes.
Article continues below advertisement
Thomas Weber and Anna Wilder report for The Independent Florida Alligator that there were around 500 people in the crowd, mostly "carefree, non-distanced President Donald Trump supporters." The vast majority of people in the crowd were older than 50. "There were more lap dogs than children," they write.
There were six feet between the seats, but people packed into the area between. "About a third of them kept their masks on," Weber and Wilder reports, "fewer wore them properly."
Article continues below advertisement
And then, as Vice President Pence spoke, about Trump's pro-military policies and the vice presidential debate and Trump's ban on travel to China, a plane with a banner flew by overhead. The banner read, "Pence Is Why You Can't See Your Grandkids."
Article continues below advertisement
It wasn't clear who was behind the sign. And it's also unclear if it had an impact on the speech attendees. According to Weber and Wilder, people cheered when Pence spoke about securing four more years for Trump. "The crowd jeered and booed at mentions of Biden, vice-presidential nominee Kamala Harris, and Democratic Speaker of the House Nancy Pelosi," they write.
Article continues below advertisement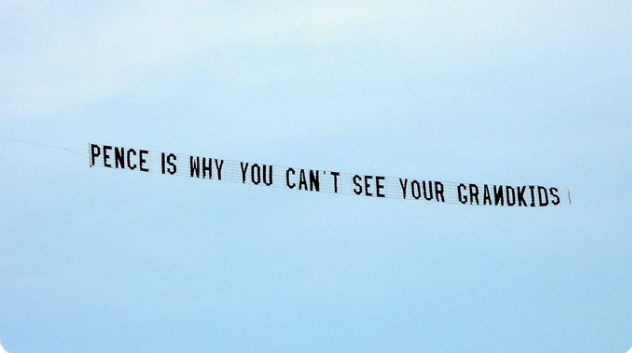 Even though Donald Trump has been fighting COVID-19 and nearly 215,000 Americans are dead, attendees of Pence's speech at The Villages were by an large unconcerned about the virus.
Article continues below advertisement
Henrietta Amey, an 83-year-old woman who lives in The Villages, told Weber and Wilder that she doesn't wear masks, preferring instead to "wash her hands and take vitamins." She said, "I take showers as soon as I get home — take my clothes off, put them in the washing machine. So far, I've been lucky."
John Leszewski said that he and his wife's temperatures were not taken at the entrance, but he wasn't worried about COVID-19. "Let me put it this way," he said. "I'm 80 years old, and I have no fear."
Article continues below advertisement
Weber and Wilder report, "The ZIP codes making up The Villages have totaled 1,719 COVID-19 cases as of Saturday night." Florida has reported 728,921 positive cases in Florida since March.
Article continues below advertisement
We won't know for a couple of weeks whether or not Pence's speech at The Villages constituted a "superspreader" event. Although people were offered masks and hand sanitizer at the main entrance, hardly anyone took up the offer, and the vast majority of attendees did not remain socially distant.
It's not all that surprising, considering these were mostly supporters of a president and an administration that downplayed the dangers of the virus for months. Pence might be part of the reason these people cannot see their grandkids, but it's not clear whether that will make a difference in the way these residents of The Villages vote in November.