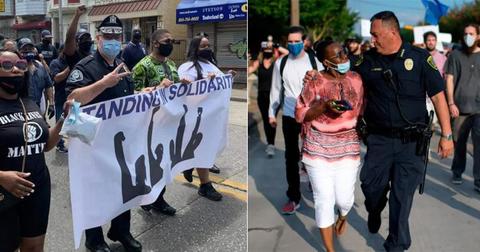 18 powerful moments from peaceful protests over the death of George Floyd
By Mark Pygas

Updated
Protests over the death of George Floyd have now spread across the United States and the world. Unfortunately, demonstrations in some areas have given way to violence on both sides. In Minneapolis and Los Angeles, shops have been broken into and cars set alight by protesters. On the other hand, the police have been accused of being too heavy-handed and even arrested a CNN reporter.
With these images dominating headlines, it can be hard to see that the majority of protests are still going on peacefully. In many cities, police have joined demonstrators in their marches, and in others, there have been incredible scenes of people coming together to speak out.
In Flint, Michigan, Genesee County Sheriff Chris Swanson joined protesters in their march on Saturday.
"The only reason we're here is to make sure that you got a voice -- that's it," Swanson said. "These cops love you -- that cop over there hugs people."
Protesters asked Swanson to walk with them, to which he responded: "Let's go, let's go. Where do you want to walk? We'll walk all night."
In Louisville, Kentucky, a police officer was reportedly protected by demonstrators after he became separated from his team.
A police officer was separated from his team during the protests. He was about to be attacked by a mob until a group of the protesters surrounded him and protected him.

There are good protesters out there. Don't let their message be overshadowed by the looters and rioters! pic.twitter.com/g6lzWSX5Jf

— JT Lewis (@thejtlewis) May 30, 2020
In Washington D.C., thousands of people peacefully knelled as they chanted "stop killing black people."
Thousands peacefully kneeling in DC remembering George Floyd chanting, "Stop Killing Black People."

Why isn't this video viral? Why is the media only interested in talking about isolated acts of vandalism & theft?

We're here & We ain't leaving. pic.twitter.com/pJCsBbKisr

— Arjun Sethi (@arjunsethi81) May 31, 2020
Santa Cruz Police Department were also among those in California to take a knee in memory of George Floyd and to bring attention to police violence.
Another huge group of demonstrators in Colorado decided to lay of their faces with their hands behind their backs chanting "I can't breathe."
Protesters in the capital intervened and performed a citizens arrest on a man who appeared to be breaking a sidewalk apart for projectiles.
Cops in Kansas City, Missouri, reportedly brought their own signs to protests there.
Apparently cops in Kansas City joined the local protest against police brutality. And my first reaction was to say something smart ass. But this is truly a start. pic.twitter.com/e3sUwaR16h

— Dylan (@dyllyp) May 30, 2020
In Chicago, Illinois, a group of demonstrators took a knee for nine minutes of silence.
"In Camden, New Jersey, protesters took to the streets to peacefully protest racial injustice. When police saw them marching, they did something. They decided to join them."
People in Auckland, New Zealand, were among those to offer solidarity in international protests.
The police chief of Schenectady, New York, also took part in marches there.
Houston Police Chief Art Acevedo walked arm-in-arm with demonstrators during an event in the city.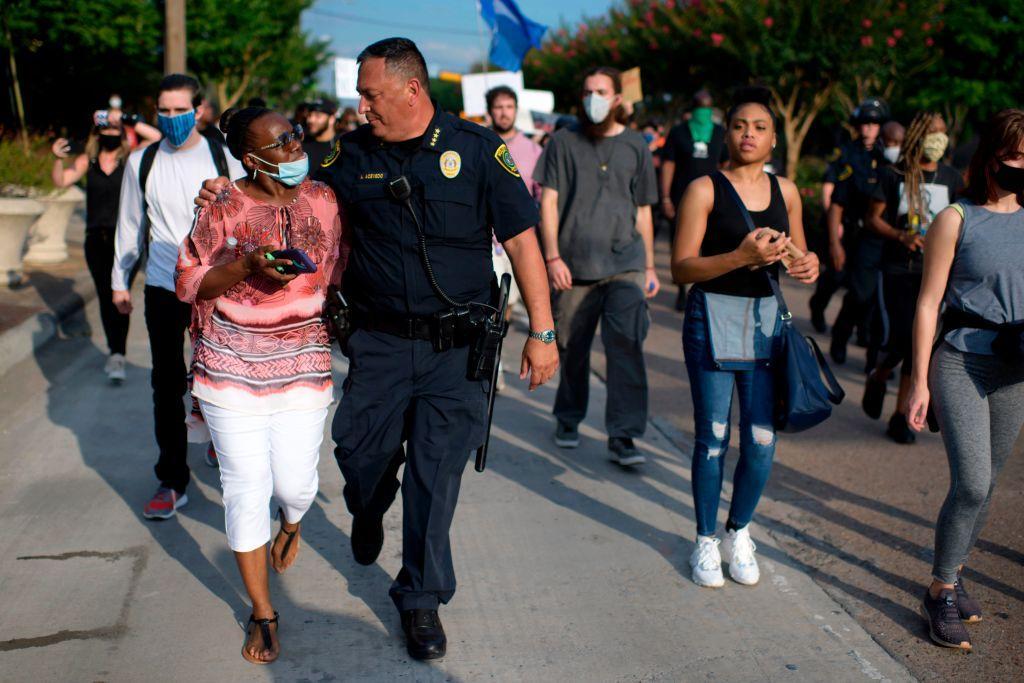 The streets of Long Beach, California, were packed with people.
Crazy how the Long Beach protests didn't get any media coverage until people started looting. Forget broadcasting these lovely photos of our city's peaceful protest, but as soon as a store's front window is broken, all of a sudden, Long Beach is all over Channel 7... pic.twitter.com/Gw6SxDeot7

— '97 (@jamienaea) June 1, 2020
Police in Coral Gables, Florida, took a knee with demonstrators in memory of George Floyd.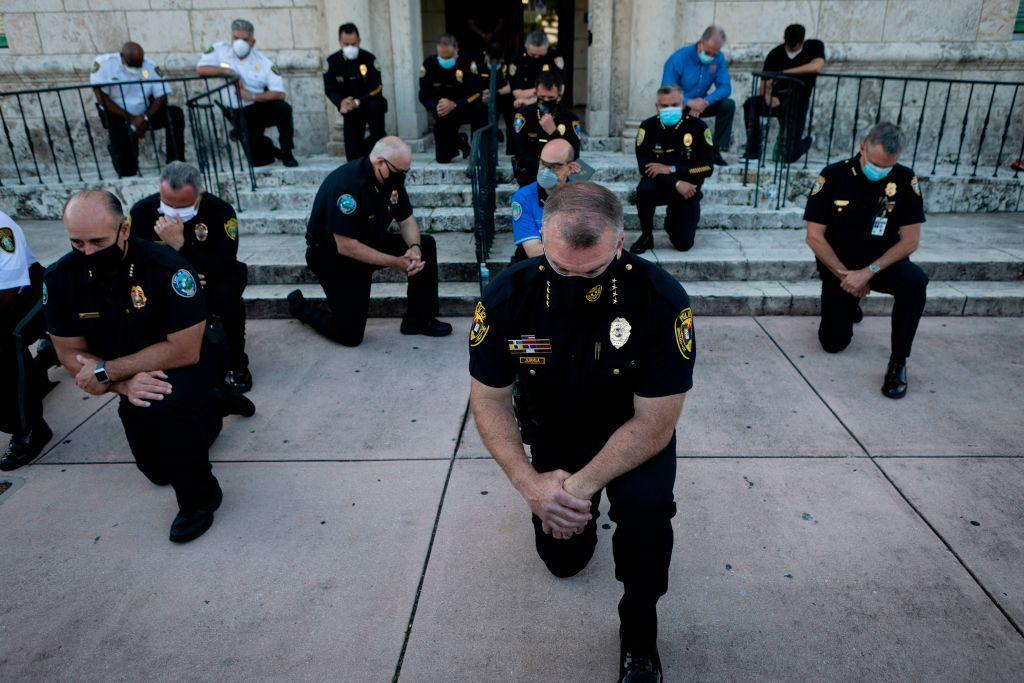 The United Kingdom was among international countries to host Black Lives Matter demonstrations.
Amish demonstrators joined those in Minneapolis, Minnesota.
This shot from Chicago shows the scale of peaceful protests in the city.
In Lowell, Massachusetts, protesters maintained social distancing at a vigil for George Floyd.