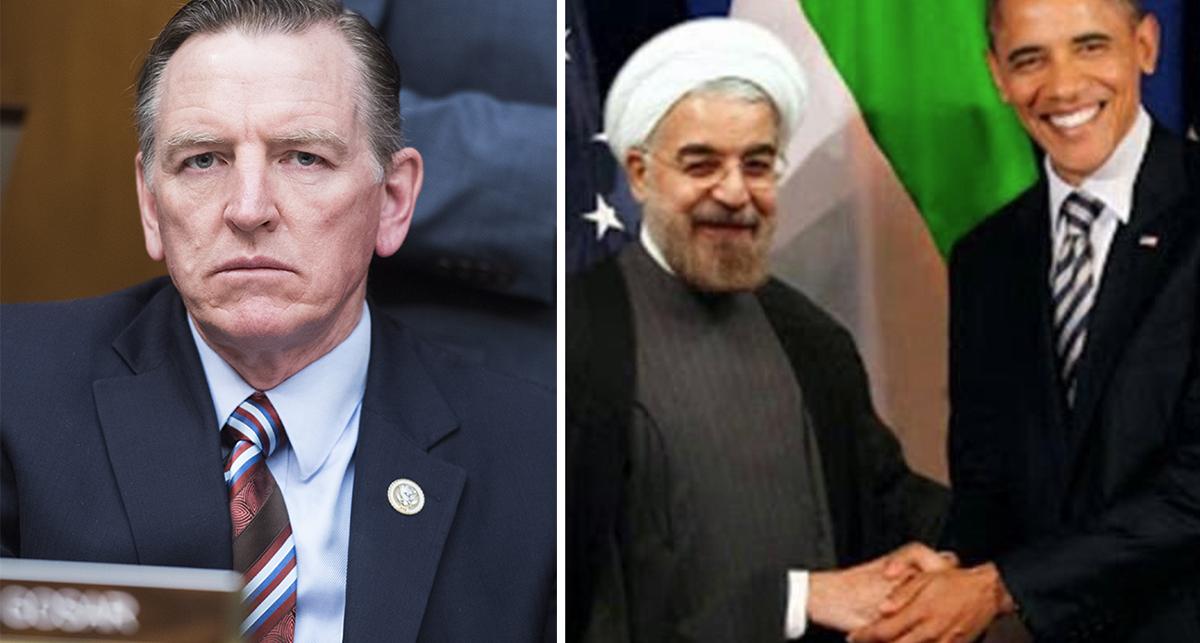 Congressman shares photoshopped image of Obama shaking hands with president of Iran
By Mark Pygas

Jan. 7 2020, Updated 3:33 p.m. ET
On Friday, one of Iran's most powerful military commanders, General Qasem Soleimani, was killed in a US airstrike ordered by President Donald Trump. Soleimani, head of Iran's elite Quds Force, was killed alongside several others at Baghdad airport. 
Article continues below advertisement
Unsurprisingly, the move has sparked some tensions. Iran's Supreme Leader Ayatollah Ali Khamenei said that "severe revenge awaits the criminals" behind the attack. While President Donald Trump seemed to respond to the event by tweeting a picture of the US flag.  
In a statement, the Pentagon said that Soleimani "was actively developing plans to attack American diplomats and service members in Iraq and throughout the region."   
Domestically, the response to the strike has been divided down party lines. Democratic presidential candidates Elizabeth Warren and Bernie Sanders both criticized the move, with Sanders saying the killing could "bring us closer to another disastrous war in the Middle East."
Article continues below advertisement
Republicans widely praised the move, including Rep. Paul Gosar (R-AZ). Gosar praised the decision on Twitter over the last few days. But now, he's landed himself in hot water after sharing a photoshopped image of former-President Barack Obama shaking hands with Iranian President Hassan Rouhani. 
Gosar shared the image along with the caption: "The world is a better place without these guys in power."
Article continues below advertisement
Daniel Medina, a reporter for The Guardian, was quick to point out that the pair never met, and that Rouhani is still the President of Iran. 
Article continues below advertisement
While CNN's Andrew Kaczynski found the original image that the photoshopped image seems to have been based on, showing a meeting between Obama and the Indian Prime Minister. 
Article continues below advertisement
Gosar defended posting the image in a series of tweets, writing: 
"1. To the dim-witted reporters like [Daniel Medina]: no one said this wasn't photoshopped.  No one said the president of Iran was dead.  No one said Obama met with Rouhani in person.  The tweet says: 'the world is a better place without either of them in power.'" 
Article continues below advertisement
"2. The point remains to all but the dimmest: Obama coddled, appeased, nurtured and protected the world's No. 1 sponsor of terror. The world is better without Obama as president. The world will be better off without Rouhani."
Unsurprisingly, this explanation didn't sit well with many of Gosar's critics. 
One user wrote: "The House Ethics Committee needs to investigate Rep. Gosar. This is not harmless fun.  In fact its so serious our last election may have turned on techniques like these."
Article continues below advertisement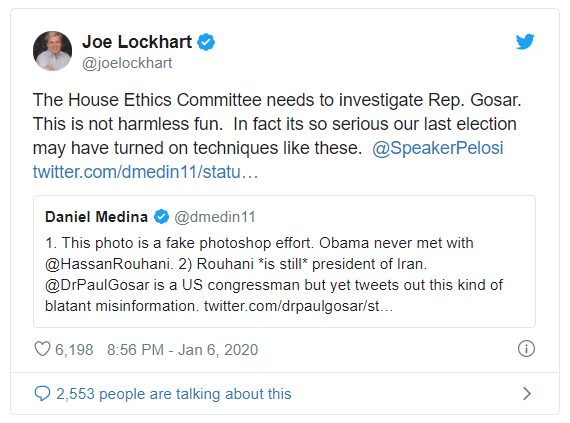 While another added: "Gosar spoke at the Trumpstock event I went to in his district. Focusing on the fakeness of the image doesn't grasp the whole point. It's the conspiracy it perpetuates, that Obama harbored pro-Muslim sentiments rooted in his ethnic origin, that remains pervasive."