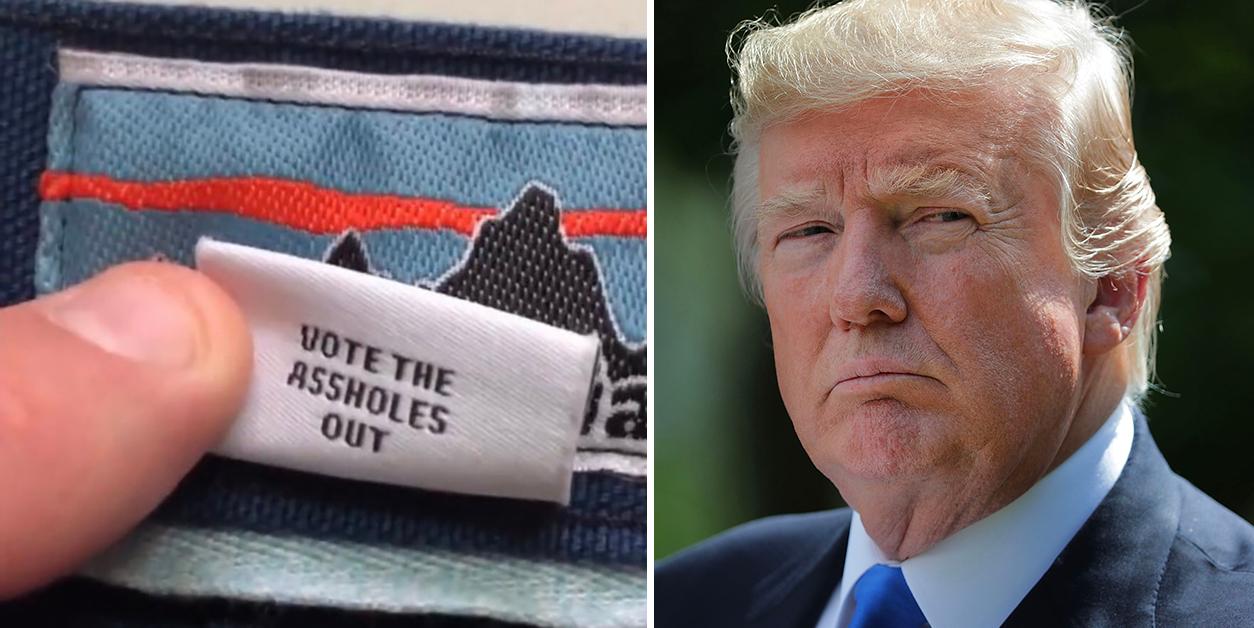 Patagonia's new 'vote the a**holes out' clothing tags go viral
By Mark Pygas

Sep. 16 2020, Published 9:03 a.m. ET
The clothing brand Patagonia isn't afraid of showing its politics. The fashion brand has repeatedly backed politicians who are addressing the climate crisis. In 2017, the brand called out President Donald Trump when he reduced the size of two national monuments in Utah. Bears Ears and Grand Staircase-Escalante national monuments were collectively shrunk by more than 2 million acres.
Article continues below advertisement
And in 2016, it donated every cent made from its Black Friday sales to environmental non-profits.
Now, the company is going viral again after a Twitter use shared a clothing tag in one of Patagonia's products that reads "vote the assholes out."
Article continues below advertisement
Spokesperson Corley Kenna told Mashable that the tags are real and that they were added to a range of new clothing.
"They were added to our 2020 Men's and Women's Regenerative Organic Stand-Up Shorts because we have been standing up to climate deniers for almost as long as we've been making those shorts," Kenna wrote.
Kenna added that CEO Yvon Chouinard has been using the phrase for a while: "Yvon Chouinard has been saying 'vote the assholes out' for several years and it refers to politicians from any party who deny or disregard the climate crisis and ignore science, not because they aren't aware of it, but because their pockets are lined with money from oil and gas interests."
Article continues below advertisement
"Remember, vote the assholes out — all of those politicians who don't believe we should do anything about climate change," Chouinard told supporters in a letter earlier this year. "Vote for the planet and against those who would do nothing. We have the power and now is the time to use it."
People are here for the new addition, with one user writing: "Apparently, I need a new fleece pullover. Or 10."
Article continues below advertisement
While another added: "Where can I hand over my money to Patagonia?"