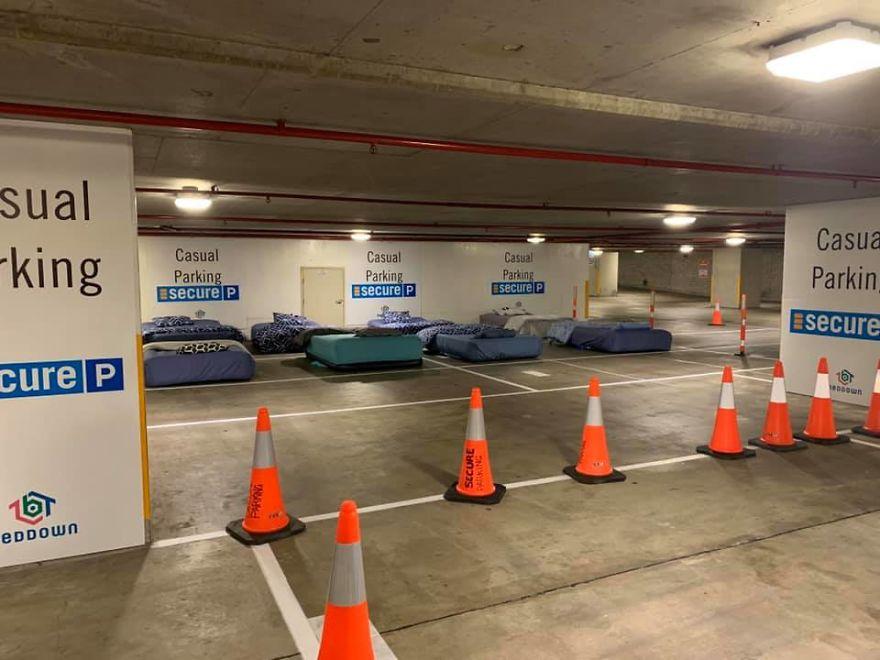 Charity transforms parking garages into homeless shelters at night
By Mark Pygas

Nov. 15 2019, Updated 10:58 a.m. ET
Homelessness is a massive problem in the United States and around the world. The US Department of Housing and Urban Development's Annual Homeless Assessment Report states that as of 2018, there were around 553,000 homeless people in the United States on a given night.
Article continues below advertisement
Being made homeless can also quickly become a vicious cycle, with many places of employment requiring people to have a permanent address and expecting employees to maintain a level of cleanliness that may prove difficult.
Homelessness is also a problem in Australia, where 8,000 people sleep rough every night, and over 116,000 are homeless.
But one charity, Beddown, is hoping to help Australia's homeless by providing pop-up accommodation solutions for the vulnerable.
One of their solutions is to take places that are usually empty at night, such as parking garages, and turn them into safe and warm spaces for people to sleep.
Article continues below advertisement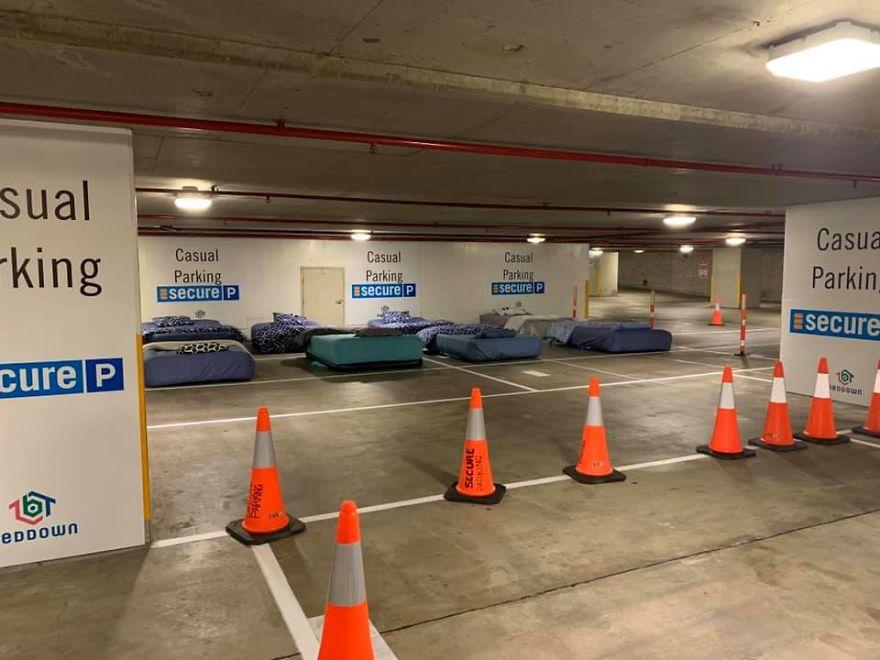 The charity worked with Secure Parking, one of the largest car park operators in Australia, to set up a two-week trial at one of their parking garages in Brisbane.
Norman McGillivray, the founder of Beddown, came up with the idea while walking through an empty parking garage at night. After some planning, they were able to make the idea a reality.
Article continues below advertisement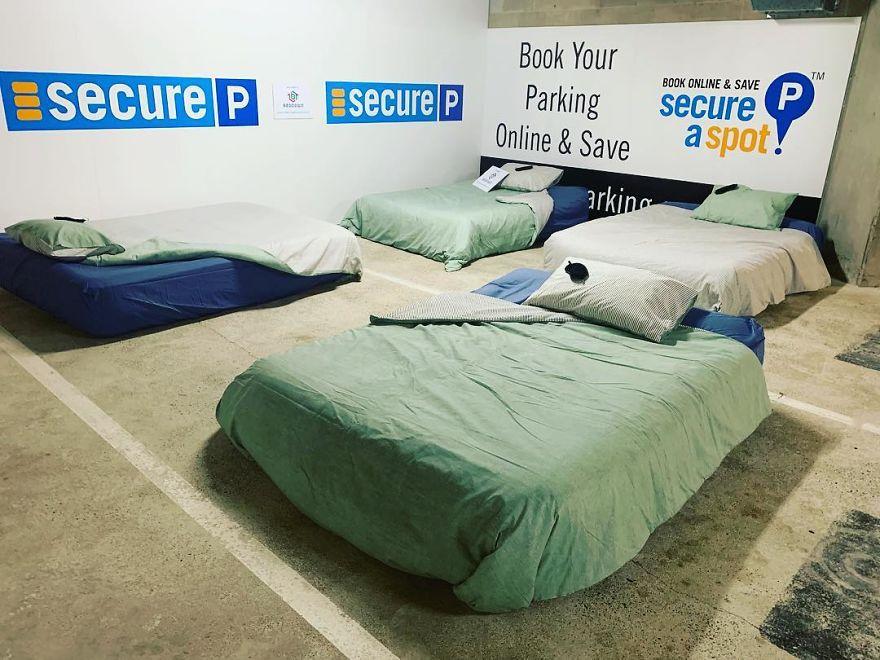 "The lightbulb moment came when Norm went to a local shopping centre and noticed that when he parked there the car park was nearly empty," Beddown's website explains. "The idea was instant as he saw the potential in utilizing the space, especially at night when car parks are empty and vacant."
Article continues below advertisement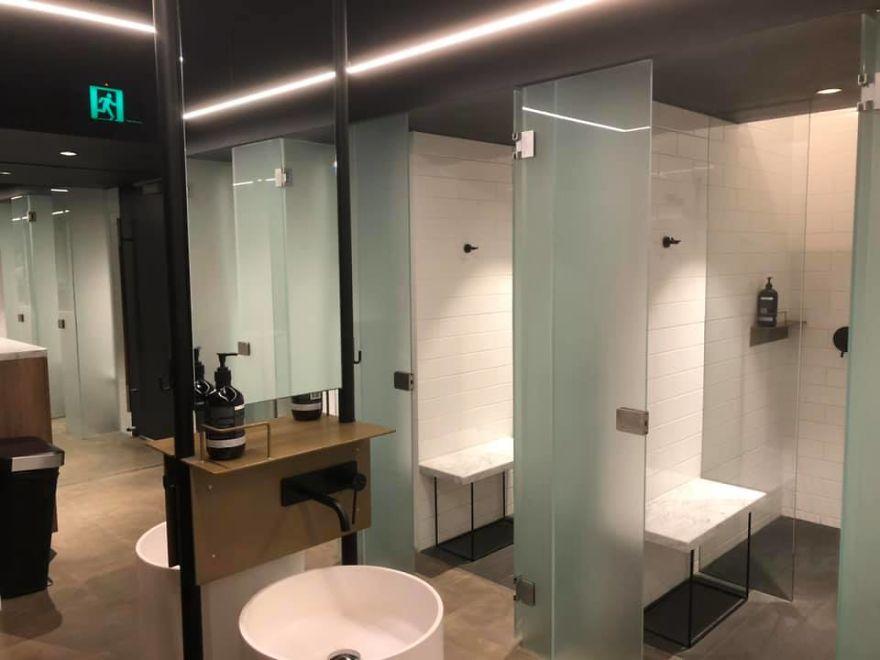 During the trial, which took place last month, volunteers turned the space into a pop-up homeless shelter for 15 people, who were all first assessed by a social worker before being given a bed for the night.
As well as a bed, the charity was able to provide their guests with services like doctors, nurses, dentists, hairdressers, and showers. Food was donated by local restaurants.
Article continues below advertisement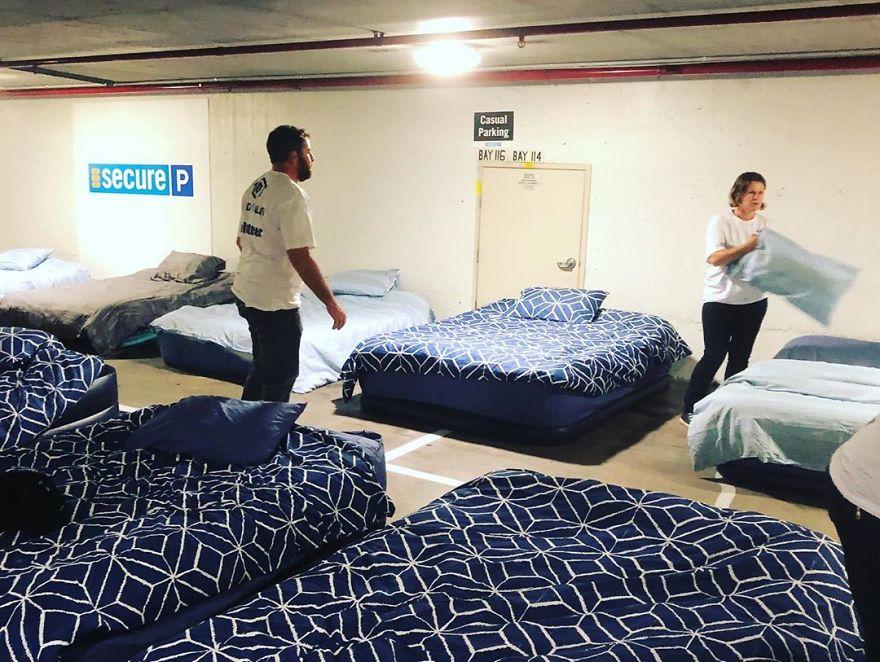 Beth Pratt, a retired aged care nurse who helped out for every night of the trial, said the experience changed people's lives.
"We have had one young man that decided after a week of sleeping all night, not being out there - he booked himself into rehab," she told 7News.
Article continues below advertisement
"We will look to get as close as we can to a proper comfortable bed to provide the homeless with a great night's sleep is our ultimate goal. Sleep deprivation is a massive issue for our homeless, so being in a place that offers shelter and is safe, secure and comfortable we believe will have a big impact on those who use Beddown," the charity explained in an Instagram post at the time.
And according to the charity, the trial was a huge success. Here are some statistics:
41 guests used Beddown over the duration of the pilot.
77% of them were male and 23% were female.
The guests rated the sleep 4.5 out of 5 and the beds 4.5 out of 5 on average.
100% of the guests said they felt safe during their stay.
Due to overcapacity, 9 people were turned away in one night.
The youngest person who tried to access Beddown was just 15 years old.
Article continues below advertisement
"It was great to start bringing the Beddown vision to life last night with a group of our awesome volunteers for the Dry Run. Thank you to our awesome group of volunteers who came in late on a Saturday night to help us trial and set-up some beds. Although as expected we had a few challenges to overcome, it was awesome to start bringing Beddown to life," the charity added in a further post.
"Beddown will provide an immediate response for those who sleep rough to access safe, secure shelter and access to a comfy bed and a great night's sleep. We will work with our other collaborative partners to provide long term solutions to transition our guests into accommodation, education and employment opportunities and ultimately put ourselves out of business (this is the vision)."
Article continues below advertisement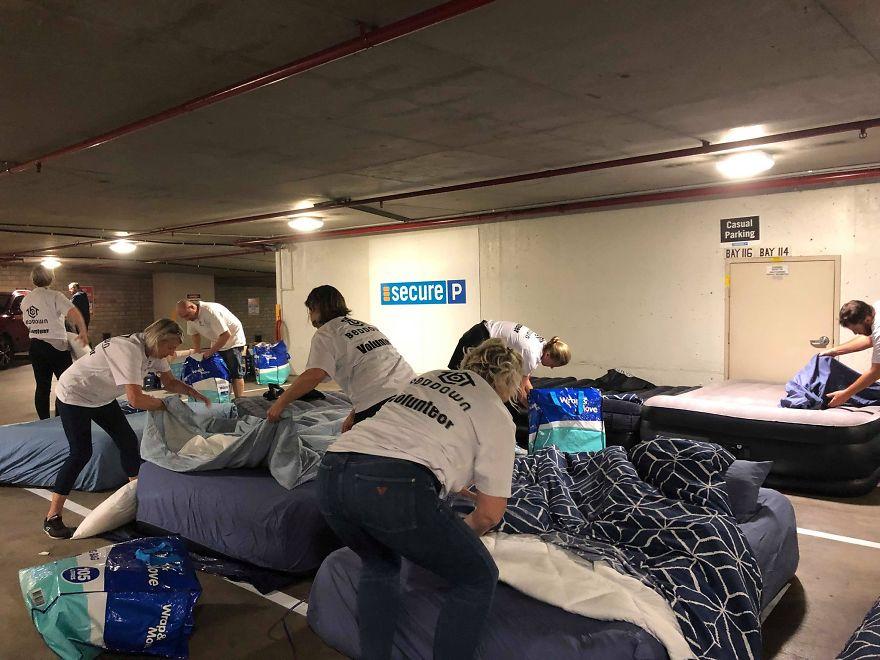 According to 7News, Beddown have since partnered with Secure Parking, giving them access to 600 car parks around the country.
"We are partnering with Australia's largest car park operator, Secure Parking, who operate over 600 car parks across Australia and New Zealand," the charity's website said.
"Nothing is going to stop me now to bringing Beddown to as many people across Australia as possible," founder McGillivray added.
The charity is currently seeking further funding and sponsorship to take the idea nationwide. They have no shortage of volunteers, and there's currently a waiting list.