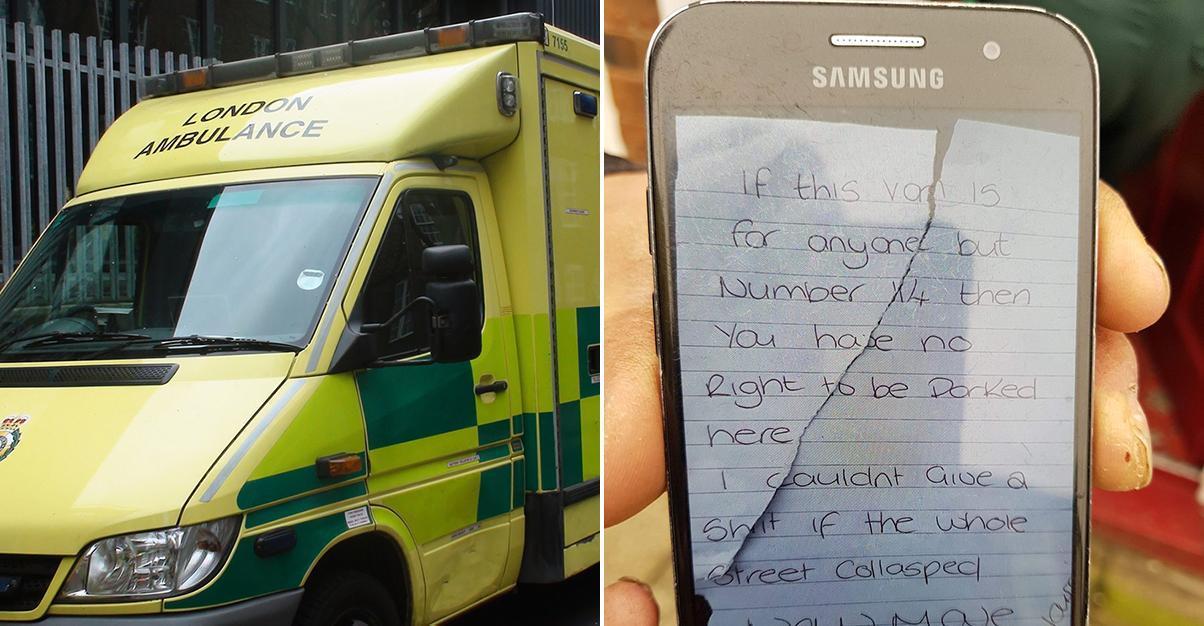 Paramedics share horrible note left on their ambulance during call
By Mark Pygas

Updated
Katie Tudor, a paramedic mentor of the West Midlands Ambulance Service in the United Kingdom recently took to Twitter to share a note that someone left on one of their ambulances while a crew was responding to an emergency.
Apparently one neighbor wasn't very happy that they were blocking their driveway...
The note reads:
"If this van is for anyone but number 14 then you have no right to be parked here."
"I couldn't give a shit if the whole street collapsed."
"Now move your van from outside my house."
According to the crew, they were also verbally abused while attempting to deal with the incident. Unsurprisingly, people weren't very happy with the note.
Chief Inspector John Owen, commander of Staffordshire Police's Stoke-on-Trent North policing team, took to Twitter on Monday to say that a 26-year-old woman had been arrested following the incident for "public order offences."
We have arrested a 26 year old female for public order offences. Emergency Services must be able to carry out their roles without fear of abuse/intimidation of any kind. https://t.co/xHSbdtl54S

— .... (@CIJohnOwen) February 19, 2018
He added:
"We will not tolerate abuse or intimidation of our emergency services. This kind of behaviour is totally unacceptable and we will take appropriate action against offenders."
"The arrest relates to matters of verbal abuse that could constitute offences under the Public Order Act. This is not solely about the note."
Twitter had mixed reactions:
What do you think of this incident?