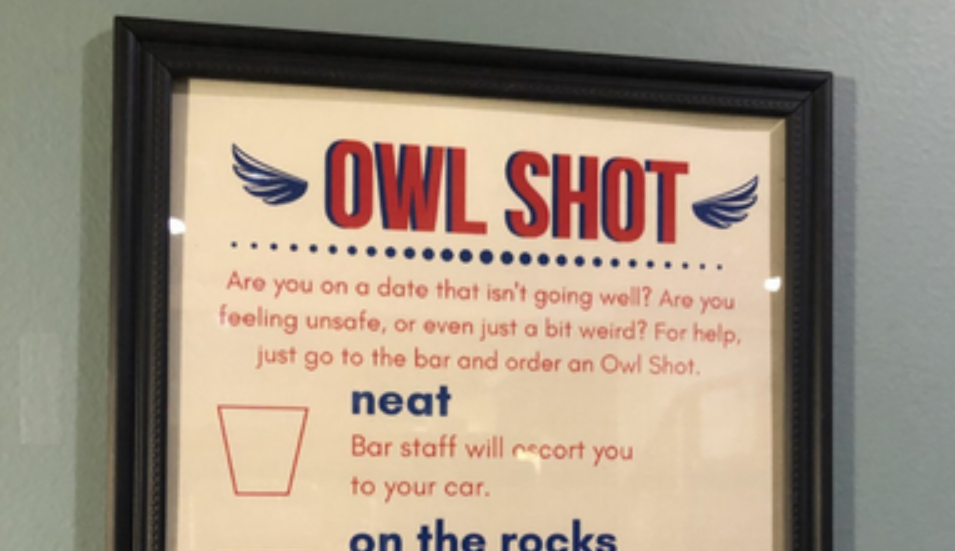 Women can order an 'owl shot' at bars near a Florida college to let bartenders know they're in danger
By Mark Pygas

Mar. 9 2020, Updated 9:25 a.m. ET
Unfortunately, far too many women are still subjected to sexual assault in the United States. According to a 2015 report by the National Sexual Violence Resource Center, one in five women will be raped at some point in their lives.
Article continues below advertisement
For many women, this can take place at college, though 90% of sexual assault victims on college campuses do not report the assault. But bars near Florida Atlantic University are now looking to help potential victims with a series of secret drink orders that will alert bartenders to potentially dangerous situations.
Posters hanging in the bathrooms of about a dozen bars and restaurants in Boca Raton, Fort Lauderdale, instruct women on how to ask bartenders for help in secret if they're feeling uncomfortable.
Article continues below advertisement
The posters ask: "Are you on a date that isn't going well? Are you feeling unsafe, or even just a bit weird?" Patrons are then instructed to walk to the bar and order an owl shot for help. There are an additional series of coded phrases that patrons can use to tell bar staff how serious the situation is.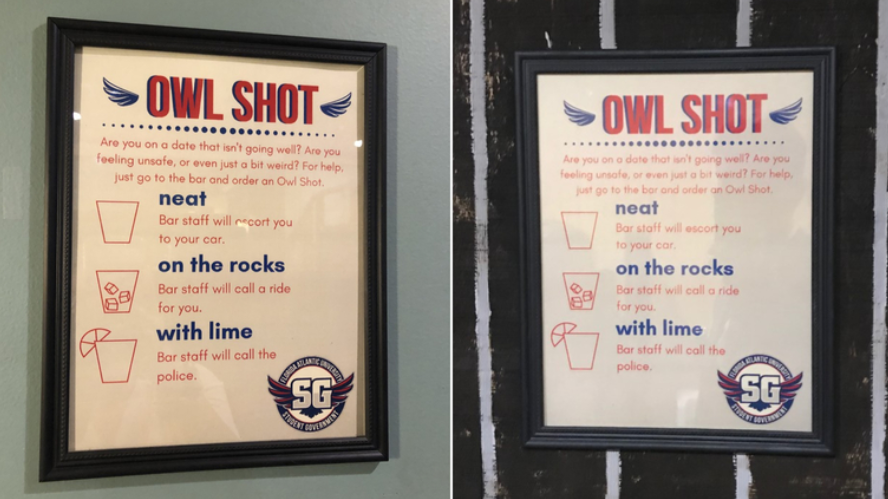 Article continues below advertisement
If they order a "neat," then a member of staff will escort the person to their car. Having an owl shot "on the rocks" means that bar staff should order a ride for you. While having the drink "with lime" will alert staff to call the police.
Bars implemented the idea with the help of Florida Atlantic University's Student Government, who came up with the concept when brainstorming ways to protect students.
"Everyone's on board. Bars owners love it, the administration thinks it's a great idea. There's been really no negative response to it at all," Governmental Relations Director at FAU Alejandra Rodriguez told CNN.
Article continues below advertisement
The students came up with the idea over the summer and then asked managers of bars and restaurants around the college to join the initiative. The idea proved so popular that some students paid for the posters themselves rather than waiting for the university to approve the concept.
"The launch of a safety initiative within the community has been long overdue," Student Body President Kevin Buchanan and Vice President Celine Persaud said in a press release. "This initiative outlines the importance for students to continue feeling at home even when they're out engaging with the local community."
Article continues below advertisement
Social media users also seemed to like the idea, with one writing: "What a great idea! Bars near one Florida university are giving women a secret way to alert bartenders if they feel unsafe on a date."
Article continues below advertisement
While another added: "This should be everywhere there is a college, university, or female! Great idea."