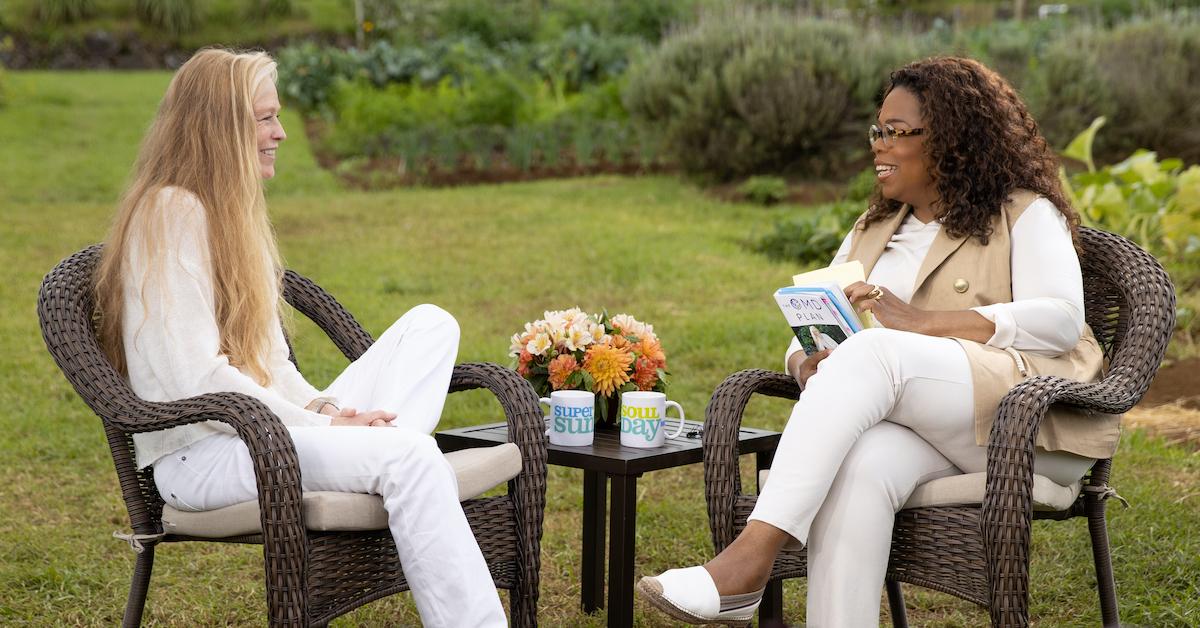 Oprah is eating vegan once a day for the planet, and she's helping you do the same
By Sophie Hirsh

Oct. 18 2019, Updated 11:50 a.m. ET
On 30 Rock, Liz Lemon declares her religion as, "I pretty much just do whatever Oprah tells me to." If you too look to Oprah for spiritual guidance, you may be interested in her latest project: eating a plant-based meal once a day for the planet. Not only is Oprah taking on this challenge, but she's also sharing her daily vegan meals online — and encouraging fans to join her.
Article continues below advertisement
From wicker chairs in Oprah's vegetable garden in Maui, Cameron told Oprah about her new book, The OMD Plan: Swap One Meal a Day to Save Your Health and Save the Planet. As you can probably gather from the title, the OMD plan encourages readers to eat one vegan meal a day to improve the health of both the Earth and of our bodies. In the episode, Cameron opens up about her and James' inspiration to start eating plant-based.
Article continues below advertisement
In 2012, the couple watched the documentary Forks Over Knives, and went vegan overnight. They both felt so enlightened by everything they had learned, and wanted to share the information with as many people as possible.
Article continues below advertisement
So, in hopes of finding a more palatable way to get others to embrace this lifestyle for the sake of our planet, Cameron is encouraging people to eat vegan once a day with The OMD Plan. "Eating one plant-based meal a day [for a year] saves 200,000 gallons of water and the carbon equivalent of driving from LA to NY – that's just one person," Cameron told Oprah. She also explained how animal agriculture creates significant emissions, requires massive amounts of land, water, and grain, and overall is a leading cause of the climate crisis — and it totally clicked with the talk show host.
Article continues below advertisement
"For so many people the idea of changing your entire lifestyle and becoming a vegan or vegetarian is overwhelming, and people just shut down. But what we can do is OMD, one meal a day," Oprah said. "That is graspable ... My mind can hold that, I can receive that. That's a doable thing. I can turn that into a fun exercise."
And turn that into a fun exercise she did. This week, Oprah announced to her Instagram followers that for the next 30 days, she will be eating a plant-based meal once a day. Luckily for Oprah, she has her personal chef Raymond Weber to cook those meals for her — and luckily for her fans, Oprah is sharing every plant-based recipe that he creates for her in a food diary on Oprahmag.com.
Article continues below advertisement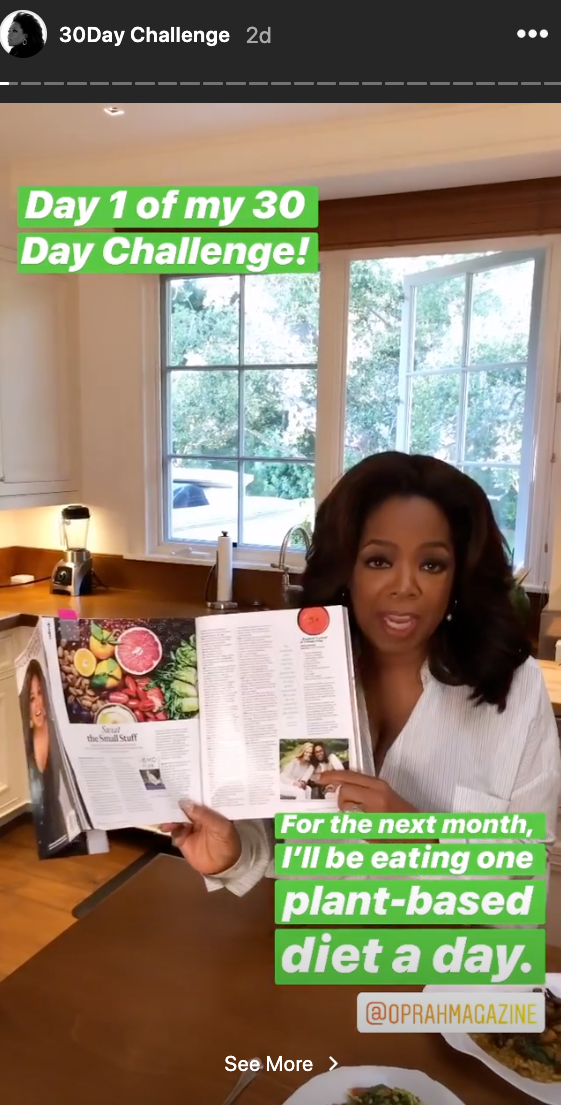 So far, Weber has cooked Oprah Roasted Pumpkin & Wild Field Mushroom Risotto; Baked Falafel 'Wraps' with Hummus, Baba Ghanoush, and Tomato-Cucumber Salad; and Sweet Potato & Coconut Curry. And not only are all the recipes being posted on Oprah Magazine's website, but Oprah and Randy are also hopping on her Instagram story every day (and saving each video to a highlight) to show her 17.2 million followers the final creations.
That said, your meals need not be as fancy as Oprah's — they can be as simple as replacing the milk in your cereal with oat milk, or replacing the beef in your burger with Beyond Meat or a veggie burger. If you want more guidance during your journey of eating one plant-based meal a day, check out Cameron's book, or for free support, check out vegan22.com.