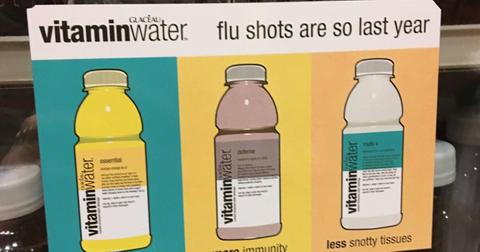 Old Vitaminwater ad suggesting it could replace flu shots causes outrage again
By Mark Pygas

Updated
The bottled water industry has plenty of critics. Whether it's the devastating impact that single-use plastic bottles have on our environment or the massive markups for an amount of water that would cost fractions of a cent out of a tap. 
Now, people are adding yet another reason to their lists after an ad for Vitamin Water, owned by the Coca Cola company, reemerged online. The advert, from 2011, was republished by Twitter user Patrick Shearer recently. It states that "flu shots are so last year" and then advertises three different types of Vitaminwater, including one with added vitamin C. 
Unsurprisingly, people were pretty upset at the notion that a bottle of Vitaminwater could replace a flu shot. According to the Center for Disease Control and Prevention, an estimated 79,000 people in the United States died as a result of the flu from 2017-2018. The flu also resulted in nearly 1 million hospitalizations in the same time period. 
One doctor wrote: "Someone please tell me this isn't real. Flu shots save lives. Vitamin water does not.  Do not take medical advice from Snapple fridge doors. Talk to your doctor."

While another user added: "Are you kidding me, Vitaminwater? Your marketing strategy for this year is to advocate against an essential public health intervention that protects newborns, the elderly, and immunocompromised people? Is this a sick joke?"

The National Consumer League (NCL), a Washington consumer-advocacy group, filed a complaint against Coca Cola when the advert first made headlines in 2011. 
"It's not only deceptive but potentially dangerous to consumers," Courtney Brein, food safety and nutrition fellow at the National Consumers League told ABC. 
"There's a difference between stating that certain elements of a product are good for you and implying that the product will actually prevent the consumer from catching the flu or coming down with the common cold."  
Executive director of NCL Sally Greenberg added: "These advertising claims are not only untrue; they constitute a public health menace." 
"Stopping these Vitaminwater claims, which contradict information by the Centers for Disease Control and other public health authorities, should be a top FTC priority." 
In a statement at the time, Coca Cola said: "Vitaminwater is a great tasting, hydrating beverage with essential vitamins and water and people can clearly see from the labels, which are FDA (Food and Drug Administration) compliant, what is in every bottle."
"Vitaminwater has always had a fun, humorous and engaging personality and our ads reflect that. Locally, we can also confirm that all products available in Great Britain are in full compliance with our country's regulations."
 Vitaminwater has previously gotten into trouble in the United Kingdom for misleading consumers. 
The Advertising Standards Authority banned poster adverts that promoted Vitmanwater's health claims. They said that most people would not expect a nutritious drink to "have the equivalent of four or five teaspoons of added sugar".