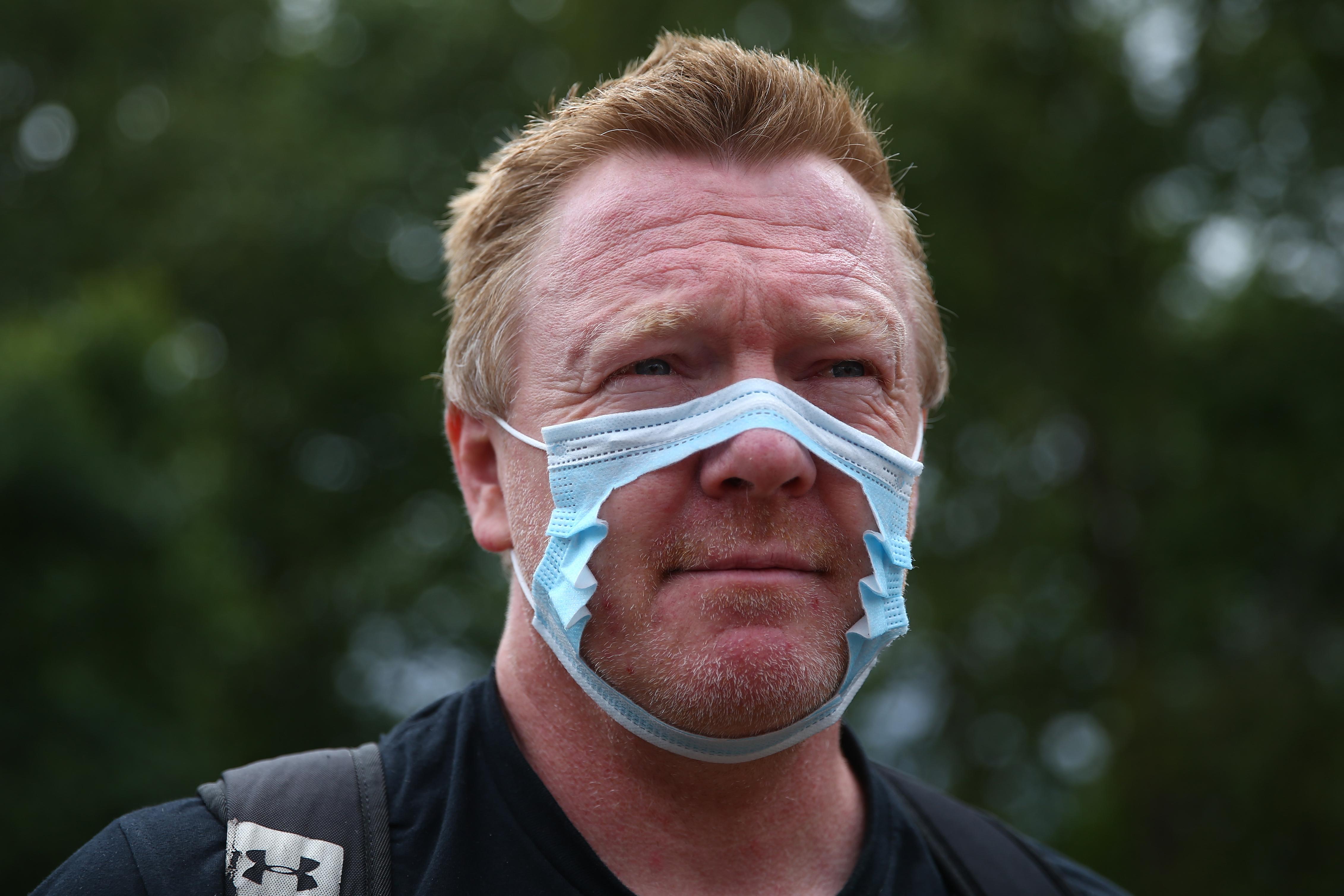 Family of 81-year-old man who died of COVID used his obituary to slam anti-maskers
By Mark Pygas

Dec. 7 2020, Updated 9:21 a.m. ET
The family of an 81-year-old man who died of coronavirus has used his obituary to slam people who "refuse to wear a piece of cloth on their face to protect one another." Marvin Farr, from Scott City, Kansas, died in isolation at a nursing home after contracting coronavirus.
Article continues below advertisement
His son, Courtney Farr, wrote in his father's obituary:
"Dr. Marvin James Farr, 81, of Scott City, Kan., passed away Dec. 1, 2020, in isolation at Park Lane Nursing Home. He was preceded in death by more than 260,000 Americans infected with covid-19. He died in a room not his own, being cared for by people dressed in confusing and frightening ways. He died with covid-19, and his final days were harder, scarier and lonelier than necessary. He was not surrounded by friends and family."
Article continues below advertisement
He compared the coronavirus pandemic to trials that his father faced as a child during World War II.
"Marvin was born May 23, 1939 to Jim and Dorothy Farr of Modoc, Kan. He was born into an America recovering from the Great Depression and about to face World War 2, times of loss and sacrifice difficult for most of us to imagine. Americans would be asked to ration essential supplies and send their children around the world to fight and die in wars of unfathomable destruction. He died in a world where many of his fellow Americans refuse to wear a piece of cloth on their face to protect one another."
Courtney explained that his father, a veterinarian, had dedicated his life to helping others.
"Marvin was a farmer and a veterinarian. He graduated from Kansas State University in 1968. His careers filled his life with an understanding of the science of life: how to nurture it, how to sustain it, and the myriad ways that life can go wrong. As a young man he debated between studying mortuary or veterinary science. He chose life over death. The science that guided his professional life has been disparaged and abandoned by so many of the same people who depended on his knowledge to care for their animals and to raise their food."
Article continues below advertisement
While Marvin was religious, he saw no conflict between religion and science, his son explains:
"Marvin was a religious man. He was a lay reader at St. Luke's Episcopal Church. He saw no conflict between the science of his professional life and the belief of his personal life, each enriched the other. From religion, he especially drew on lessons of forgiveness and care. Perhaps the most important comes from the Lord's Prayer: 'And forgive us our trespasses, as we forgive those who trespass against us.'"
"He would look after those who had harmed him the deepest, a sentiment echoed by the healthcare workers struggling to do their jobs as their own communities turn against them or make their jobs harder," Courtney went on to explain. "He would also fail those who needed him the most at times, as he was still human, with his flaws and limits."
Article continues below advertisement
"Marvin was a man of the community. His membership in the Anthem Masonic Lodge #284 and the Scott County Shrine Club mattered to him for both the camaraderie of his brothers and for the good works that they facilitated, the most visible of which is the Shriners Hospitals for Children network. Even in a social organization, he chose one that centered the health and medical care of others."
Unsurprisingly, the obituary attracted a lot of attention on social media, both positive and negative. In a Facebook post, Courtney responded to the comments, writing:
"I should know better, but I looked at some of the public sharings of dad's obituary this afternoon. I'm honestly in shock at the number of people who have seen it. It's resonated with a lot of people, and that warms my heart. Often when we experience loss, pain or trauma, we feel so alone. And there's such incredible power to learning that you are not, that someone else also knows."
Article continues below advertisement
"The response is vastly positive, but I have seen a few negative comments, including claims that I made my father's obituary political. Well, his death was political. He died in isolation with an infectious disease that is causing a national crisis. To pretend otherwise or to obfuscate is also a political decision."
"But beyond that, its also perfectly reflective of our relationship, something that a stranger would never understand. My father and I often didn't see eye to eye on a lot of issues, though we shared a fundamental belief about caring for others. We were very different people, and I think we often struggled to understand one another."
Article continues below advertisement
"He loved to debate politics with me though. Mostly he was around people who agreed with him, and over time I would realize that he really enjoyed having someone to talk to who disagreed with him and would fight back. It drove the rest of the family justifiably nuts, it was so common when we were together. Our wives barred us from talking about politics if we were all driving somewhere together."
"His wife Lottie passed away in 2013 in Hays after an exhausting illness. It's a couple of hours to get home to Scott City, and I drove him. It was an oddly foggy day for western Kansas. And we had no more than got on the highway and my dad picked a fight about something he had seen on Fox News. And just like that, we're in the middle of a spirited argument. I remember thinking like, 'What the hell dad, Lottie just died, why are we doing this dance?' And then it hit me that, oh, this is how he's handling this moment. He can't talk about her right now, so he's doing exactly what we do, which is debate and argue. So I argued with him the rest of the way home. For me, there's an extra layer to his obituary, that it is political and that it will cause debate is fitting, it demonstrates the relationship between its subject and author."
"I'm sure my father's main complaint would be that he doesn't have the chance to give you all his two cents."
"I'm going to miss arguing with you old man. I hope you're in as much peace now as you are in this picture."