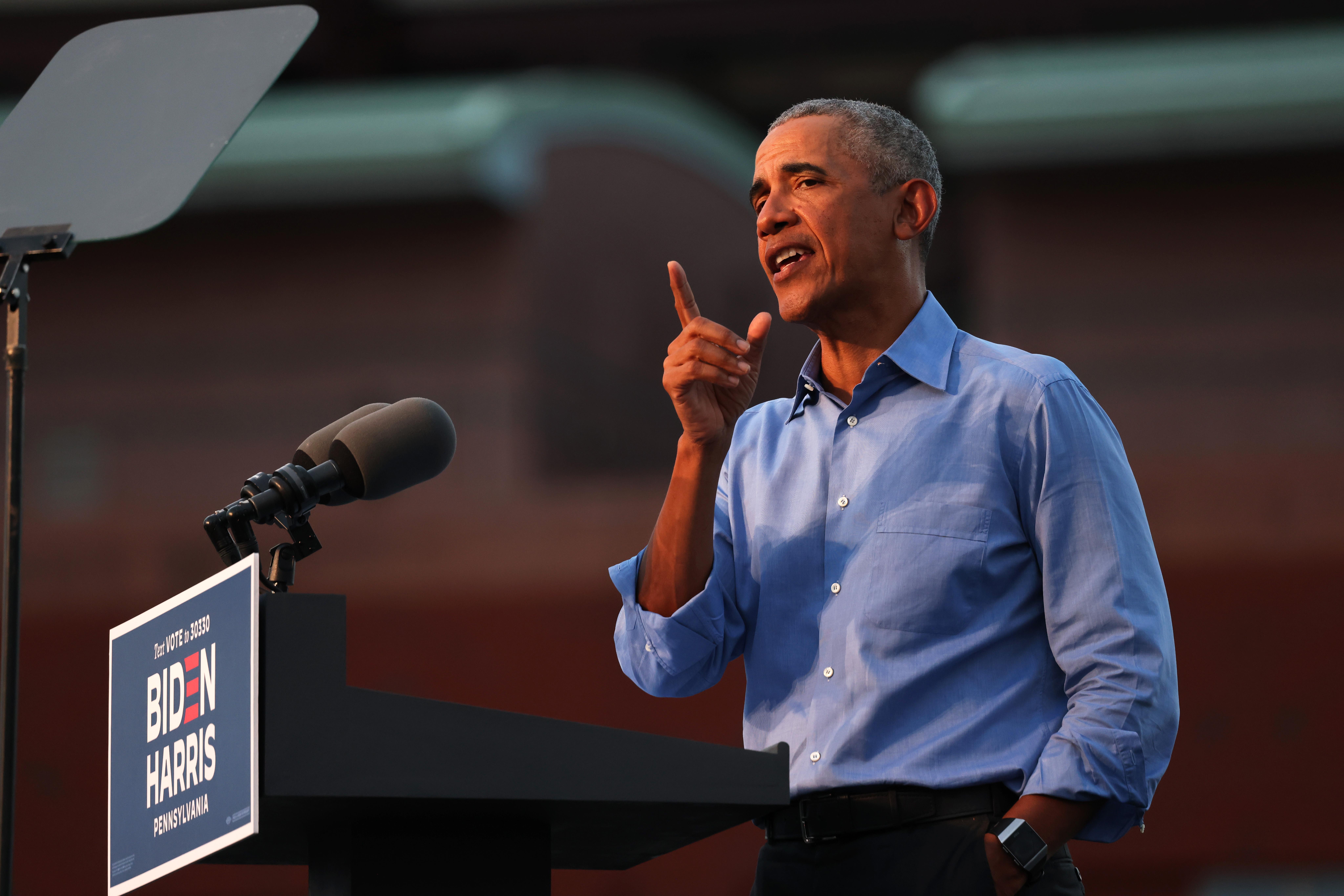 Obama tells Trump 'tweeting at the TV doesn't fix things'
By Mark Pygas

Oct. 22 2020, Updated 8:44 a.m. ET
Former President Barack Obama has taken a jab at President Donald Trump's social media habit during a campaign event for former Vice President Joe Biden. Obama told a crowd in Philidelphia, all of whom were in their cars, that "tweeting at the TV doesn't fix things."
Article continues below advertisement
"I get that this president wants full credit for the economy that he inherited, and zero blame for the pandemic that he ignored," Obama said. "But you know what, the job doesn't work that way. Tweeting at the television doesn't fix things. Making stuff up doesn't make people's lives better. You've got to have a plan; you've got to put in the work."
On the coronavirus pandemic, Obama said that his administration had left a playbook to deal with a pandemic. He joked that Trump might have used it "to prop up a wobbly table somewhere."
"Donald Trump isn't suddenly going to protect all of us, he can't take the basic steps to protect himself," Obama added. "Just last night, he complained that the pandemic made him go to work, he was upset, if he had actually been working the whole time it would never have got this bad. Somehow the idea that this White House has done anything but screw this up is just not true."
Article continues below advertisement
"He did inherit the longest streak of job growth in American history but just like everything else he inherited he messed it up," Obama said. "The economic damage he inflicted by botching the pandemic response means he will be the first president since Herbert Hoover to actually lose jobs."
Obama said that Biden would "restore our standing in the world."
"A nation that stands with democracy not dictators," Obama said. "With Joe and Kamala at the helm you are not going to have to think about the crazy things they said every day and that is worth a lot. You are not going to have to argue about them every day. It just won't be so exhausting. You may be able to have Thanksgiving dinner without having an argument."
Article continues below advertisement
"You'll be able to go about your lives knowing that the president is not going to retweet conspiracy theories about secret cabals running the world or that Navy SEALs didn't actually kill bin Laden. Think about that. The president of the United States retweeted that. Imagine. What? What?"
Obama added that the country would not accept Trump's behavior from anyone but a "crazy uncle." He went on to add that "our democracy is not gonna work if the people who are supposed to be our leaders lie every day and just make things up. and we just become numb to it, we just become immune to it. Every single day, fact checkers can't keep up."
Article continues below advertisement
The former President implored those present to "reclaim" American principles of "truthfulness and democracy and citizenship."
"We cannot be complacent, I dont care about the polls," Obama added. "We can't abandon people who are hurting right now. We can't just imagine a better future we have to fight for it, we have to outwork the other side, we have to out-hustle the other side, vote like never before and leave no doubt."
Obama went on to conclude: "America is a good and decent place, but we've just seen so much noise and nonsense that sometimes it's hard for us to remember. Philadelphia, I am asking you to remember what this country can be."
You can watch the full event below.