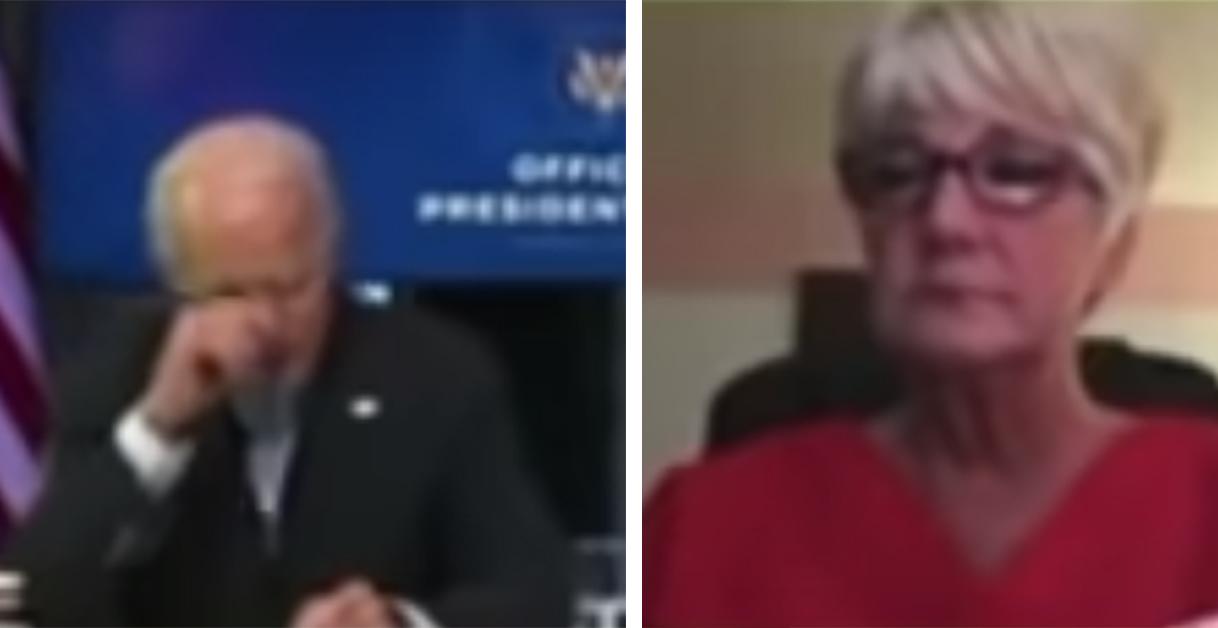 Biden moved to tears as nurse details 'overflowing' COVID wards: 'You've got me emotional'
By Mark Pygas

Nov. 19 2020, Updated 9:58 a.m. ET
President-Elect Joe Biden was moved to tears by a nurse who detailed her experience working on a COVID unit in Minnesota. Biden talked to frontline workers as part of a virtual open table hosted by C-SPAN. Mary Turner, who is also president of the Minnesota Nurses Association, detailed how hospitals are "overflowing" with coronavirus patients amid a surge in cases.
Article continues below advertisement
On Tuesday, over 160,000 cases were reported across the nation—that's an 82% increase over the last two weeks. Along with the increase in cases, hospitals are now seeing a surge in critically ill patients. In El Paso, Texas, there are unconfirmed reports that some of the sickest patients are not receiving treatment.
Turner explained to Biden: "I'm Mary Turner, president of the Minnesota Nurses Association, which is an affiliate of national nurses united, the largest union and professional association of registered nurses in the country. I proudly work as an ICU nurse on the night shift. In a COVID unit in Minnesota, and I have been since the end of February."
Article continues below advertisement
"Thank you for inviting us to take part in this roundtable. national nurses united has been proud to work closely with you, and we so deeply appreciate your commitment to addressing this pandemic and fighting to protect nurses and other frontline workers. right now, COVID-19 infections are surging across Minnesota and the country."
"Our hospitals I tell you are overflowing with COVID patients. and we aren't prepared. we don't have the necessary resources to keep patients and our workers safe. Nurses I'm telling you are feeling extremely anxious right now. We know the right way to battle this virus. but our employers and our government are not supporting us."
Article continues below advertisement
"We're trying to care for patients despite limited supplies, limited staff, and a rapid decline in the hospital beds, and all the while we know that we could become infected and our families could be infected at any time. The physical impacts of this virus have been devastating."
"I myself have held the hand of dying patients who are crying out for their families that they can't see. I've taken care of co-workers as they fight for their lives on a ventilator. And knowing that they got sick because of the hospital. Throughout this pandemic, we've had the reuse n95s so many times. Sometimes the masks literally fall off our faces. In our hospital, we're still reusing n95s two times. But I know hospitals that are using them eight to ten times a shift. Eight to ten shifts."
Article continues below advertisement
"We can't stay safe with these standards. nurses are getting sick. A month ago in my hospital, nine ICU nurses were out with COVID. Just recently, we had 12 emergency room nurses out with COVID. We need to protect our frontline workers so that we can take care of you. Remember, there is no second line of defense. It's us."
"As president of the Minnesota nurse's association, I have been on multiple picket lines with frontline health care workers who are protesting to get the PPE that they need and other protections. There is something seriously wrong when nurses have to take to the streets to beg for protection in the middle of a pandemic. What we're experiencing in Minnesota is what nurses are experiencing all over the country. We're not being given the protection that we need. Which need to have optimal PPE for all staff. We need testing of our workers and patients and contact tracing and notification of exposure for health care workers. Do you know I have not been tested yet, and I have been on the frontlines in the ICU since February."
Article continues below advertisement
The emotional statement prompted an equally emotional response from President-Elect Joe Biden.
"You got me emotional," Biden said while appearing to wipe a tear from his eye. "Look, you know, anyone who spent significant time in ICU like I did for months, umm, you know what I used to do? After I got out, I observed -- this is not COVID, but I observed the incredible mental strain on nurses in ICU units. You know what I did for a long time after I got out, I drove back and forth to Wilmington, Delaware, I commuted every day. But as Vice President what I would do is I would also -- I would go out -- back out to Walter Reed on the night shift and bring dinner and food for the nurses and hang out with them."
"There is a whole lot of things that we don't have available to us and unless it is made available soon we will be behind by weeks or months being able to put together the whole initiative," Biden added. "I have no budget. I can't do any of this until I am sworn in or I can convince the president now to do things that should be being done already."
You can watch the full exchange below.