New Girl Scout Cookie 'Lemon-Ups' are stamped with inspiring feminist messages
By Robin Zlotnick

Jan. 8 2020, Updated 11:44 a.m. ET
Girl Scout Cookie season is upon us, and this year the organization, which focuses on building leadership and confidence in girls all over the country, is taking their messaging a step further. A new Girl Scout Cookie is here, and it is stamped with feminist messages intended to inspire young girls — and everyone else — to lead, take risks, and be strong.
Article continues below advertisement
They're called Lemon-Ups (probably a play on the phrase "level up"), and they are crispy lemon cookies with icing on one side and on the other, stamped messages that say things like, "I am a leader," "I am a go-getter," "I am gutsy," "I am an innovator," and "I am a risk-taker." There are eight messages available, so I suppose you'll just have to keep eating until you get them all, huh?
Article continues below advertisement
The cookies are replacing Savannah Smiles and seem very similar to Lemonades. The cookies are "savory slices of shortbread with lemon-flavored icing," according to the Girl Scouts blog. Lemon-Ups will be available for purchase in only certain areas. As you might be aware, Girl Scouts uses two different bakers for their cookies. Lemon-Ups are Little Brownie Bakers cookies; Lemonades are ABC Bakers. (Samoas are Little Brownie Bakers; Caramel DeLites are ABC, and so on.) The baker that makes the cookies available in your area is totally dependent on geography, and you can see the map here.
Lemon-Ups are described on the Little Brownie Bakers website as "crispy lemon cookies baked with inspiring messages to lift your spirits." The cookies use RSPO Certified (Mass Balance) Palm Oil, which means the palm oil they use has been certified by an association committed to sourcing and producing it responsibly. Palm oil is a common ingredient in many types of products, but the processes in place to harvest and produce the oil are typically catastrophic for the environment.
Article continues below advertisement
RSPO is an association committed to finding sustainable ways to produce palm oil and to create a new global standard when it comes to sustainable palm oil production. The Lemon-Ups description includes a direct message about the organization's use of palm oil: "Although the use of palm oil in our Girl Scout Cookies is very limited, the palm oil used in our Girl Scout products is Mass Balance palm oil. This demonstrates our commitment to sustainable palm oil production, upholding our commitment to protect the environment as well as human and community rights."
Article continues below advertisement
We tend to go crazy for Girl Scout cookies (for good reason — they're delicious), but the organization's aim with Lemon-Ups is to remind everyone what the Girl Scout Cookie Program is actually all about. "Although we know everyone loves to hear about a new Girl Scout Cookie, it's so much more than just a delicious treat;" their blog reads. "The Girl Scout Cookie Program enables girls to think like entrepreneurs as they learn essential skills such as money management, public speaking, and decision-making, which set them up for a lifetime of success — not to mention fun with friends!"
In addition to the new cookie, Girl Scout Cookie packaging is getting an upgrade this year. The site reads, "The new images feature Girl Scouts taking part in a diverse range of experiences available to members — from adventurous camping and canoeing to exploring space science and designing robots to taking action for the betterment of their communities,"
Article continues below advertisement
It seems like this year, the Girl Scouts really want us to be more aware of what the Cookie Program does for the scouts themselves and for the organization as a whole instead of how most of us normally approach Girl Scout Cookie season, like ravenous cookie-craving zombies.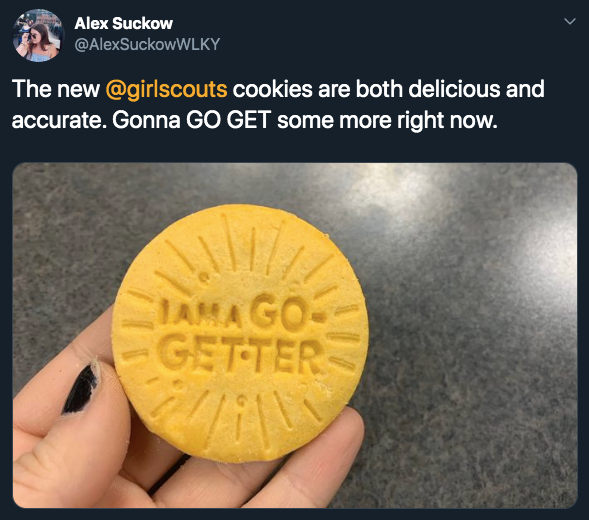 Article continues below advertisement
Personally, I think of Girl Scout Cookie season like a video game. If I can line up my grocery shopping trips so I hit a table of Girl Scout cookies and have cash on me at the same time, it's the jackpot (even though I know most of them have that little Square thing and take cards now)! It's truly the most satisfying feeling, and I get a bunch of gold coins (I mean, Samoas and Tagalongs) as a reward.
But if you aren't about the serendipity and just want Girl Scout Cookies STAT, there is now a Digital Cookie platform where you can purchase cookies online with an invitation from a girl scout. Don't worry; the girls still manage their online sales and promote their business. But now, you don't have to go through the effort of actually leaving your house for a box of Lemon-Ups.
Article continues below advertisement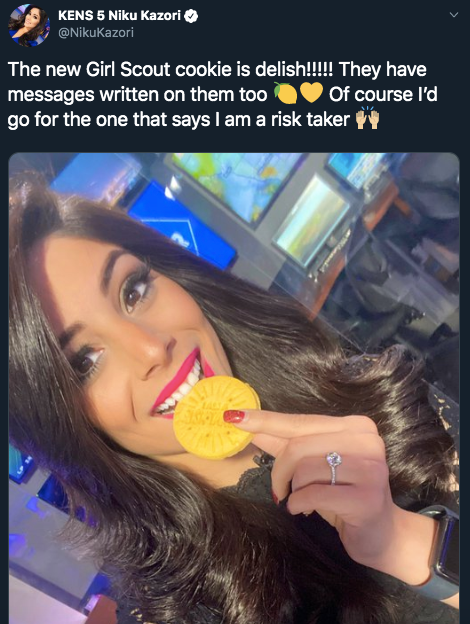 Each Girl Scout council sets its own price for a box of Girl Scout Cookies, but they generally range from about $4 to $6 each. A small price to pay for a box of delicious cookies and confidence-boosting messages, don't you think? Head to the Girl Scouts website to find cookies available for purchase near you.