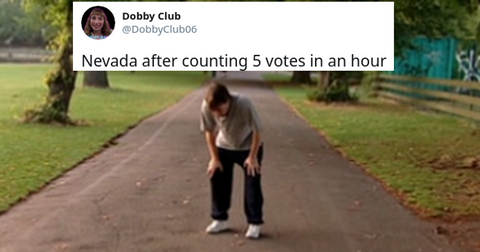 Nevada's taking forever to count the 2020 election votes and the memes are great
By Mustafa Gatollari

Nov. 5 2020, Published 10:27 a.m. ET
Everyone around the world is waiting with bated breath to see the results of the 2020 United States Presidential race between Donald Trump and Joe Biden. The whole affair is taking longer than usual due to the inordinate amount of mail-in ballots that have come in as a result of the COVID-19 pandemic, which isn't without controversy. Pundits from both political parties have pointed to mail-in voting as possible outlets for corruption.
Article continues below advertisement
Much was said about Donald Trump's attempts to "kneecap" the postal service during the pandemic as a possible attempt of stopping crucial mail-in ballots that could help Joe Biden win the Presidential election. Depending on which Twitter threads and theories you followed, Trump was trying to impose a "dictatorship" in America by suppressing mail-in voting. You know, because only Democrats vote through the mail.
It was ascertained that for the most part, the decision to not approve overtime hours for some USPS branches and to shut down high speed mail sorting facilities was actually an initiative passed under President Barack Obama's administration, and that the slowdown of the mail was directly attributed to the uptick of mailing due to the COVID-19 pandemic.