A 10-week-old abandoned puppy has been taken in by animal rescue organization Mac's Mission in Missouri. His name is Narwhal, and he has gone viral because he has an extra tail growing out of the middle of his head.  
Mac's Mission has the tagline, "We specialize in special" and focuses on rescuing dogs with special needs, or, according to their website, "the homeless 'janky' dogs who would die without us." When Narwhal was abandoned, presumably because of his extra special tail, Mac's Mission didn't hesitate to take him in.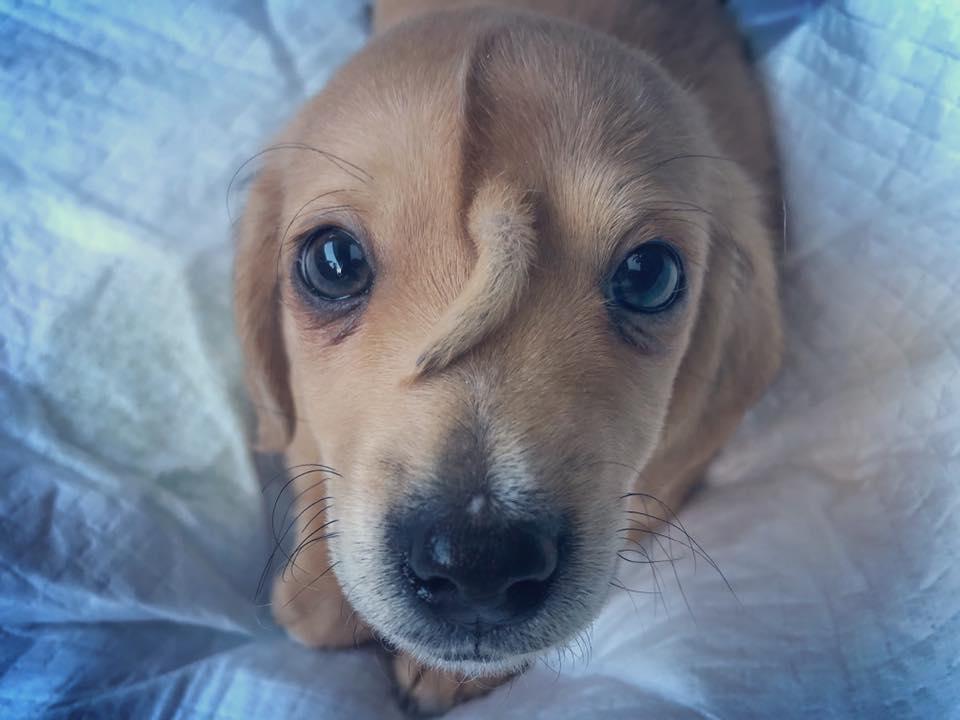 Narwhal's pictures and story have gone completely viral, which has helped not only raise interest in an adopter for Narwhal but also has increased awareness of Mac's Mission and the amazing work they do. "It's me Narwhal!" says a post on the Mac the pitbull Facebook page. "I don't understand what viral is but my foster mama said my story being viral helps ALL our special needs dogs here at the Mission. You are welcome. I am super excited to be the poster child for 'special is awesome.' Sleep tight, k thanks, Narwhally."
According to the BBC, rescuers have been told that there is "no medical need to remove" Narwhal's perfect extra tail. It causes him no pain, and some would say it makes him even cuter than if he didn't have it.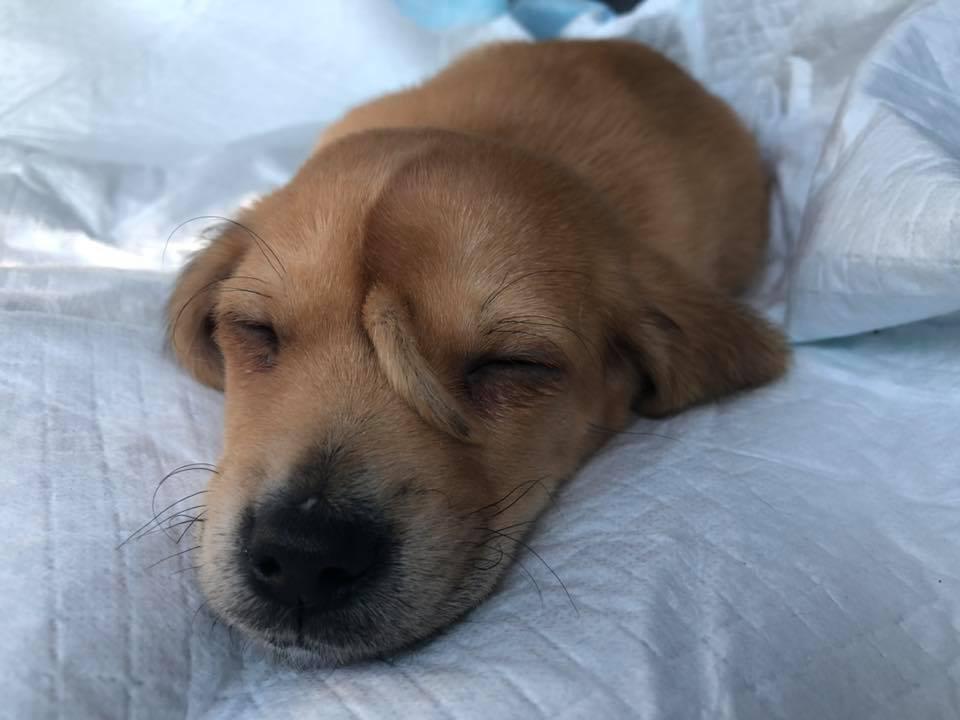 Rochelle Steffen runs Mac's Mission, which is named after a pit bull she rescued seven and a half years ago. "The injured, abused, and birth defects, that is our mission," it says on the organization's website. "Shelters and rescues do not have the time or resources that we do so most of these special dogs get sadly euthanized. Our hope is to give them the chance they need to thrive and heal in an environment full of love and caring."
Since Narwhal was taken in, he has been examined by a vet, who took X-rays of his skull and made sure he was healthy overall. On Facebook, Mac's Mission updated Narwhal fans: "The million-dollar question about Narwhal's extra tail on his face. Is it connected and does it wag? The extra tail is not connected to anything and has no real use other than making him the COOLEST PUPPY EVER!"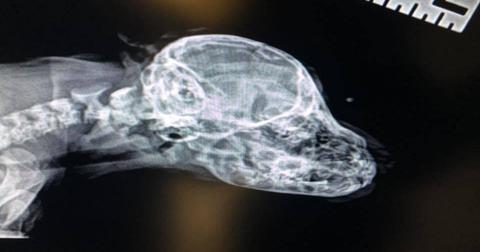 They confirmed that the vet said there was no real reason for "the unicorn tail" to be removed, as it doesn't slow Narwhal down in the least and doesn't impede his ability to live a normal puppy life. He's totally healthy aside from "some usual puppy worms he got meds for." While Narwhal is currently hanging out with foster parents, he won't be available for adoption immediately. 
They want to let him grow a bit and use that time to make sure the tail won't become a problem as he gets older. In the meantime, he's having the time of his life and looking adorable while doing it. 
Rochelle told the BBC that Narwhal was one of hundreds of dogs that are "dumped" in rural Missouri. The organization's work is completely grassroots and done through social media, so it meant a lot to Mac's Mission that Narwhal's story got so much attention and gained tens of thousands of reactions, comments, and shares in such a short period of time.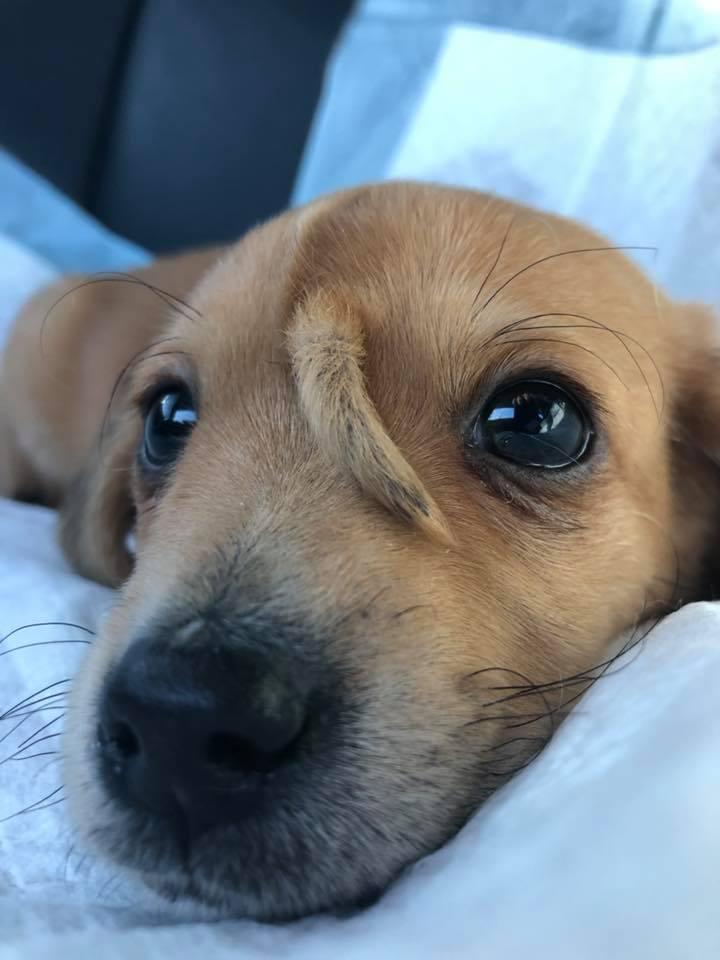 Commenters wrote things like, "I would take this little sweetheart in a SECOND!!!!! He is ABSOLUTELY PERFECT!" and, "I hope all these potential pets will be adopted now that this cutie has melted so many hearts." And indeed, that is the hope the staff has at Mac's Mission has. Of Narwhal, Mac's Mission wrote on Facebook, "Right now, he is pretty much the most unique amazing example of what we do here and we are so thankful to have the chance to be part of his journey. Thank you, everyone, for helping us help them!"